Estimated read time: 5-6 minutes
This archived news story is available only for your personal, non-commercial use. Information in the story may be outdated or superseded by additional information. Reading or replaying the story in its archived form does not constitute a republication of the story.
PROVO — Former BYU quarterback Ty Detmer averaged 30.25 touchdowns on 382.5 pass attempts over a four-year career in Provo that included the 1990 Heisman Trophy.
A return to the offense that inspired the modern-day Air Raid was expected when Detmer was named offensive coordinator at his alma mater in 2016. But current starter Tanner Mangum doesn't expect to throw the ball that much.
Still, a few more chances to air it out downfield? He wouldn't complain.
"I'm not sure I can promise 70 attempts per game like he was getting. But whatever it takes to win, it will make me happy," Mangum said. "I think people do expect that, but it's a different game. His 14 years in the NFL taught (Detmer) a lot about the importance of ball control, of establishing a run game."
BYU hopes to have a stable of running backs to replace all-time leading rusher Jamaal Williams, with Squally Canada, Ula Tolutau, KJ Hall and Riley Burt among the pack.
But there is little doubt that this year's team will look to Mangum as a leader in the fall.
"The way Tanner plays as a pocket-passer shows that; he loves to throw the ball and he's very good throwing the ball," said Jonah Trinnaman, the Cougars' top returning receiver who had 321 yards and a touchdown on 28 receptions in 2016. "I think we'll spin the rock a lot more. I'm hopeful, at least."
A year ago, BYU's offense relied heavily on Williams and fifth-year senior quarterback Taysom Hill, who accounted for more than 3,500 yards of offense — 2,615 on the ground and 2,573 through the air. The Cougars ran the ball 544 times to 245 pass completions spread out between Hill and Mangum.
"Our run game was great, and I don't know if we'll expect that same production; it would be great to have, though," said Detmer, now the Cougars' second-year offensive coordinator. "But overall, I think our focus was that we need more chunk players — we don't have to be in third-and-short all the time, but picking up more first downs on second."
Now, it's Mangum's time to shine — and that means a renewed commitment to the passing game, a staple of the quarterback who shared Elite 11 honors with Florida State's Jameis Winston in high school.
"Let's run what he feels most comfortable with," Detmer said. "We'll throw out different concepts, put them out in spring ball, and if he doesn't have a good feel, then we'll take it out and do what he is best at. There's no genius offense out there; football is copy-cat. It's about doing what works."
Much of a pass-oriented offense like the one BYU ran through the days of legendary coach LaVell Edwards relies on the quarterback — and the Cougars have that in 2017. Mangum set a BYU freshman record with 3,377 yards and 23 touchdowns in 2015 before taking most of the past season as Hill's backup.
Even that experience could prove to be invaluable, according to head coach Kalani Sitake.
"He's grown a lot, and he became a better person and better player by being an assistant coach last year. The way he supported Taysom and this team really impressed me," Sitake told KSL Sports. "It gave him a lot of growth in ways that playing on the field can't give you. Now this is his team, and he's going to run with it."
After a freshman season when Mangum burst onto the scene as a recently returned LDS missionary with a Hail Mary against Nebraska, the junior-to-be has been relatively quiet. Hill's leadership and senior season aside, Mangum had difficulty in his limited action in 2016. He completed just eight passes for 96 yards with a touchdown and an interception in a 24-21 win over Wyoming in the Poinsettia Bowl, his only start of the year that came during a monsoon at Qualcomm Stadium in San Diego.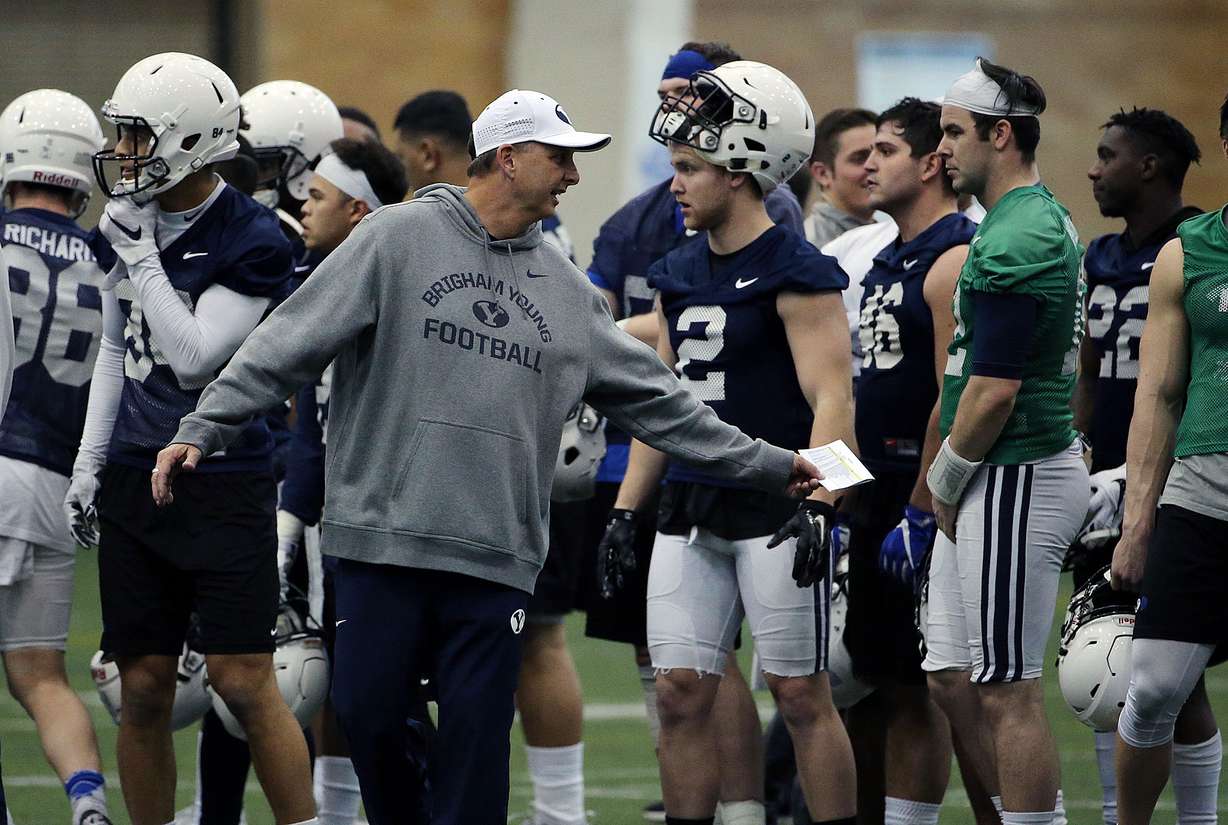 Then, with the offense under his control during spring camp, Mangum repeated a similar performance during the BYU spring game — also during a heavy downpour.
"Every time he's taken the field in public, it's been crazy rain, so he hasn't been able to show off his arm," Sitake said, before adding with candor, "I know he's excited to do that, but it will be funny if (the season-opener against) Portland State is another downpour."
Sitake, though, is confident in his signal caller.
"He's set to do some great things, but we'll just see," Sitake said. "I hate making predictions, but I can tell you one thing: I've been on teams with a great quarterback that has great leadership, and it usually ends up being a good thing."
A successful season could also springboard Mangum onto the radar of several NFL teams. The junior-to-be will be eligible for the draft after next season, and at 24 years old, he'll be among the oldest potential draftees.
The Eagle, Idaho, native knows that. But he also was quick to add he hasn't thought about leaving BYU early for the NFL.
"I'm not worried about that right now," Mangum said. "I'm just focused on what I can do to make sure we have a good season. I'll worry about that later on."
×
Photos
Related stories
Most recent Sports stories