Estimated read time: 3-4 minutes
This archived news story is available only for your personal, non-commercial use. Information in the story may be outdated or superseded by additional information. Reading or replaying the story in its archived form does not constitute a republication of the story.
SALT LAKE CITY — The iconic blue PepsiCo branding will get an unprecedented change when the University of Utah switches from Coca Cola to PepsiCo as the official beverage provider for the university this week.
On July 1, the University of Utah will switch over to PepsiCo as its official beverage provider after announcing the new multiyear partnership in October 2016. But the royal blue background featured on the PepsiCo label will rarely be found on campus, due to its resemblance of in-state rival BYU's school color.
The decision to mostly remove the blue from the branding came through an agreement between the university and PepsiCo. The company's president and chief operating officer for North America, Kirk Tanner, is a Utah alumnus and was instrumental in forging the agreement — a first for PepsiCo.
"As a proud Ute (alumnus) and on behalf of PepsiCo, I'm thrilled for the opportunity to make some of PepsiCo's most iconic and innovative brands available to the University of Utah community," Tanner said in a prepared statement. "The university has my personal commitment to bring the absolute best that PepsiCo has to offer to this new partnership."
All signage, including those on vending machines and coolers, will feature a PepsiCo logo absent the blue background and a U. logo as part of its branding. In addition, several other products, including Code Red Mountain Dew, will be prominently branded throughout campus.
"We never asked Pepsi to remove blue from their logo — never a discussion on that. But what we did ask and collaborate with them on is that we develop a concealment that's conducive to campus, which means a little flexibility from Pepsi and a little flexibility from us," said Brett Eden, a contract manager for the university's auxiliary services. "These co-branded machines and the artwork will include a Pepsi logo — their red and blue logo — but the backgrounds will be different."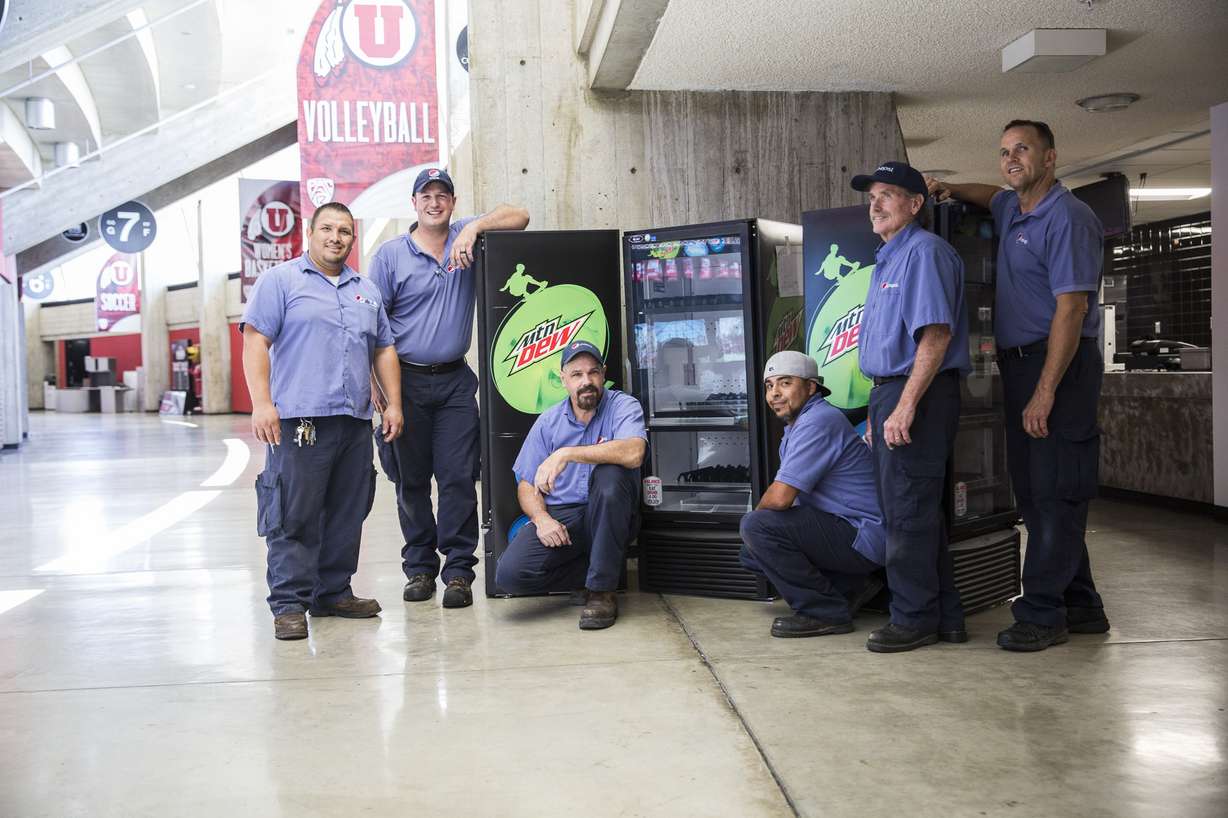 Eden said PepsiCo is allowing a lot of flexibility in the branding, which is something the company has rarely done in the past. The university plans to bring other brands, including some of PepsiCo's healthier brands and those that feature red, to the forefront.
"When you go to the stadiums and arenas on game day, you'll see a heavier lean to Code Red Mountain Dew," Eden said. "Historically, we haven't been able to do that.
"The brands that they bring to the table have actually allowed campus to skew healthier and reduce our calorie intake," Eden added. "It's those things that we're looking for, it's those things with the students and scholarships and allowing us to provide better opportunities for our students and healthier alternatives. The blue color is truly ancillary to the decision."
The transition to PepsiCo will begin Saturday and will continue throughout July as vending machines and other signage are switched out. However, Eden said the Huntsman Center, at least internally, will make the transition Wednesday and that there will be a branded element which will feature red PepsiCo products.
The university's contract with PepsiCo will help provide scholarship opportunities to students— approximately 200, according to university officials' estimates.
PepsiCo will also be an official sponsor of Utah Athletics, including the popular Gatorade brand.
"We're excited to begin our partnership with PepsiCo, a world-class organization that has made great efforts to integrate with our campus and support our students," said John Nixon, vice president for administrative services at the university, in a prepared statement.
×
Photos