Estimated read time: 3-4 minutes
This archived news story is available only for your personal, non-commercial use. Information in the story may be outdated or superseded by additional information. Reading or replaying the story in its archived form does not constitute a republication of the story.
ALPINE — Nestled above a neighborhood in Alpine sits a quiet, beautiful ranch with a unique purpose. The idea for the ranch was born during a family's greatest grief — the loss of a child.
"It's been almost five years since our daughter Rachel passed away," Rebecca Covey said.
For years, her daughter Rachel battled depression and anxiety — something her parents, Sean and Rebecca Covey, had a hard time understanding.
"I work in the field of leadership," Sean Covey said. "It's like, 'Suck it up. I used to have bad days too.'"
But then the bad days got worse. Some days Rachel couldn't even leave her room, and then "she was just gone," Rebecca Covey said. "She was just gone."
Rachel was 21-years-old when she died. The days following her death were dark, until the Covey family made a decision.
"You can let it really harm you, your family; you can let it define you — that's all you talk about, it becomes your new definition; or you can let it strengthen you," Sean Covey said.
The Covey family chose strength.
"Three days after she passed away we came up with the name, and we just literally started it right then and there," Rebecca Covey said.
Bridle Up Hope was born. It's an equine therapy ranch for young women dealing with mental health issues.
Some of the girls suffer with anxiety or depression; some have been abused. But all of them have found something at the Coveys' ranch they never thought possible: hope.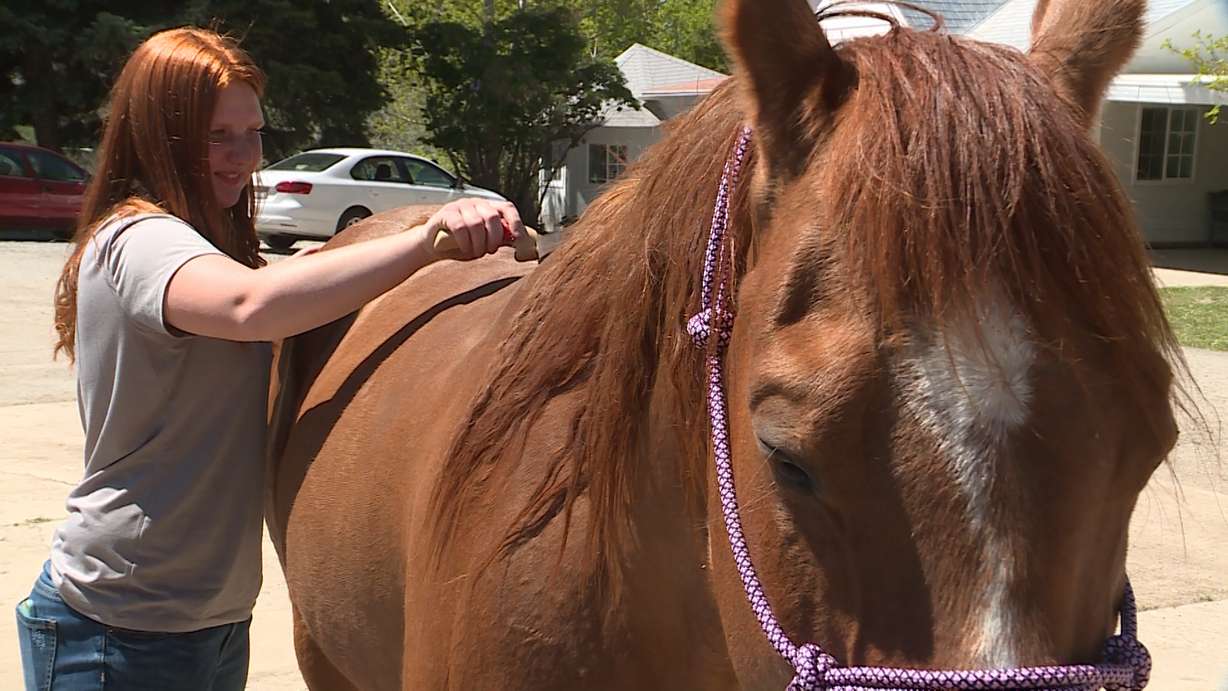 "Before Bridle Up Hope, I didn't even know what the word 'hope' meant," said Ellie Shawcroft, a 14-year-old student at the ranch.
A few months ago, Ellie was fighting depression, anxiety and the pressure to be perfect.
"You can get to the point where you're suicidal or can do self-harm," she said. "I was to that point."
Ellie knew something was wrong so she went to her parents for help. They looked for resources and found Bridle Up Hope.
"As she started developing a love for these horses, I've noticed she's also been developing a love for herself," said Misty Shawcroft, Ellie's mother.
The teen has a new-found confidence that comes from sitting in a saddle.
"If you are tuned in and really quiet and shy with horses, they would walk all over you," said Victoria Covey, a trainer at the ranch.
The girls have to take the reins. They have to be in control. And then they start to see themselves as someone who matters.
Ellie still struggles with depression and anxiety, but now she knows it is a fight she can win.
"Bridle Up didn't solve all of my problems, but it gave me the will to fight," she said. "This has saved my life, actually."
That's all the Coveys could ask for.
"I just know Rachel would be so happy, because we just have the belief if we can help just one girl, it's worth it," Rebecca Covey said.
Since Bridle Up Hope opened four years ago, 400 young women have completed the program. The Coveys' goal is to open several more ranches in Utah, and then one in every state.
×
Photos
Most recent Utah stories