This archived news story is available only for your personal, non-commercial use. Information in the story may be outdated or superseded by additional information. Reading or replaying the story in its archived form does not constitute a republication of the story.
TAYLORSVILLE — Alton Thacker believes the best things in life are free. For him, that means sitting down for a family dinner and taking a break from the pressures of his toy factory.
For the past 15 years, Thacker and a team of volunteers have spent their free time building and donating wooden toy cars to children around the world. Last year, they gave away 85,000 toy cars.
But this year, everything changed.
For six years running, the rent on Tiny Tim's Toy Factory was paid by a generous donor. But recently, that donor had to stop the payments, leaving Thacker backed into a corner.
"That's the hardest part of a nonprofit," he said. "You don't mind asking for a few dollars, but $1,200 a month— that's a lot. What do you say to come across gentle and kind when you're asking a person for their money? I've learned you can ask for help and get a lot of help, but when you ask for money, that's a different story."
So when the man who doesn't like asking for donations saw his story on KSL TV in April, he wasn't quite sure how he felt about it.
"My first thought is, 'I'm begging people for money,'" Thacker recalled. "And that's the last thing I wanted to do."
The night the story aired, he went to bed feeling uncertain about how he'd be perceived. But when Thacker woke up, those feelings quickly changed.
"The next day, every half hour I got a phone call," Thacker said with a smile. "My phone, I had to keep it plugged in or it would run out of juice."
Thacker's granddaughter, Emilee Johnson, helps with Thacker's website and donations. She said she was overwhelmed by the response of people wanting to help after her grandfather's story was on the news.
"I was in New York visiting my aunt when the story came, and my phone just went crazy," Johnson said. "Just all the emails, and it would 'ding' every time we got a donation from PayPal. For the next two days, it was constant."
Related:
Johnson couldn't resist giving Thacker constant updates on the updates.
"I kept calling him throughout the day, saying, 'Grandpa, guess what this one says.' The biggest comment over and over was, 'If several of us give just a little bit, then it adds up to a big whole.'"
Thacker said those donations definitely added up.
"We're seeing $20 a month, $15," he said.
Many of those donations are recurring, meaning people have committed to giving a certain amount every month to Thacker's foundation. But for him, the best part is that his biggest burden is now lifted — for the next year, the rent on the toy factory is covered.
"Five different people make up a group to pay the rent each month," he said. "It's my understanding that they'll take care of this year. We're just taking it a year at a time, and after visiting with them, each one that came in, they were so willing to help. I think they're willing to take it another year if they need to."
Thacker, who's always quick with a joke or witty comment, found himself struggling for words when he attempted to describe how it makes him feel.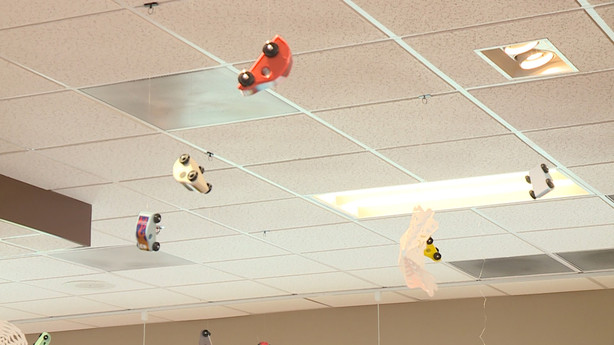 "I've never had an outpouring like that before," he said. "That tells me that there's a lot of good people in the world. There's a lot of good people."
Thacker said he doesn't want to imply that the factory doesn't need any more donations. He said each toy costs about $2 to make, and he's determined to break last year's number of 85,000. But while he doesn't want to run the risk of people thinking he's "begging" for money, he said he'll gladly ask for volunteers.
"Bring your skills, and if you have none, there are people there that are willing to teach you," he said.
For now, Thacker's factory is in much better shape than it was a couple of months ago. And while he still believes that the best things in life are free, a few donations can certainly buy some smiles, he said.
"We have so much in America," Thacker said. "And we could do so much more by giving. So let's be a little kinder, a little gentler, and a little more free to help somebody else."
For more information about Thacker's foundation, visit the Tiny Tim's Toys website.
×
Photos
Related Links
Related Stories