This archived news story is available only for your personal, non-commercial use. Information in the story may be outdated or superseded by additional information. Reading or replaying the story in its archived form does not constitute a republication of the story.
LEHI — The Museum of Ancient Life is known for one thing: pieces of the past. But for 15-year-old Will Whitehead, those pieces formed the foundation of a dream.
"He was practicing driving with his dad," said Julia Whitehead, Will's mom. "When he came home, he said, 'I need to find the phone number for the person in charge at Thanksgiving Point.'"
Amid the fossils and models of creatures long gone at the museum, visitors can see a small sign on the door of an empty room that reads "New Exhibit Coming June 12th." Behind that door is an empty space, currently occupied by one living exhibit: Will inside a glass cage.
Will doesn't look up much. His head is constantly fixated on his hands, which manipulate a seemingly endless supply of tiny pieces of plastic called K'Nex.
"In some ways, they're the big kid Legos," he said.
One could call Will the Leonardo da Vinci of Lehi — his current task being his masterpiece.
"I've been building them in my room for a couple of years," Will said. "It is a little bit crazy. I mean, I've never done anything this big before."
Will drew inspiration from other successful K'Nex builders.
"There's actually an official Guinness World Record for one that's 125,000 pieces," Will said. "He (the world-record holder) is still working on it."
Will calls his project a K'Nex Ball Tower. He's built a number of them at home, which he posts on his YouTube channel, but his latest project is on another level.
"His room is a lot like what you see when you look at that museum. All over the place," Julia Whitehead said. "In fact, there's one all around the upper perimeter of his wall."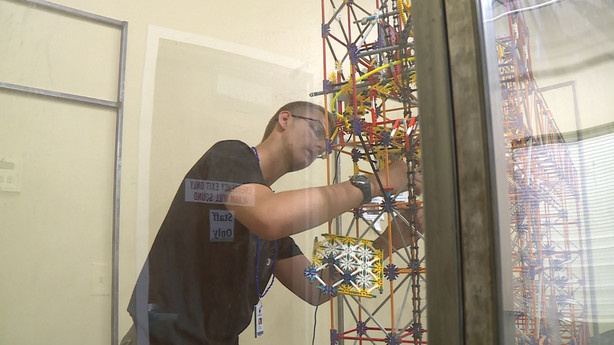 Working with sticks, tiny motors and gears have been a bit of a fascination of Will's.
"When he was in fourth or fifth grade, he wanted a K'Nex Roller Coaster set for his birthday," Julia Whitehead said. "So we drove down to Toys 'R Us to get the right one and he was in heaven all day, putting it together for hours."
But projects in his room proved to be insufficient for Will. As his mom said, he called up the museum, inspired by a similar device at the Clark Planetarium. Somehow, Will was able to convince Thanksgiving Point to give him the space in their upcoming "From Here to There" exhibit — and they even paid for the pieces.
"A total of about $700 that we spent on eBay," Will said. "Which was enough payment for me, because I only have 8 or 9,000 parts at my house."
Will is now in possession of about 22,000 pieces, which is far short of the world record, but more than enough to keep him busy. Will's been hacking away at this monstrosity nearly every day — without a single blueprint.
"I did draw my thoughts out on paper once, but it wasn't terribly helpful," Will said.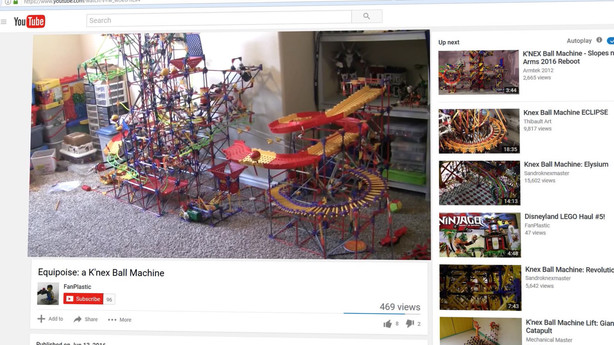 "They're in his brain," his mother said laughing.
A brain with a bit of an aptitude for geometry and math.
"As far as understanding it, turning his homework in is another skillset, I guess," Julia Whitehead said.
Will thinks this project could take a couple of months, which may derail his parents' plans for his summer.
"They wanted me to get a job, but I'll probably be able to split my time between my job and this," he said.
But regardless of whether or not that plan works out, Julia Whitehead's focused on the end result. She hopes when kids come to the museum for an education, they might leave with a little inspiration.
"I hope he sees kids flocking over there, pressing up against the windows and thinking, 'I can do that,'" she said.
×
Photos