This archived news story is available only for your personal, non-commercial use. Information in the story may be outdated or superseded by additional information. Reading or replaying the story in its archived form does not constitute a republication of the story.
SALT LAKE CITY — If you have ever suffered from a migraine, or have a loved one who has, you know how debilitating the intense headaches can be.
Sami Carter knows the pain all too well. The mother of four is among the estimated 35 million Americans who suffer from migraines, according to data from UCSF Medical Center.
Carter started to get migraines seven years ago. She thought they just came with motherhood.
"It gets a little chaotic sometimes and I just figured, well, other moms must be dealing with this too," she said. "They must just live their life like this every day."
Carter said there were times her migraine lasted a couple of days. The pain was relentless and sometimes forced her to seek comfort in a dark, quiet room.
"It's just a pounding, pounding pain ... like this tension," she said. "It's just there, like it doesn't leave."
Her story isn't unique. Dr. Lucia Altamirano, a neurologist with Intermountian Healthcare, said she's treated hundreds of patients with similar symptoms.
"Oftentimes they have deepening intensity until a very intense pain, that (could) maybe even disable the person," Altamirano said.
Causes and triggers differ from patient to patient, the doctor said For example, Altamirano said women have more migraines than men because of hormonal changes.
"Hormones can influence (chemical changes in the brain)," she said. "That may be one reason menopausal women have more frequent migraines than men."
As for treatment, Altamirano said there are dozens of medications out there like almotriptan, eletriptan and rizatriptan.
Those are medications Lorna Roberts knows well. None of them worked for her, and after suffering from the neurological disease for 23 years she looked for other methods of treatment.
"I tried physical therapy, massages ... all of them kind of work for a little bit, but I am one of the unfortunate ones that get daily (migraines)," Roberts said.
She said her pain ran her life, impacting work and play.
"I've just, a lot of the times, (said) 'I don't feel good enough to go out with friends,'" she said, "I usually come home from work just wiped."
This past year, Roberts had enough and tried something unconventional. She got a piercing in her daith — a place on the ear commonly known as a pressure point.
While the daith is not a new place on the body to pierce, piercer Patrick Bogdanich with Koi Piercing Studios said its popularity has increased lately.
"In this particular studio, we've gone from doing about half a dozen or so daiths per year to at least that many a day," Bogdanich said.
He's had clients as young as 8 years old to as old as 85 years old get the piercing as a last-ditch effort to get rid of migraines. The response, he said, has been overwhelming.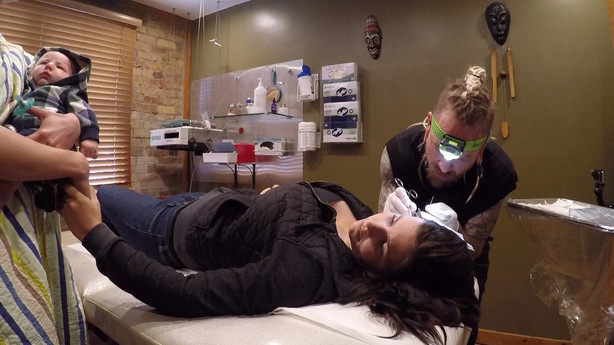 "People are texting me and emailing me quite literally night and day, talking about how they are experiencing relief, post piercing," Bogdanich said.
It worked for Lorna Roberts, who said the relief was instant.
"The minute [my piercer] did it, I was like, 'The headache is gone. Do the other ear,'" she said.
Roberts hasn't experienced a migraine since the piercing, and she hopes this is the beginning of her new headache-free life.
"It's actually going to open up a lot of financial avenues for me, obviously, because I am going to be able to perform better at work and stay for overtime," she said.
While piercing the daith was a success in Roberts' case, others online said it only decreased symptoms or didn't work at all.
"It didn't work … I went and got the other done this week and it hasn't stopped them 100%," Anna Hibbert wrote in a Migraine Relief Center blog post.
"Unfortunately, it didn't work for me or my sister. Our main triggers are the weather and stress," another person posted.
"I have chronic migraines and cluster headaches and it didn't work for me. I think it's all in people's mind," Neenie Gilmore posted.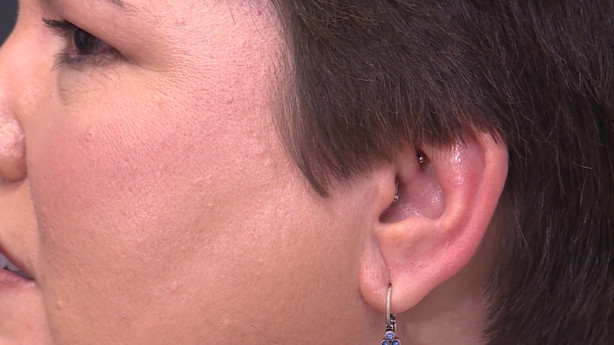 So, what is the science behind it? Dr. Altamirano said it was too early to tell because there have been no clinical trials done on this method.
"I will say that a serious study will give us more information. But at this point, it's not really scientifically proven that it causes improvement," she said.
Even without that data, Carter took a chance. When she got her daith pierced, she said the results were almost too good to believe.
"All of a sudden the pressure was gone, and it was immediate," Carter said. "Right when he did the piercing."
She said she's also been migraine-free ever since, giving up the pain to gain a better life with her family in return.
"They noticed that I am a different person, and it's because I am not constantly not wanting to go somewhere because I don't feel good," Carter said. "We can go do more, and it's just been so much better for us."
For those who are thinking about getting the piercing, Altamirano stresses you should go to a professional so you don't risk a serious infection or worse. She said even though there have been no clinical trials, she was glad to hear of success stories.
"If that is helpful to some people, and if it's not giving them side effects, why not?" she said.
×
Photos