This archived news story is available only for your personal, non-commercial use. Information in the story may be outdated or superseded by additional information. Reading or replaying the story in its archived form does not constitute a republication of the story.
HOLLADAY — For Zachary Proctor, every dip into the oil, each stroke of his brush is a step closer to bringing a mother's love to life.
"It's trying to capture this perfect moment," said Proctor, a fine artist who lives in Sugar House. "You want to just bring your best game."
He works secretly to help Steve Tate surprise his wife, Savanna, for Mother's Day. "I've known Steve since he was 12 years old. At that age, you have no idea of the roller coaster you're going to go on; the joys and the sorrows."
The Tates' son, Hayes, a triplet, was diagnosed with a brain cancer when he was 11 months old. After surgery and chemotherapy, they thought he'd beat it. Savanna Tate, Hayes' mom, said, "Cancer was in the rearview mirror."
The family, who live in Holladay, took a getaway to Newport and snapped a photo of Hayes on a swing. Steve Tate said it captured a spiritual moment. "I was overcome with this kind of gratification as his dad. And he was cancer-free for a second. He was without nurses interrupting him." Savanna Tate said, "He had hair."
But it wouldn't last.
"I think he was telling us that his mission on earth was complete," Steve Tate said. "And then the cancer, just three days after this, ... made itself known," Savanna Tate said.
Proctor said, "It feels like a drop in the ocean, you know?" Painting Hayes is hard for Proctor, whose wife, Claire, is expecting their first baby, a son. He said, "It's been a long time that I've waited to become a father."
Day after day, week after week, Proctor painted, and the portrait took shape. "The spirit of that person; that's what you want," he said.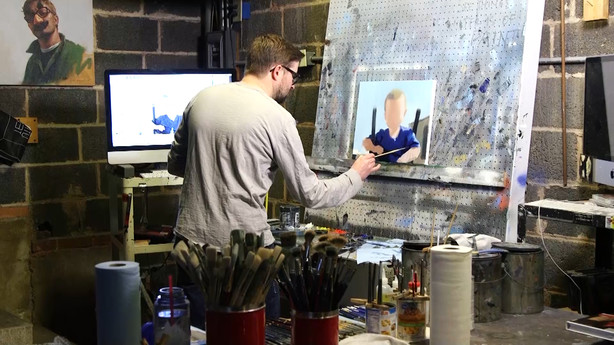 When the big day arrived, Savanna Tate thought we were doing a story about her advocacy work for childhood cancer. She had no idea. At the Tates' house, we began our interview. "It was pretty amazing to see that even Hayes, after he's been gone, has an impact on people," she said.
Proctor arrived outside with the portrait. "Nerve-wracking," he said, getting out of the car. Steve Tate's parents got a sneak peek. Then, Proctor walked to the front door. It was time.
Inside, Savanna was saying, "We now are not afraid to do things..." when the doorbell rang, and their dog barked. "Should we go get that?" she asked.
Related:
She answered the door and saw Proctor holding something. "Oh my gosh. What? What? Oh my gosh," she said.
Proctor said, "I've got something for you."
She said, "Wow, what?" Proctor stepped inside. "Here you go," he said.
Savanna Tate looked at the portrait of Hayes. "Awe, thank you so much, awe. It's so beautiful. I just can't thank you enough."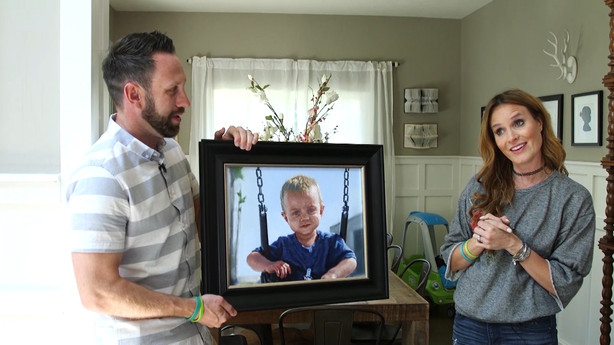 After hugs, Steve Tate hung it on the wall.
"I had no idea. None," Savanna Tate said. "That's his hair, too. It's so funny because he didn't have hair for so long that I know his hair, every strand? It's dead on."
While photos fade, paintings are timeless; just like a mother's love.
"He taught me to live and to love deeper," she said.
×
Photos
Related Stories