Estimated read time: 6-7 minutes
This archived news story is available only for your personal, non-commercial use. Information in the story may be outdated or superseded by additional information. Reading or replaying the story in its archived form does not constitute a republication of the story.
MONTICELLO, San Juan County — San Juan County is home to many beautiful landscapes.
It houses parts of the Canyonlands National Park and Lake Powell, Hovenweep National Monument, Natural Bridges National Monument, Valley of the Gods, parts of Monument Valley and Cedar Mesa, to name just a few.
It is also home to a newly designated monument, as well as to young students who face major obstacles in obtaining an education.
Bears Ears
The controversy over the Bears Ears National Monument designation is still one of the major concerns for many people living in the area. San Juan County Commissioner Bruce Adams said he would like to see many of the county's sites be protected, but he never wanted a 1.35 million-acre monument running right through the middle.
"I am against the national monument the way it exists right at this point," Adams said. "I think there are some iconic places in the county that may deserve a designation as a monument but the monument as it exists is too big. It's too massive."
Adams said that many of the sites inside the monument were already protected and the monument designation could cause more harm than good. Now that Bears Ears is on the map as a national monument, it could see an increase in tourism. Adams worries that the county isn't prepared for this, and that visitors may end up damaging some of the sites either by accident or by vandalism once the area becomes more popular.
"We don't want that economic benefit to be accompanied with damage to the resources, so people are pretty concerned with the influx of visitors," Adams said.
Suzette Morris, a Ute Mountain Ute tribe member, also disagrees with the monument designation.
"We have cemeteries up there and I don't want our ancestors to be put in museums," she said.
She's not sure if the designation will keep her people from freely visiting their cemeteries or not, but will continue to fight for access.
"We all have a fight and we all are going to continue to fight for this to be rescinded," Morris said.
Alfred Lomahquahu, vice chairman of the Hopi Tribe and co-chairman of the Bears Ears Inter-Tribal Coalition, called the designation a victory for all people.
"Our connection with this land is deeply tied to our identities, traditional knowledge, histories and cultures. We look forward to working with the current and future administrations to fully and properly administer these lands for all to enjoy," he told the Deseret News at the time of the designation.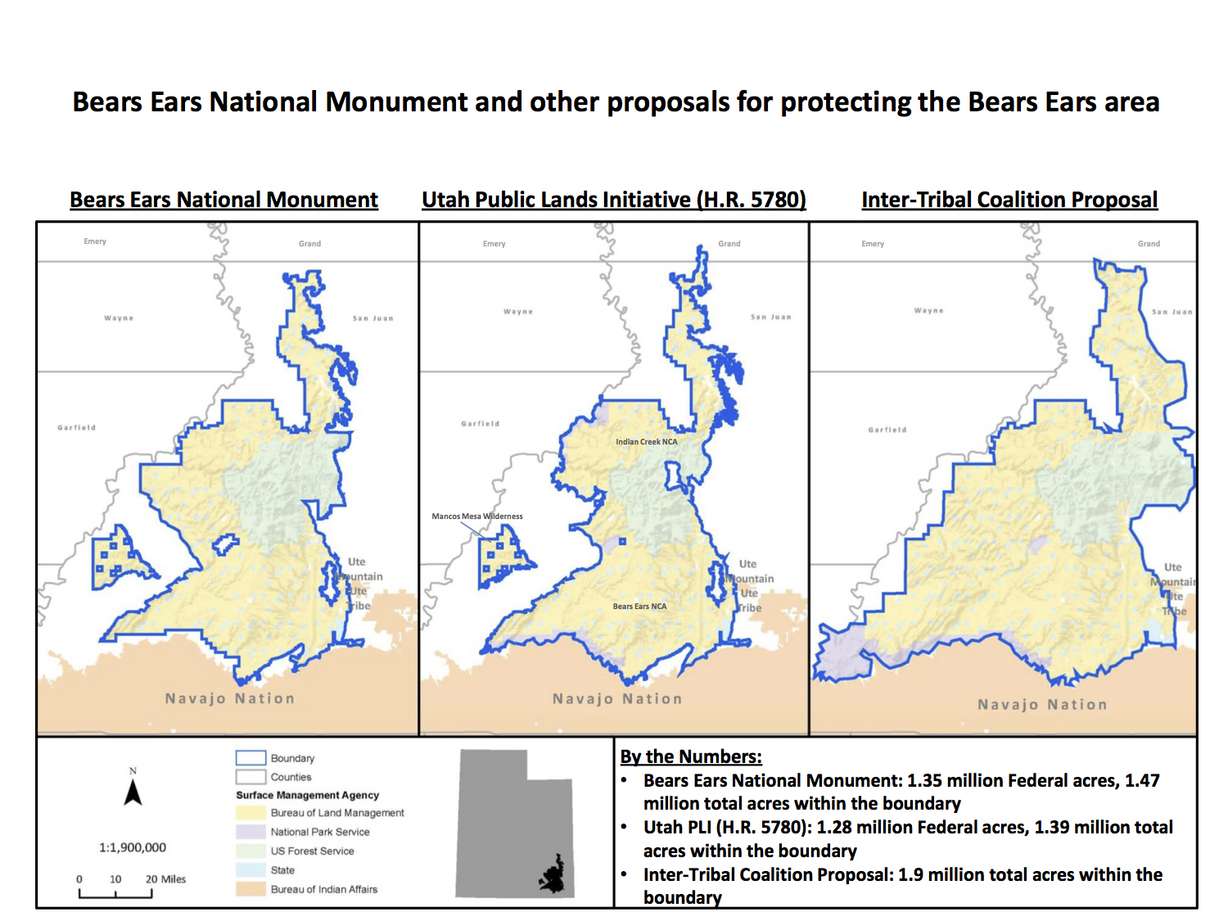 Emergency medical services
Emergency medical crews worry about how to provide emergency medical services for people who are injured while they explore the land inside the monument. Linda Larson, the EMS director for San Juan County, said it can take hours to respond to a call near Bears Ears, and she worries that with more visitation there will be more calls for help.
"It's a huge concern for me — because of the limited staff that I have — how much money it's going to take to have a rescue out there, and are we going to get to people fast enough to make a difference?" Larson said. "Are we going to have to just call helicopters to go out there and save them — which is going to be $60,000 to the public, which is a lot of money — when it could be just a minor problem but we can't access them for four or five hours (otherwise)?"
Accessing an injured person in the monument area is one hurdle to clear; another is the ambulance crew that would be missing for an extended amount of time.
"We're already short on people and having people gone for four or five hours at a time on a rescue is going to be very hard for us to handle," Larson said.
Oil boom and bust
The Bears Ears National Monument makes up a small portion of the total public lands that the federal and state government manage in the county. There is a little more than five million acres in the county, eight percent of which is private land. County officials depend on much of that public land for oil and gas extraction.
"The biggest thing that has affected us over the last 30 years is the boom and bust cycle that comes with the oil and gas and uranium and things like that," San Juan County Commissioner Phil Lyman said. "We are glad to have that economy when it comes but when it leaves, it's kind of devastating."
Lyman said that the extraction industry is critical to the county's ability to generate funds for the construction of schools and roads. He said he would like to see that industry continue to grow in the county in responsible ways.
Schools
Towns in the county are often in remote locations, and the young students who live there often have limited resources. Gary Rock, the Navajo High School principal, said his school is 105 miles away from any form of civilization.
"You have to turn off the highway, travel 40 miles north off the highway and get to the cottonwood tree, take a left and go to the end of the road," Rock said, describing the route to the school.
The route can also become muddy and impassable for the school's only bus. When this happens, Rock will instead drive the school Suburban to pick up students for school.
"A lot of wonderful things are happening here," said Kit Mantz, secondary schools supervisor and career technical education director for the San Juan County School District. "I don't think, though, that there's really anybody that truly understands the challenge within our district with the miles driven to get to school, the miles driven to get to extracurricular activities."
Some of the students in the district also do not have access to the internet, running water or electricity. This can often affect how — and at times whether — teachers assign homework.
"To me it doesn't make a lot of sense to assign homework and things like that because a lot of kids don't have electricity at home," Rock said.
But even with all of those challenges for the student who attend the schools, Daniel Conner, a science teacher at Navajo Mountain High School, said the students are eager to learn and ready to overcome every obstacle in their way.
"These kids don't understand how to give up," Conner said. "They only know how to keep going, keep trying, because they know they'll eventually get it."
Contributing: Sean Moody, Marc Giauque
×
Photos
Related Stories