This archived news story is available only for your personal, non-commercial use. Information in the story may be outdated or superseded by additional information. Reading or replaying the story in its archived form does not constitute a republication of the story.
SALT LAKE CITY — Since taking over as the head coach for the University of Utah's men's basketball program, Larry Krystkowiak has tried to develop a three-fold mission to approaching the game with his teams: play hard, play smart and play together.
And for much of Krystkowiak's tenure at Utah, his teams have embodied that to some extent or another. His teams have exceeded expectations and have been a consistently competitive program, challenging the top teams every season. Sometimes his team was the top team.
Krystkowiak had true NBA talent in Delon Wright and Jakob Poeltl and managed to maximize their potential while utilizing their talents in a team setting. But Krystkowiak also managed to get the most out of his other players that didn't have the same professional outlook. Guys like Brandon Taylor, a smaller guard in college, became a tremendous college athlete and impact player, lifting the program to new heights. But most importantly, Utah played as a team, with no one player better than the next, and everyone gave their all.
The latest Krystkowiak team was his best shooting team since coming to Utah. The team averaged 50.6 percent shooting and finished the season ranked fourth in the nation, which is an incredibly difficult task as a major program. Additionally, Utah was a generally high-efficiency team, averaging 112.8 points per 100 possessions, while limiting teams to 97.8 points per 100 possessions. Utah averaged 1.126 points per possession.
But Utah lacked one major component to its team makeup: leadership.
"That's a piece that we've been talking about all year. It's a little competitive spirit, the captain, the no-brainer where everybody knows that you're kinda the heartbeat of the team," Krystkowiak said after the season concluded with a 73-68 loss to Boise State in the first round of the NIT Tuesday. "I think that's been an issue for us. We've got a lot of far-away eyes, distant eyes, glares — we need that (leader)."
It was not the first time Krystkowiak has made reference to the lack of leadership on his team. Throughout the season, Krystkowiak said he was looking for somebody to step up and lead the team more than just being the team's leading scorer. Unlike years past, Utah lacked a Taylor-like player that was aggressive and got after players for letting the game slip away. Players like Poeltl and Wright could alter the game in a different way that kept the team from getting complacent.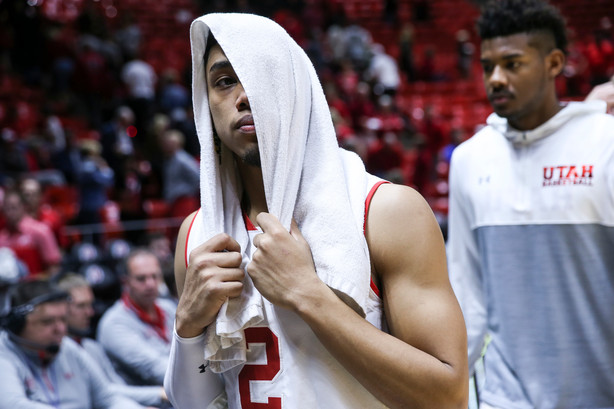 Junior Kyle Kuzma has been the closest to that leader-like player Krystkowiak is looking for and has easily been the best player on the team. But his leadership hasn't been enough to compensate for a young team trying to acclimate to the collegiate level.
"Honestly, I don't really want to hear the leadership thing," Kuzma said in frustrated exasperation after the loss to Boise State. "I've tried my hardest all year to become one and really go out of my way to try to do that because that's what this team needed. At the end of the day, it's just having a young team. Not too many people play at this level and know the seriousness of what it takes sometimes."
For his part, Kuzma has given his all for the team this season. In Utah's quarterfinal loss in the Pac-12 Tournament, Kuzma finished the game with 23 points and played an essential role in attempting to lead the team back against Cal. Throughout the season, Kuzma had 15 double-doubles and averaged 16.4 points and 9.3 rebounds on a "shredded ankle."
But Kuzma could not do it alone and needed players around him to take ownership of the team and help out. When the team played an up-tempo, transition-fueled game, it was nearly impossible to beat the Utes. The passes were crisp, play was fast and it was difficult for opposing teams to defend. However, Utah became a slower team — averaged 17.7 seconds per possession, which ranked Utah 218th in the country — and stopped passing the ball in a meaningful way.
The team went from finding the best shot by using passes, screens and movement away from the ball, to standing around, lackadaisical passes and what could be dubbed "hero" ball where each player simply looks to make their own play without consideration for the team. Most importantly, the team went away from playing hard, playing smart and playing together. As a result, play got careless and turnovers increased.
Krystkowiak called the turnover issue the "story of our season;" a needlessly frustrating aspect to a team that rivaled UCLA, the No. 1 team in the country in shooting, in shooting and was a mostly efficient program.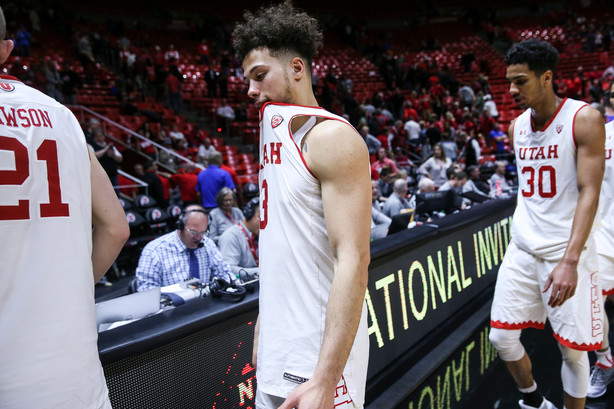 "I've said it before, you disrespect the game and try to get flashy and do some things instead of some solid plays. There's just too many of them (turnovers). Each one of those possessions is worth a point as we know as a team," Krystkowiak said. "Teams typically are going to play harder when you don't put so much heat on you offensively. There's not a team I know of that can turn the ball over and really get back with a defensive mindset and do what you need to do when you are not taking care of things offensively."
Utah needed a leader or a couple leaders to right the course, take a step back and correct the behavior. But as the season progressed, every issue was magnified and compounded on each other without anyone owning up to the problems. When asked why Utah had a hard time starting out games with energy, multiple players answered: "I don't know."
Although you can't expect players to know every reason for why their team is struggling, there needs to be someone to own up to the problems and attempt to answer the question. The problems don't necessarily need to be made public, but the change has got to take place on the court. But in Utah's case, the problems persisted throughout the season.
The Utah basketball program is not perfect, and no one on staff will make a claim that it ever has been, but it's clear that Utah needs to find some leaders, either in recruiting or on the team, and find a way to limit turnovers. Most importantly, the program needs to embrace Krystkowiak's mantra for teams: play hard, play smart, play together.
"There are a lot of ways that you can look back and describe our season," Krystkowiak said. "I'm not going to get into extremes one way or another. There were a lot of ifs and buts along the way, and if we could have gotten some of those quality wins and closed out some games. I don't care what anybody says, the fact that we finished fourth in our conference with the three teams that are ahead of us. I'm not into the everybody-gets-a-ribbon consolation prize mentality, but I do feel like we made some progress. As far as a grade or a report card or anything like that, I don't know. But our younger kids grew. We've got work to do. A number of these kids are back."
×