This archived news story is available only for your personal, non-commercial use. Information in the story may be outdated or superseded by additional information. Reading or replaying the story in its archived form does not constitute a republication of the story.
PROVO — If BYU men's basketball wants to put in another run to the semifinals of the National Invitation Tournament like it did last year, the Cougars will be forced to do it without a major offensive player.
Redshirt sophomore Elijah Bryant is out for the season after a knee injury suffered in the Cougars' loss to Saint Mary's in the semifinals of the West Coast Conference tournament last week, BYU coach Dave Rose said following practice.
"He reinjured his knee in the Saint Mary's game, so he is done for the season," Rose said after practice Tuesday in the Marriott Center. "Hopefully we can get him evaluated and on the road to recovery."
Bryant averaged 11.7 points, 3.6 rebounds and 2.2 assists in 23 games in his first eligible season at BYU since transferring from Elon. The redshirt sophomore also missed 10 games earlier in the season with knee ailments.
Davin Guinn is expected to replace Bryant in the starting lineup.
"It's tough when any of your guys go down," BYU guard T.J. Haws said. "We feel for them. But now is the time to come together and have guys step up. I hope he's back on the floor as soon as he can. But we have guys who are stepping up in practice, and they'll step up."
BYU will open the NIT at 9 p.m. MDT Wednesday against UT Arlington, which also lost one of its top players in Jalen Jones. He averaged 10.4 and 6.3 assists for the Mavericks in 2016-17, but suffered a right hand injury in a win over Coastal Carolina in the Sun Belt quarterfinals — and the Mavs couldn't recover.
"He's one of those guys who just fits really well with their team," Rose said of Jones. "He scores 10-12 points per game, and defensively he's really solid. You could tell with his experience, they really missed him in the (semifinal loss to Texas State)."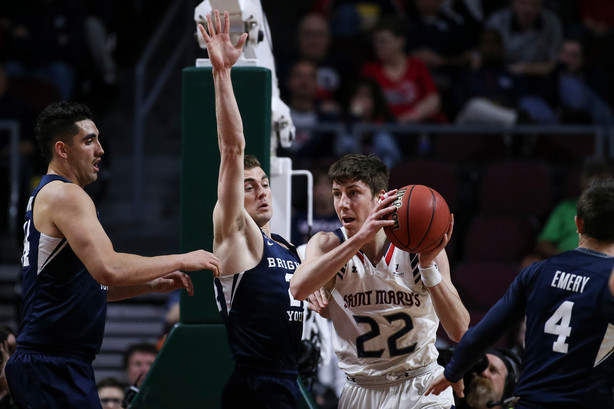 MORE MAVERICKS
UT Arlington qualified for the tournament as regular-season champions of the Sun Belt Conference.
But the Mavericks have lost two of their past three games, including an 83-81 loss at Louisiana-Lafayette in the final game of the regular season.
"As disappointed as we were in our performance last week, I think this might be the best NIT invitation that we've had for this group," Rose said. "There are nine teams in the NCAA bracket this year that were in the NIT last year and had a top eight returning. It's good to be back in the gym. It feels different.
"You need to be able to refocus and find a way to play your best basketball."
UTA (25-8) is led by Sun Belt Player of the Year Kevin Hervey, a 6-foot-9, 230-pound power forward who averaged 17.1 points, 8.1 rebounds and 2.0 assists per game for Sun Belt Coach of the Year Scott Cross.
If that sounds familiar, it's because Hervey and BYU forward Eric Mika play similar styles of basketball. Hervey had 15 points and seven rebounds in the Mavericks' 65-51 win over then-No. 12 Saint Mary's — a team BYU couldn't beat in three tries this season.
"It seems like he's really aggressive, and a key to their team," said Mika, an all-WCC first-team selection and District VIII player of the year by the U.S. Basketball Writers Association. "I think it will be a fun matchup.
"Offensive rebounding is something that I like to do, and we're about the same size. It'll be fun."
TIME CHANGE
Wednesday's game was originally scheduled to be played at 7 p.m. MDT, and the Cougars had already begun selling tickets as such through their website.
But a winter storm warning on the East Coast forced the postponement of top-seeded Syracuse's NIT opener against UNC Greensboro, and the shuffling effect moved several ESPN broadcasts around that resulted in BYU's late-night tip.
"We asked them if there were any other options, and they told us there weren't," said Rose, who is used to late-night tip times courtesy of ESPN. "Sometime this morning, I was reading about Syracuse's game on the internet, and in my mind, I knew someone would take a hit on this.
"I didn't think it was us … but it got us."
×
Photos