This archived news story is available only for your personal, non-commercial use. Information in the story may be outdated or superseded by additional information. Reading or replaying the story in its archived form does not constitute a republication of the story.
LAS VEGAS — Jordan Poydras wasn't ready for his Utah Valley basketball career to end.
It hasn't.
Poydras scored a team-high 15 points, and fellow senior Ivory Young added 11 to help Utah Valley hold off Seattle 65-53 in the quarterfinals of the Western Athletic Conference men's basketball tournament on Thursday afternoon at Orleans Arena in Las Vegas.
"We've struggled at times on and off the court, and the whole journey has been fun to play with these seniors," said Poydras, who also had four rebounds and three assists. "Before the game, I told everyone I wasn't ready for it to be over. That's why I went out and played so hard; I didn't want it to be over.
"That's what makes it so fun for me right now."
Utah Valley (15-15) shot just 36.7 percent from the field, but out-rebounded the Redhawks 46-26, including a 12-3 edge on the offensive glass.
It was the only way to beat Seattle's 2-3 zone, which stifled the Wolverines 63-50 in the Pacific Northwest before UVU got revenge with a 61-54 victory last Saturday.
"This Seattle team has been a thorn in our side for the last two years," said Utah Valley coach Mark Pope, who focused on offensive rebounding with his team for two weeks. "The way they play is a really hard matchup for what we do. They are really disciplined; the zone is great at managing the 3-point line, which is where we thrive. They played really hard today.
"I'm proud of my guys that we can overcome all that."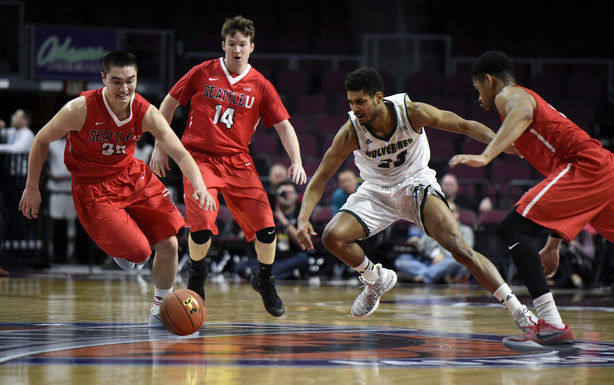 Poydras gave the Wolverines a 41-37 lead by scoring six-straight points in the opening five minutes of the second half. But the Redhawks wouldn't go away.
Zach Moore's free throw with 10:37 on the clock brought Seattle within one, 42-41.
That's when Ivory Young went to work.
Young hit his first 3-pointer of the game from the left corner with 9:36 left in the game, then drained one from the opposite corner to give the Wolverines a 48-41 lead less than a minute later.
The Wolverines knocked down six 3-pointers, then held Seattle to just 12 points the rest of the way.
"I was just trying to knock my shots down," said Young, who scored two of Utah Valley's six 3-pointers. "My teammates have a lot of faith in me, and they always find me.
"We played really good defense after that, and that was the key."
Brandon Randolph capped an 11-3 run for the Wolverines, scoring two of his 11 points, and Utah Valley held Seattle scoreless for nearly five minutes before Brendan Westendorf's layup cut the Redhawks' deficit to 53-46 with 3:08 remaining.
But it was too late to hold off the win for Utah Valley, which won its first WAC tournament game since its inaugural season in the conference in 2013-14.
The Wolverines will face top-seeded Cal State Bakersfield at 6 p.m. PT on Friday. The Roadrunners swept the season series with Utah Valley, including an 80-71 home loss on Feb. 16.
"They took our soul. It hurt so bad," Poydras said. "We lost to them twice, and we want another piece of them. What better time than right now in the conference tournament. It doesn't get any bigger than this, at the WAC Tournament, with the No. 1 team. I can't wait to get started (Friday)."
×
Related Stories