This archived news story is available only for your personal, non-commercial use. Information in the story may be outdated or superseded by additional information. Reading or replaying the story in its archived form does not constitute a republication of the story.
SALT LAKE CITY — Downstairs below the gym at East High School, two old small locker rooms are being transformed. Each now has fresh paint, a washing machine and clothes dryer, lockers with donated clothing and a shower with red and white tile — the school's colors.
The importance of the lockers: they are for homeless students.
Principal Greg Maughan says these facilities should open this month. The school has at least 80 homeless students within the student body of 2,000.
"The kids I've talked to about it, they are so excited," Maughan said. "They are going to help get the word out to the others because they can be a tight-knit group."
The washroom and shower facilities were the idea of East High's Parent Teacher Association, which made a goal to help their vulnerable population this year, said co-chair Kris Barta.
Barta is also the school's family support specialist, a new paid part-time position. It gives her access to the school's McKinney-Vento list of students who meet the federal definition of being homeless.
Barta said some homeless students sleep on the streets at times. Most are couch surfing or living in and out of different homes; some spend time in the Midvale shelter and are bussed to East High. Barta said the washrooms are not just for teens who don't have a physical home.
"We are totally ready to open and I have a few kids who are totally ready for it to open, who have told me, 'I am not homeless, but my family doesn't put a priority on this or they are neglectful at home, so I am excited for the locker room/shower room to open up so I can do some laundry,'" she said.
---
"If we can help provide those basic necessities, our hope is it will free up some mental and physical space there for them to focus on school." - Greg Maughan, principal
---
Maughan said some may think East High doesn't have such needs, but people don't realize that school boundaries go from Hogle Zoo to the Salt Lake International Airport. Sixty-four percent of its students are on fee waiver, meaning they eat two meals a day free at school, and around 80 are from refugee families.
"A lot of teens now are serving as caregivers, and they may not have the opportunity to shower in the morning, but they want to. There's typically enough time where they can get breakfast and still shower and get ready for class," he said.
They are still coming up with a name for the rooms. Barta likes the Leopard Lounge or Leopard Laundry, named after East High's mascot.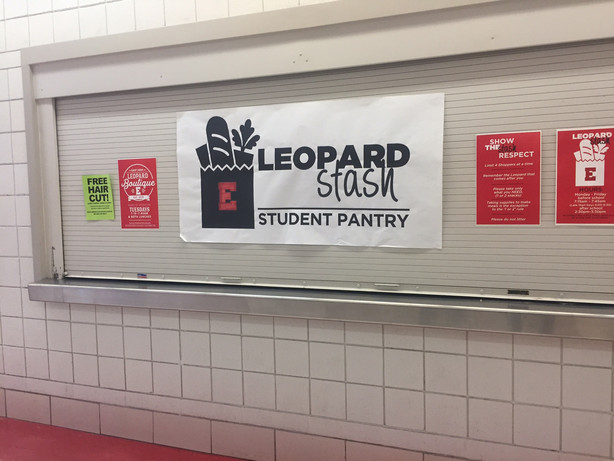 Maughan said students came up with names for the Leopard Stash and the Leopard Boutique, which are the school's new food pantry and clothing center open before and after school for students in need. It is staffed by the PTA, with donations from local stores and the community.
The new washing machines and dryers, as well as the towels, soap, shampoo and detergent also came from community donations, Barta said.
"Our community wants to give, and they really want to help," she said.
Meeting physical needs
Other secondary schools in Utah also offer food pantries within the school. Some school districts say they do have access to washers and dryers, but know of nothing specifically dedicated to homeless students like what East High is doing, possibly making these new facilities a first in the state.
Educators say physical needs must be met before students can thrive.
"If we can help provide those basic necessities, our hope is it will free up some mental and physical space there for them to focus on school," Maughan said. "Whether it's trying to break a cycle of poverty or anything else, they need to be in school, and sometimes it means we need to give them a little extra help."
"They have too much on their plate to be successful students. So if we take some of that off by making sure they have food and clean, appropriate clothes to wear, maybe they can focus on their academic goals or what they want to do in their life, but most importantly stay in and finish high school," Barta said.
Maughan said the homeless and needy students also contribute and volunteer their time in the food pantry and similar service opportunities. That helps them stay connected to the school and to a community in which they otherwise could get overlooked or left behind.
×
Photos