This archived news story is available only for your personal, non-commercial use. Information in the story may be outdated or superseded by additional information. Reading or replaying the story in its archived form does not constitute a republication of the story.
LAS VEGAS — Makenzi Pulsipher could have been looking at the final moments of her BYU women's basketball career when she peeked at the scoreboard in the first quarter of Friday's West Coast Conference quarterfinal with the Cougars trailing by 16 points.
She admitted to thinking some less-than-positive thoughts afterward.
"First of all, crap," she recalled. "They came out really strong."
But college basketball games don't end after 9 minutes and 45 seconds, which was when University of San Diego's Caroline Buhr dropped in a layup to give the Toreros a 21-3 lead.
Sometimes, they end after overtime.
Cassie Broadhead scored eight of her game-high 22 points in the fourth quarter, including a step-back 3-pointer from NBA range to force overtime, to help second-seeded BYU rally from that early deficit and hold off San Diego 75-66 in the quarterfinals of the West Coast Conference women's basketball tournament Friday at Orleans Arena in Las Vegas.
Kalani Purcell had 20 points, 16 rebounds and four assists, and Pulsipher finished with 16 points for the Cougars (20-10), who advanced to face third-seeded Saint Mary's at 2 p.m. PT Monday in the tournament semifinals.
"I felt confident in our team; we've been in that position many times," said Pulsipher, who shook off her own slow start to score 15 points in the second half. "It's just a matter of regrouping and getting shots at the basket. We just chipped away at it each minute."
Aubrey Ward-El led San Diego with 18 points, including nine of the Toreros' first 10 points to open the game en route to a 21-3 lead with 1:43 left in the first quarter.
Buhr finished with 14 points and 12 rebounds for San Diego (14-16), and Katherine Hamilton scored 16 for the Toreros.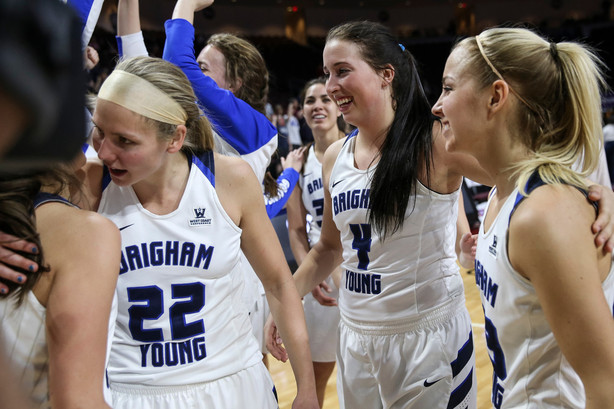 BYU led for just 5:46 of game time, including most of overtime, to USD's 35:36. But the resilient Cougars played with confidence, despite taking a 21-7 deficit after the first quarter.
"Coaches don't like to be in this situation, fighting up," BYU coach Jeff Judkins said. "But it was really nice to see my team fight up.
"Don't give up. Continue to do what you need to do. Stick together. And I thought that showed tonight, with them and my coaching staff."
The Cougars outscored the Toreros 20-12 in the third quarter, holding Ward-El without a field goal and forcing San Diego's top scorer to the bench with her fourth foul. The senior had 15 points in San Diego's 74-47 Thursday night win over Portland, and matched that total in a blazing start to the first half against BYU.
But she made just one field goal after the break, being riddled by foul trouble and a rotating defensive cast of Pulsipher, Broadhead and freshman Brenna Chase, who finished with four points and three steals.
"I had the same reaction as Kenzi at the beginning; well, it's going to be one of those games," said Purcell. "We fought back. But I didn't have a doubt at all. I knew we were going to win that game, and we did."
Broadhead gave BYU its first lead of the game on a quick scoop with 5:20 remaining, and Amanda Wayment's putback capped an 8-0 run to go up 56-53 in the fourth quarter.
Ward-El hit a 3-pointer for her first field goal of the second half to tie the game again, and the Cougars trailed by three in the final minute.
Tourney Preview
That's when WCC player of the year Broadhead stepped up again, draining a step-back 3-pointer from NBA range with 11 seconds left, tying the game at 59-59 and forcing overtime.
"She drilled it; that's a shot she's taken numerous times this season. I'm fully confident in her ability, and really happy she took that," Pulsipher said of Broadhead. "It changed the game for us and gave us a second chance. We weren't ready to go home, and we weren't planning on going home."
Purcell gave the Cougars a 61-59 lead to open overtime, and BYU never trailed again.
Pulsipher made her only 3-pointer in the extra period, then made five of BYU's seven free throws down the stretch to quell any OT rally by the Toreros.
"It was a tough night," she said. "But we adapted to what we needed to do to win, and I'll go 0-for-9 every night if it means my team wins."
×
Photos
Related Stories