Estimated read time: 4-5 minutes
This archived news story is available only for your personal, non-commercial use. Information in the story may be outdated or superseded by additional information. Reading or replaying the story in its archived form does not constitute a republication of the story.
OREM— American Fork High School senior Abbie Rogers has a plan for the future, and it's one that was shaped in part by a novel effort to boost the number of young Utah women seeking careers in technology fields.
On Friday, the SheTech Explorer event drew almost 1,200 girls from 90 high schools to the Utah Valley University campus for a day of activities designed to show them that tech careers are not just for boys.
Cydni Tetro is the founder and president of the Sandy-based Women Tech Council, which started SheTech three years ago. She said women are drastically underrepresented in advanced-industry employment, even now as Utah's tech sector experiences rapid growth.
"Women are only represented by 15 percent of the workforce," Tetro said. "So, there's this really amazing opportunity to say, how do we get this next generation to really be part of this whole economic ecosystem, especially for our state."
Tetro's organization has employed a wide range of partnerships and collaborations to advance its goal of building the ranks of women in tech jobs and, especially for the ninth- through 12th-graders invited to participate in SheTech, creating an environment where they can envision themselves in tech positions is key.
"We have over 100 industry representatives participating in SheTech," said Tetro. "Having a day where these young women can talk to, interact with and learn from these women tech professionals can turn on a light that shows our students, 'That could be me.'"
For Rogers, that light started illuminating her career path two years ago when she attended her first SheTech Explorer event.
"When I first came to SheTech, I was just kinda going in blind, a bunch of my friends were going so I decided to go with them," Rogers said. "But it's opened my eyes as to what kind of tech job I could go into, if I chose to go down that path, or how I can apply it to a career I'd like to pursue."
Now, with the end of high school just months away, Rogers has no hesitation when asked about the road ahead.
"I plan to go to Utah State to study veterinary science and medicine," Rogers said. "This program (SheTech) showed me how tech can help me to get on the edge of that field and how to apply it to make it better for animals in care."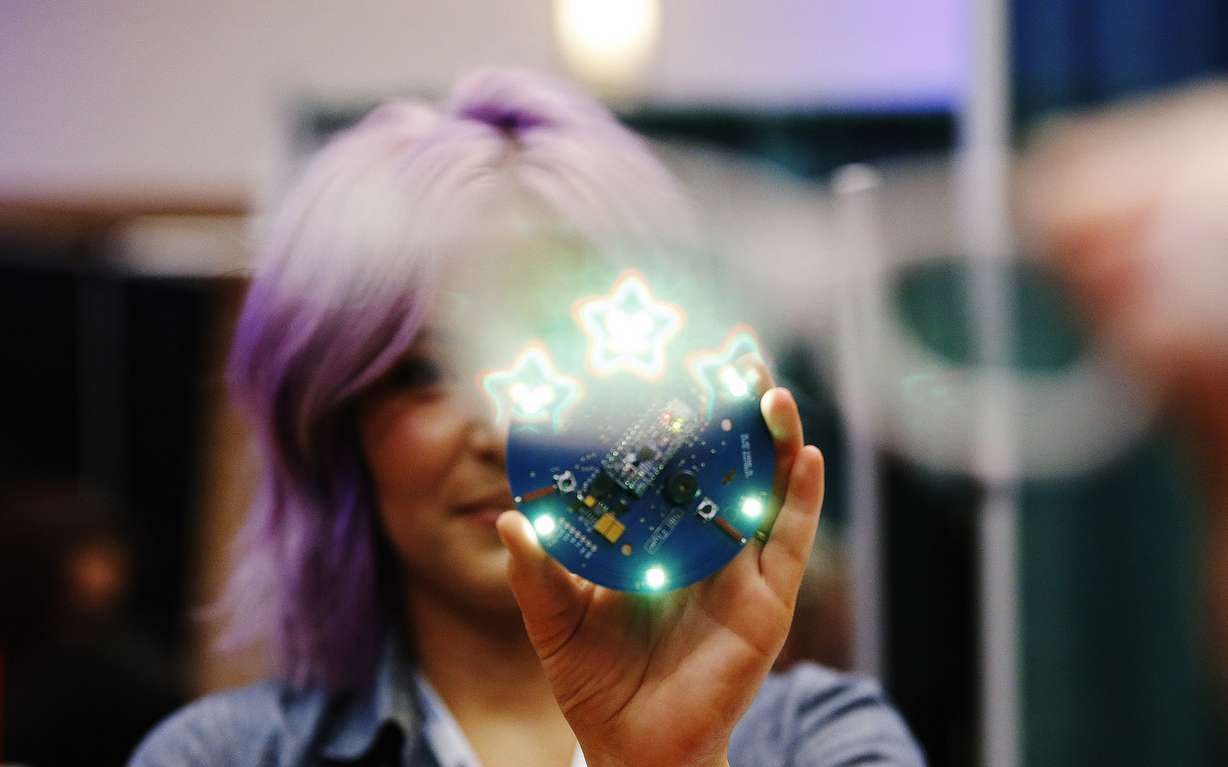 This confidence in next steps, and bridging the transition from high school to college for young women pursuing tech careers, is very much on the list of goals shared by Tetro and her collaborators, like Dr. Angela Trego, a UVU assistant professor of technology management. Trego said the experiences offered through programs like SheTech help illustrate that career possibilities in technology and advanced industries are far broader than what many students may consider.
"SheTech is about … exposing these girls to begin to realize that it's not just about cars and computers," Trego said. "It's about creativity, it's about helping others and there are these vast opportunities."
"It's really important for them to see that so they can go, 'OK, this is what I'm interested in, and here's how I can get there.'"
Trego has been involved with SheTech since its inception — UVU is a founding partner — and said she is starting to see its impacts on the college side of the equation, with a growing number of women seeking academic pursuits in tech fields.
Tetro said that SheTech is a work in progress and, even four years in, they're still learning from each group of students they work with and making adjustments and improvements. If participation is a measure of success, then the program is a smash hit. Initially engaging about 300 students in a single-day event, this year in addition to drawing almost 1,200 to UVU, there's an another event at the end of the month at Weber State University that could draw a similar-sized crowd. And, similar programs are being launched this year in Idaho and Colorado.
As for Abbie Rogers and her friends, the connections they've made at SheTech have prepared them to take on whatever comes their way.
"Just coming here and seeing other girls who are really excited about the same stuff we are is really empowering," Rogers said. "Just to see how much force we have and how much influence we can make in the world."
×
Photos
Related links
Most recent Utah stories