This archived news story is available only for your personal, non-commercial use. Information in the story may be outdated or superseded by additional information. Reading or replaying the story in its archived form does not constitute a republication of the story.
SALT LAKE CITY — It's safe to say Provo-based Qualtrics has long outgrown its hometown.
Now an international research software company with over $220 million in funding and a valuation of more than $1 billion, Qualtrics hosted its yearly conference Tuesday through Friday in the Grand America Hotel in Salt Lake City.
Thanks to a little star power, including former Olympian Michael Phelps and world-renowned musician Elton John, the hotel has now seen more people during the summit than it ever has in its nearly 70-year history.
The Grand Ballroom was packed with conference-goers toting their free Qualtrics "swag" during Thursday's opening keynote speech during which Qualtrics' Chief Executive Officer Ryan Smith introduced what he called the chance for everyone to "play moneyball."
Qualtrics provides companies with the software that enables online data collection and analysis, including market research and customer and employee feedback, but Smith believes the time has come to move past even that.
"There are two types of data: operational data and experience data. For too long, we've been looking exclusively at data about the past — the operational data, or 'O data,'" Smith said. "Where companies fail is with experience data or 'X data.' X data is the human-factor data; the beliefs, emotions and sentiments that tell you 'why' things are happening and help predict what's going to happen next."
Qualtrics plans on being the first to predict the future with something they call an "experience management" platform, or a type of software that allows companies to see where to find the gap between what they're providing and what their customers and employees want.
"Exploit the gaps, that's where the opportunity is," said Jared Smith, Qualtrics' co-founder and Ryan Smith's brother.
Related
To exploit those gaps, the company has developed four different categories to form the experience management platform: product, employee, customer and brand.
Qualtrics hopes the software will help companies understand what's happening in their companies, why it's happening and how to adapt in real time.
The "customer experience" category, for example, will allow companies to analyze tens of thousands of text blocks of customer feedback using new technology, including natural language processing and machine learning.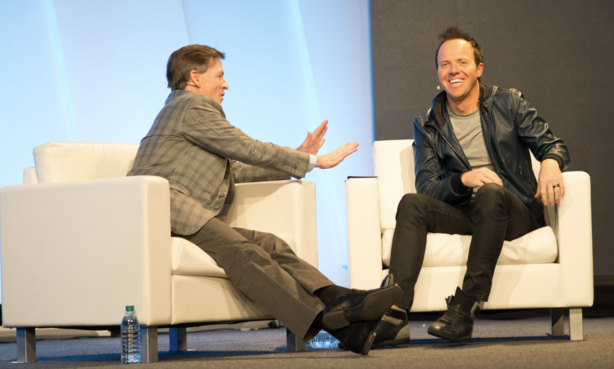 "Internalizing tens of thousands of pieces of feedback is roughly equivalent to reading a novel and categorizing every sentence," Qualtrics' product manager Jamie Morningstar said. "But we have robots."
Thanks to the robots, the Qualtrics software can analyze and categorize tons of text-based customer feedback, so that companies can see where the gaps lie between what the customers want and what they're delivering.
"They (companies) were throwing money at the wrong problem," said Jay Choi, head of product marketing and content at Qualtrics.
Qualtrics hopes to help companies throw money at the right problems and play moneyball in the big leagues.
The company also welcomed former Olympian Michael Phelps, the most decorated gold medalist in history, and a self-professed "numbers guy," to talk about the importance of focus and determination, though Phelps requested that media not cover his presentation. Elton John will also be performing Thursday night in the Vivint Home Arena for all conference-goers.
"It was just the two of us (me and my father) when we started," Ryan Smith said. "I don't think he would have thought that, in his lifetime, we would develop a product that would make everyone a statistician. But here we are."
×
Photos
Related Links
Related Stories