This archived news story is available only for your personal, non-commercial use. Information in the story may be outdated or superseded by additional information. Reading or replaying the story in its archived form does not constitute a republication of the story.
PROVO — There are a lot of good things about Las Vegas. Entertainment on the Strip. All-you-can-eat buffets open until the earliest hours of the morning, and, of course, shopping, shopping, shopping.
For BYU women's basketball standout Kalani Purcell, one of the best things Las Vegas has to offer is something it doesn't: snow.
The native New Zealander hasn't been a fan of the snow ever since she moved to Utah after two years at Hutchinson (Kansas) Community College.
But the Cougars' trip to Las Vegas, where the West Coast Conference Tournament opens Thursday with four first-round games at Orleans Arena, won't be about escaping the weather or seeing a performance.
"We aren't just going to Vegas to have a good time in Vegas," said Purcell, whose team opens the tournament Friday at 2 p.m. PST against the winner of San Diego and Portland. "We are going there for a reason. (BYU coach Jeff Judkins) emphasized that, too. We're going there for business and not just for a holiday."
Judkins hopes his players have fun, but he also recognizes the need for the second-seeded Cougars (19-10, 13-5 WCC) to win the conference tournament to make it back to the NCAA Tournament for the fourth straight season.
"The girls have done it before, and they want to win the tournament. We'll have to come out ready to play," Judkins said after practice in the Marriott Center Annex. "It'll be a real battle. I told them honestly, we've got to win this tournament if we want to go to the NCAA Tournament."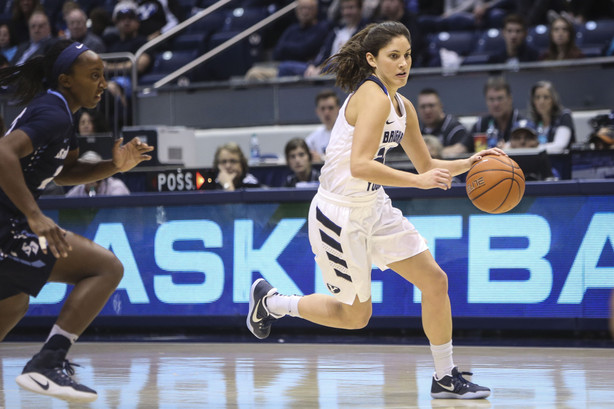 The conference tournament is as up for grabs as any has ever been since BYU joined the league in 2011. Even top-seeded Gonzaga (23-6, 14-4 WCC) has proven itself beatable in WCC play — most recently by BYU, a 71-63 win last Saturday that gave the Cougars a perfect 9-0 home record in league play and six wins in their last seven games overall.
"Part of it was the schedule, playing at home then going on the road," Judkins said of the more balanced league scheduled. "Gonzaga, Saint Mary's and BYU have been consistently the three best teams, and we've been that way for a while, but it's been tough.
"You go on the road, and it's hard now. It's not as simple as it used to be."
The win also clinched the No. 2 seed for BYU, which tied Saint Mary's with a 13-5 conference record but won the tiebreaker by virtue of beating the Zags. The Cougars will take that confidence into the winner of the Toreros and the Pilots, both of whom were narrowly swept by BYU in the regular season.
"Being able to beat Gonzaga not only got us the second seed, but we also realize we've beaten every team in the conference at least once," Purcell said. "Now we just go into the tournament thinking we can do it again. We have to have that mindset."
BYU's senior class has done it before. Besides Purcell, the league's defensive player of the year who averaged 2.7 steals and 1.5 blocks per game, BYU has leaned on all-conference honoree Makenzi Pulsipher and Kristine Fuller Nielsen in the starting lineup.
Oh, and then there's point guard Cassie Broadhead, the WCC Player of the Year who averaged 18.3 points, 4.4 assists and 4.2 rebounds per game in her first season as a full-time starter.
WCC Women's Basketball Championships
At Orleans Arena (Las Vegas)
Thursday's game
1: Pepperdine vs. Pacific, noon PT (BYUtv)
2: San Diego vs. Portland, 2 p.m. PT (BYUtv)
3: Saint Mary's vs. Santa Clara, 6 p.m. PT (BYUtv)
4: San Francisco vs. Loyola Marymount, 8 p.m. PT (BYUtv)
Friday's games
5: Gonzaga vs. Pepperdine/Pacific, noon PT (BYUtv)
6: BYU vs. San Diego/Portland, 2 p.m. PT (BYUtv)
Monday, March 6
Game 5 winner vs. Game 4 winner, noon PT (BYUtv)
Game 6 winner vs. Game 3 winner, 2 p.m. PT (BYUtv)
Tuesday, March 7
Championship game, 1 p.m. PT (ESPNU)
Experience can do well by the Cougars.
"With experience comes confidence to be successful," said Nielsen, one of four seniors on the team. "Whenever we've gone to Vegas, we have been successful. We've laid a foundation through the past five years of taking care of business and making it to the championship game.
"I think that gives us a big advantage for the WCC Tournament."
Gonzaga opens the tournament Friday at noon PST against the Pepperdine-Pacific winner, followed by BYU. Both games will be broadcast on BYUtv.
×
Photos