This archived news story is available only for your personal, non-commercial use. Information in the story may be outdated or superseded by additional information. Reading or replaying the story in its archived form does not constitute a republication of the story.
HONEYVILLE — People across Box Elder County have been impacted by flood water as spring approaches. But water soaking into the ground has created a new problem: shifting land.
In one area of Honeyville, a large piece of earth slid toward the Bear River, leaving residents of one home in a difficult situation. For the Nye family, a big section of land has fallen away from the hillside close to where they live.
"It's a concern that it's creeping closer and closer to the house," said Kathy Nye, who has been in her house for 21 years.
Nye said she fell in love with the house because she loves the view surrounding the property, which sits atop the hillside. People would tell her "Oh, you're the house that sits on the hill that looks like it's going to fall into the river," she said.
Although usually a funny comment, reality has made it no joke.
It's not just Nye's home, either. The ground has slid away from the roadside right across the street from John Barfuss' house, which is near the Nye house.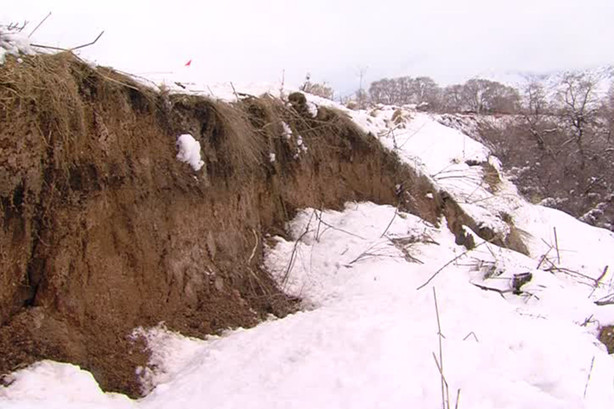 "I was just cruising right there and came to a stop," Barfuss said. "I first saw this crack, it was probably a foot, maybe 2 feet deep is all. Now you can see it's about 6 feet deep."
Abundant runoff flowing under the surface of the soil is making the ground overlooking the Bear River unstable. A stretch of 4400 West is closed above Petersen Park because there are concerns it could collapse.
Nye's landlord asked her family to move out within 15 days. She understands why but says it's tough to leave.
"It's the only house some of my kids have known," she said. "So, just memories." Nye said she will make the most of her time at the house until moving day.
"We're sorting through 20 years of memories in the house and soaking in what we can," she explained.
An emergency manager reiterated the importance of not driving on that stretch of road, which may not be safe.
×
Photos
Related Stories