This archived news story is available only for your personal, non-commercial use. Information in the story may be outdated or superseded by additional information. Reading or replaying the story in its archived form does not constitute a republication of the story.
OGDEN — Reid Haroldsen is a man with a mind of metal and wheels.
"We kind of had this joke that I was a dirty old man that was into heavy metal," he said, speaking of how he and his wife refer to his hobby.
But that "hobby" borders on being an obsession. Haroldsen's "day job" is with KSL TV, spending a week at a time living as a modern-day lighthouse keeper, tending to the station's transmitter site on Farnsworth Peak. He said it gives him a lot of time to ponder what to do when he gets home.
Home for Haroldsen is a workshop packed full of metalworking machinery. For him, deciding what to build next hinges on the challenge.
"You make a gear, or something, and it doesn't quite work," Haroldsen said, nearly shouting over the sound of an air compressor. "But you learn from it and you figure out what you did wrong, make some changes."
Haroldsen's got a long list of accomplishments, each one a testament to his ability to learn from his mistakes. An old British car hanging high in his garage is just one example.
"When I got it, it was in pieces," Haroldsen said. "The body was pretty well rusted, so I restored it and got it running."
Out in his shed is what looks like a piece of farm equipment; but it's actually a small ferris wheel Haroldsen built, folded up for the winter.
"My wife, Kathy, thought it'd be fun for the grandkids," he said. "I figured if I'm going to go to the trouble to make something for the grandkids, it's going to be fun for adults too."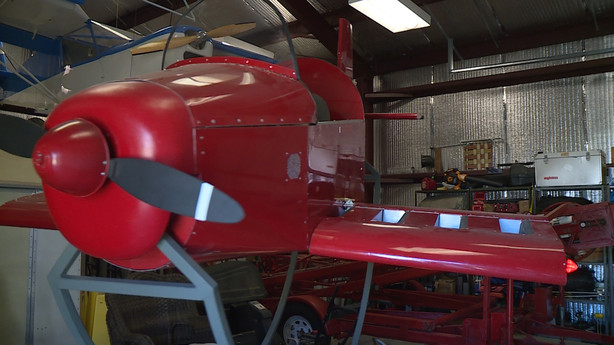 Haroldsen has even constructed an airplane for children.
"It's kind of a simulator," he said. "You can put a kid in it, and he can fly it. It banks, tilts, yaws."
Of course, the inventor couldn't resist putting together a fully operational airplane for himself.
"It's a kit airplane," he said, pointing to the small craft suspended from the shed's ceiling. "I haven't flown it for quite some time."
It's said that Alexander the Great wept when there were no worlds left to conquer, and so it went with Haroldsen. What was left to build?
Haroldsen credits the 2014 movie "The Imitation Game" for sparking his next idea.
"It quite fascinated me," he said. "I got to wondering, with the tools I had, if it'd be possible to make."
That movie tells the story of how a man named Alan Turing cracked a Nazi encryption device called the Enigma machine during World War II.
"Hitler had all these troops out in the field," Haroldsen said. "You can't send information back and forth without us, the Allies, listening in, because then they'll know all the plans."
Always fascinated by machines, Haroldsen was spellbound. Here was a mechanism that was complicated beyond the wildest dreams of any metalworking hobbyist — to him, it represented the ultimate challenge.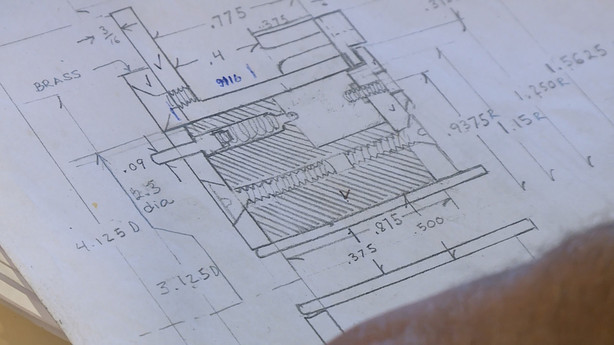 Unbelievably complex, the device used a keyboard, what's called a "plugboard," and a series of rotating, interlocking rotors to encode and decode messages. With more than 2,000 parts, the demands of building an Enigma machine were almost as big as cracking one, especially since Haroldsen had little to go on aside from pictures.
"There's nothing available on the internet in the way of plans, at least at that time," Haroldsen said.
So, he drew his own.
"Little by little, I kind of figured out what did what," Haroldsen said. "I studied drawings."
He did discover the exact size of one of the pieces, and used math to calculate the rest. Using pictures he found online, he made drawings of the rest. The hardest part was figuring out how the machine's deep innards operated.
"That's what was challenging," Haroldsen said. "I could hardly find any pictures of what was underneath."
He didn't just want something that looked like an Enigma machine; Haroldsen wanted a working replica. He wanted it to "scramble letters and unscramble letters, because that's how they did it. They used the very same machine to encrypt and decrypt."
While you'll often find Haroldsen standing by a piece of metalworking equipment in his workshop, crafting his latest gear, he's actually already finished his Enigma machine, which sits in a place of honor in his basement.
"I press the V, and what lit up was an I," he said, pressing a key to demonstrate how it works. "If I press the V again, now it's a C."
Nearly every one of his machine's 2,000 components was made by Haroldsen himself, "with the exception of screws and piano hinges," he said.
Haroldsen spent about a year creating his masterpiece and has taken it on a tour of local schools, explaining the history behind it.
Now, his monument of engineering is about to be shown to the world: It's going on display at the American Computer and Robotics Museum in Bozeman, Montana.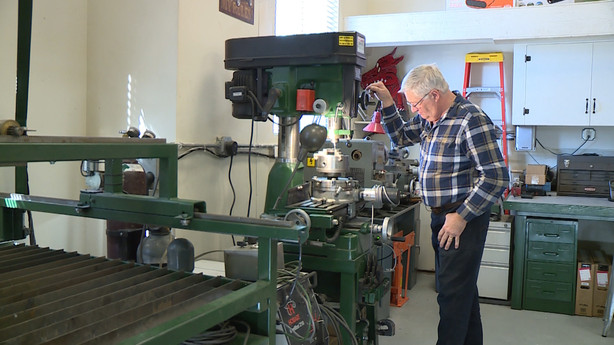 Haroldsen is currently working on his second Enigma machine, which he said will be more accurate as he's since gotten his hands on some plans.
Since the completion of his first machine, he's gained a fair bit of notoriety, thanks to an appearance at the Bozeman museum's awards show.
"Sir Dermot Turing saw my machine and kept asking me how much it cost to make one," he said.
Sir Dermot Turing is the nephew of Alan Turing, the man who cracked the code. Haroldsen's second machine will hopefully go on display at Bletchley Park in England, the site of Britain's codebreaking work during World War II.
"He said they have real machines at Bletchley Park, but they won't let anybody touch them," Haroldsen said. "That's partly why I'm building another one. We never did agree on a price, I just told him how long it'd take to make one."
But to Haroldsen, it's not really about the money; it's about the challenge — the challenge, and proving that if you put in the work there's no telling what worlds you may conquer.
"You end up making a lot of mistakes," Haroldsen said. "But if you put your mind to something, it's amazing what you can make."
---
Ray Boone is a photojournalist for KSL-TV. Contact him at rboone@ksl.com
×
Photos