This archived news story is available only for your personal, non-commercial use. Information in the story may be outdated or superseded by additional information. Reading or replaying the story in its archived form does not constitute a republication of the story.
SALT LAKE CITY — Here are 10 stories you may have missed this weekend. As always, click on the headline to read the full story.
1. Driver arrested after truck crashes into Kearns house
Unified police arrested a man they say was behind the wheel of a car that crashed into a Kearns house late Friday night. The crash happened at 5615 S. 4500 West in Kearns shortly before 11:30 p.m., Unified Police Lt. Brian Lohrke said.
2. Logan woman wanted for husband's automobile homicide arrested in Idaho
A Logan woman wanted on a warrant after police say she killed her husband in a DUI crash was arrested Wednesday in Idaho.
Eska Miller Bird, 42, was charged in December with automobile homicide and several other charges. She was arrested Wednesday in Pocatello when a detective who was aware of the case recognized Bird when she drove past him, Pocatello Police Lt. Ian Nelson confirmed.
3. Flood warning in effect along Bear River in northern Utah
A flood warning along the Bear River this weekend was prompted by the need to release water from a few reservoirs in northern Utah. It all led to a big mess for farmers along the Bear River whose fields were overrun by the water Saturday.
4. Man dead after shootout at remote hazardous waste facility in Tooele County
A man was reported dead Sunday morning following an officer-involved shooting at a hazardous waste disposal facility in a remote area of west Tooele County.
The man died after being shot when he refused to cooperate with responding officers, according to a statement from the Utah County Sheriff's Office, which is investigating the incident.
5. Police searching for missing plane last detected near Panguitch
A search has been launched in a wooded area on the border of Iron and Garfield counties for a missing plane carrying a Sandy father and his two children. The plane disappeared before 9 a.m. Sunday, roughly 17 miles northwest of Panguitch near Sandy Peak and Little Creek Peak, according to police.
Sports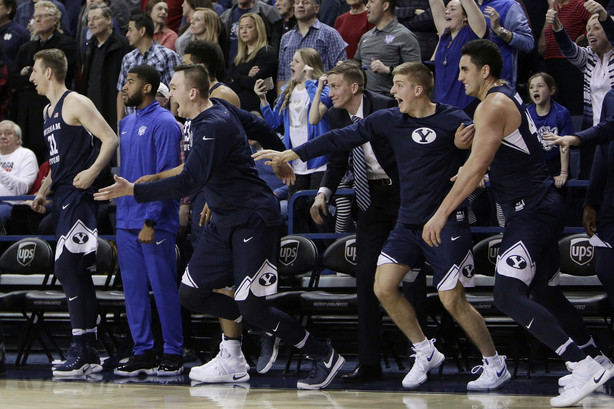 1. Mika leads BYU to upset of No. 1 Gonzaga 79-71
Top-ranked Gonzaga's quest to go undefeated this season ended under a barrage of baskets by BYU's Eric Mika on Saturday night.
Mika had 29 points and 11 rebounds, and BYU upset Gonzaga 79-71. It was the Cougars' first victory ever over a No. 1 team, after four losses, and spoiled the Bulldogs' perfect record in their last regular season game.
2. Cougars on Cloud 9 after thrilling upset of top-ranked Zags
The BYU men's basketball team had just handed top-ranked Gonzaga its first loss of the season, 79-71, at the McCarthey Athletic Center in Spokane.
When the Cougars flew into Provo Municipal Airport at 2 a.m. on Sunday, only one thing was on their minds: sleep.
3. Moore, Aggies put on shooting clinic, rout Air Force on Senior Night
For the final time in his collegiate career, Jalen Moore stepped onto the floor at the Dee Glen Smith Spectrum. The senior from North Logan didn't disappoint or let the emotion of the game get to him.
4. Moeaki leads American Fork girls to first 5A title since 2009
Taylor Moeaki had 21 points and three steals to lift the Cavemen to the 5A state title with a 50-46 win over Viewmont in Saturday's championship game at Salt Lake Community College.
5. Anderl, Jessop lead Skyline girls past Judge Memorial in OT for 4A title
Hannah Anderl had 12 points, five rebounds and three assists, and teammate Barrett Jessop scored a team-high 20, to help Skyline hold off Judge Memorial 60-57 in overtime Saturday in the 4A state title game at Salt Lake Community College.
×