This archived news story is available only for your personal, non-commercial use. Information in the story may be outdated or superseded by additional information. Reading or replaying the story in its archived form does not constitute a republication of the story.
TAYLORSVILLE — Judge Memorial's run to the Class 4A girls basketball state semifinals has been marked by a series of improbable comebacks.
The Bulldogs trailed until the final minute of a win over Wasatch in the first round, then got a remarkable last-second, coast-to-coast bucket from Haley Auer to knock off East 45-43 in the tournament's quarterfinals.
In Friday's semifinals, Judge Memorial had to play from ahead — and the Bulldogs passed with flying colors.
Vanessa Austin totaled 14 points and 15 rebounds to lead Judge Memorial to a 45-34 win over Box Elder and advance to their first state championship game in school history Friday at Salt Lake Community College.
"I put a lot of work in. I kept telling myself I was going to get to the championship," said Austin, a senior. "Each year, it didn't happen. This year was my senior year, my girls were with me, and I knew we were going to the championship."
Miyalla Tarver added 14 points and seven rebounds for the Bulldogs, who held Box Elder to a season-low scoring margin. Judge Memorial will face the winner of Timpview and Skyline in Saturday's 4A final at 1 p.m. MST.
"There was a lot of motivation for not being in this place," Austin said. "I want to bring it home to my school."
Judge Memorial (19-4) used its inside presence paced by Austin en route to a 25-14 halftime lead.
Emily Garcia's triple with 5:20 on the clock kept the Bulldogs' lead at double digits, 28-18.
But the Bees came back.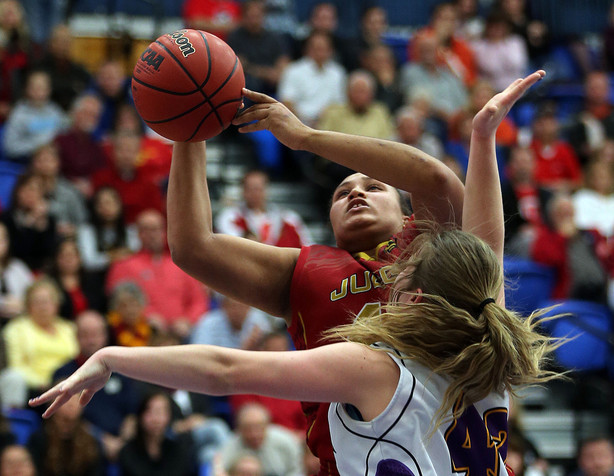 Keslee Stevenson knocked down a jumper with two minutes left to pull Box Elder back within a possession. The senior veteran did it again with 15 seconds left, spotting up from the left wing for a 3-pointer that cut the lead to 32-30 going into the fourth quarter.
But Austin was too much for the Region 5 champion Bees (21-3) to handle, even when fellow rebounder Mayree Ellis earned her fifth foul and was forced to the bench for the final 2:36 of the game.
"I was a little nervous. But I knew it was for a reason," Austin said of Ellis' foul trouble. "That told us that without May, we've got to dig even deeper."
Ellis finished with eight rebounds, but the Bulldogs got a big boost from Emily Malouf. The freshman didn't score a field goal, but she came off the bench and collected six rebounds in 12 minutes to help Judge hold on for the win.
"Emily Malouf is just a freshman, and all I asked her to do was get good inside position on rebounds," Judge coach Paul Shiramizu said. "She's got to get the defender … and she needed to be the screen. She had grit, and she was pretty good with her moves."
Keslee Stevenson and Emily Isaacson each had 15 points for the Bees.
Now Judge has a chance to continue its run at program history. The Bulldogs had never advanced to a 4A state semifinal before Friday's game, and they'll be placed back in Class 3A beginning next season.
But there's no better time than the present to make history.
"It means the world to me," Austin said. "I've been working towards it since my freshman year, and I've been in the exact same place every year.
"I could not be more excited."
×
Photos
Related Stories