This archived news story is available only for your personal, non-commercial use. Information in the story may be outdated or superseded by additional information. Reading or replaying the story in its archived form does not constitute a republication of the story.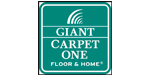 This story is sponsored by Giant Carpet One Floor & Home. The one store for your perfect hardwood, carpet, laminate, vinyl or tile floor!
Utah is a state with an amazing climate. From spring to summer, fall to winter, we experience it all. Sometimes, however, the elements are such that it is best to enjoy the weather from your warm, climate-controlled homes, surrounded by your carefully crafted interior, complete with cozy hardwood floors.
Unfortunately, your indoor solace may be cut short if you find yourself staring at your once pristine natural hardwood floors that are now in severe need of maintenance or repair due to the very elements that surround them.
It's true that while natural hardwood floors are beautiful, they can present a problem especially in a climate such as Utah's.
How so?
It's no doubt trees are wonderful. Not only do they provide oxygen and shade for us to benefit from, but they react awesome to climate changes. When it rains or the humidity in the air rises, trees soak up all that moisture through a wonderful process called osmosis, causing the wood to swell. Then, when the climate is dry and cold, moisture dissipates, and the wood of the tree shrinks.
In fact, the Environmental Protection Agency suggests homeowners plant trees in high moisture areas to help reduce runoff and erosion from falling rain. This is also exactly why we don't plant trees in areas where water isn't as prevalent.
While expansion and shrinking are awesome occurrences in nature, it is not so when it comes to your wood flooring. Even though your wood floor is made from "dead" trees, it reacts to climate changes inside your home as if it were alive. And with the constant changes in temperature/weather within our state, this can wreak havoc on your natural wood floors.
Can you still have hardwood in Utah's climate?
You can still have natural-looking hardwood without the worry of damage due to climate, and it comes in the form of engineered hardwood. Much like natural hardwood, engineered wood flooring is still made from trees, which gives it that natural feel and look. However, the process is much different.
As opposed to natural wood flooring that is made from a series of solid wood planks pieced together, the pieces of engineered flooring are constructed by layering 3-5 wood planks with grains running at different angles. These layers are then bound together under extreme heat and pressure, in a process that limits the effect of humidity and cold changes that natural hardwood is subject to.
Additionally, engineered hardwood planks have now been created with a tongue-and-groove system that makes it possible to be installed over in-floor heating systems that can better regulate the temperature of the flooring, again, lessening the impact of climate.
What's the best option?
Utahan's who do want solid hardwood flooring or those who prefer a sanded finish can purchase a humidifying unit to go on their furnace that will help keep the humidity in the house at a more constant level, offsetting the expansion and contraction of natural solid hardwood floors.
However, engineered flooring is probably a better option for most people and you don't have to sacrifice a natural-looking floor when going with engineered, as there are many natural-looking options available.
Giant Carpet One has a large range of both natural hardwood flooring and engineered hardwood flooring options that will not only withstand the test of time but Utah's ever-changing climate as well.
×