This archived news story is available only for your personal, non-commercial use. Information in the story may be outdated or superseded by additional information. Reading or replaying the story in its archived form does not constitute a republication of the story.
SALT LAKE CITY — Lawmakers revived a bill that failed last week that would allow concealed carry of guns without a permit, shocking critics. Lawmakers also want the federal government to take care of Utah's wild horse problem, calling it "a hell for the animals."
Committees also advanced bills on school bus inspections, mass transit funds and drug dealing near homeless shelters.
Here is a roundup of what's happening on the Hill:
Democratic and Republican lawmakers joined together Wednesday to present a bill that would allow voters to rank their preferred candidates in certain elections.
Rep. Rebecca Chavez-Houck, D-Salt Lake City, asked Rep. Marc Roberts, R-Santaquin, to join her before the House Government Operations Committee to present HB349, a bill that would use ranked-choice voting in elections when there are more than two candidates on the ballot.
"I think my co-sponsor and I approached this from different perspectives, but we do believe in one thing and that is that voters should feel that their voices are heard," Chavez-Houck said.
She cited frustrations felt within both major parties as an opportunity to introduce ranked-choice voting.
HB349 would apply ranked voting broadly, from presidential races to municipal elections. The committee voted 8-1 to pass the measure to the House floor for further consideration.
Lawmakers advanced a bill Wednesday that would make selling or distributing illegal drugs within 100 feet of a homeless facility a felony.
On a unanimous vote, HB365 was forwarded out of the House Political Subdivisions Committee to the House floor, but not without concerns that the new law would do nothing to address the ongoing shortage of county jail beds.
"This is not the silver bullet," acknowledged the bill's sponsor, House Minority Whip Rep. Joel Briscoe, D-Salt Lake City. "I don't see this as the thing that fixes this. … But I present it to you for discussion purposes as one possible tool that could be in the quiver that we can use."
By sponsoring legislation that eliminates a specific prohibition against advocacy of homosexuality in health instruction in Utah schools, Sen. Stuart Adams, R-Layton, "acknowledged the merit" of Equality Utah's lawsuit against the Utah State Board of Education, the organization said in a letter to the Deseret News and others Wednesday.
"Sen. Adams acknowledged the merit in our legal complaint and recognizes that discrimination has no place in public schools. He understands that LGBTQ students must be treated equally to all students. With that, he presented us with SB196, which accomplishes exactly that," wrote Troy Williams, executive director of Equality Utah.
Adams did not immediately respond to a request for comment.
Williams noted that the defendant in its case, the Utah State Board of Education, testified at the hearing in support of the legislation, referring to Mark Huntsman, board chairman.
Huntsman was among a half-dozen individuals or groups who spoke in support of the bill. No one spoke in opposition.
With populations expected to grow exponentially on the west side of the Wasatch Front, one Utah lawmaker is hoping to get a proportional piece of the state's mass transit pie.
"We're asking the Utah Transit Authority to make sure that areas where there is growth are serviced by buses and maintained," said Sen. Karen Mayne, D-West Valley City, who is backing SB222 to address the matter.
Mayne said the southwestern Salt Lake County communities contain 52 percent of the population along the I-15 corridor, yet the east side is home to the majority of mass transit services, including bus lines, TRAX and FrontRunner trains.
The Senate Business and Labor Committee approved the bill Wednesday, but mentioned some necessary language changes to it before it would pass the full Senate.
A bill seeking to limit access to voter registration records was held Wednesday by a House committee after concerns were raised about what information political parties and candidates would be able to see.
The sponsor of HB348, Rep. Becky Edwards, R-North Salt Lake, agreed to continue working on the bill with members of the House Government Operations Committee.
"This is a pretty significant policy change, a pretty dramatic one," said Rep. Jeremy Peterson, R-Ogden, the committee chairman, adding that he wanted to "see what we can do to fine tune it."
Edwards said the intent of the bill is simple — to protect voter registration information unless a person agrees to share their information with the public when he or she signs up to vote.
Lawmakers revived a bill Wednesday that would allow concealed carry of guns without a permit, leaving critics shocked and disheartened.
HB237 initially failed on a tie vote in the House Law Enforcement and Criminal Justice Committee last week. But sponsor Rep. Lee Perry, R-Perry, brought the bill back to the committee after discussing it with lawmakers and making a few minor amendments.
While the bill would allow concealed carry of firearms without a permit, it would prohibit people who have protective orders against them or who have been convicted of domestic violence from buying, owning or carrying guns.
Lawmakers voted 7-5 to forward the bill to the House floor, with two members present who were absent for the first vote.
Sen. Orrin Hatch, R-Utah, told state lawmakers Wednesday that even though President Donald Trump may irritate some people, "in a lot of ways, we're taking on things that we've never been able to take on before."
Hatch highlighted Trump's willingness to take a look at the designation of two national monuments in southern Utah by past presidents, the newly designated Bears Ears and the 20-year-old Grand Staircase-Escalante.
He said he spent an hour in the Oval Office with the new Republican president discussing the state's efforts to rescind or at least reduce the size of the monuments, noting that the designation of Grand Staircase shut off a coal reserve.
"I'd like to see us have access to that," Hatch said in the Utah Senate. Mining the clean-burning coal will help the state "taxwise and so forth. It will also help the country when we need that energy."
Later, Hatch told reporters he's "very confident" Trump will rescind the Bears Ears National Monument designation made by President Barack Obama in the final days of his administration.
The Utah House of Representatives gave final passage Wednesday to SB40, which requires school buses that carry 11 or more children have two safety inspections a year and also be subject to random inspections. The bill, sponsored by Sen. Wayne Harper, R-Taylorsville, applies to school districts, charter schools, the Utah Schools for the Deaf and the Blind and private schools.
Under SB40, each bus will be inspected by their school entities and undergo safety and emissions inspections. Twenty percent of school buses statewide will also be subject to random inspections in the spring, Harper said in previous debate.
The bill, which received unanimous support in the Senate, was approved by the House on a vote of 74-0.
Utah lawmakers reasserted their commitment to making the state a welcoming place for refugees Wednesday as President Donald Trump crafts a revised travel ban.
Members of the Senate Economic Development and Workforce Services Committee unanimously backed a resolution expressing the stance during a hearing in which they highlighted their own ancestors' experience as immigrants.
SCR6 sponsor Sen. Brian Shiozawa, R-Cottonwood Heights, said his grandfather moved to the U.S. from Japan as a single man who didn't speak any English. He said his grandfather soon married and had seven children.
The resolution, which Shiozawa said helps solidify the state's embrace of diversity, next moves to the full Senate for consideration.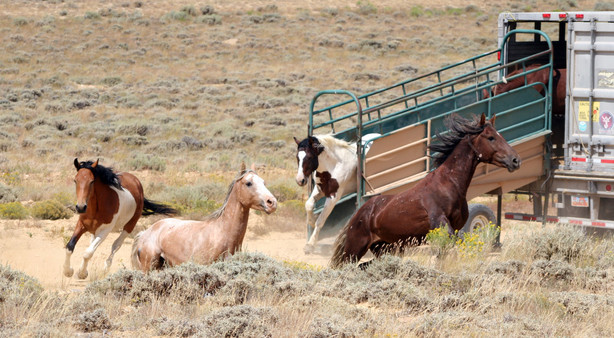 A state lawmaker says the inability of the federal government to humanely manage exploding wild horse and burro populations should prompt Congress or President Donald J. Trump to give that authority to Utah.
"It is a hell," said Rep. Ken Ivory, R-West Jordan and sponsor of HCR22.
"They say the road to hell is paved with good intentions. … This is a hell for the ecosystem, this is a hell for wildlife species. … This is a hell for the animals themselves."
The resolution, which passed on a 10-1 vote in the Natural Resources, Agriculture and Environment Committee, notes that while federal herd management levels on western ranges should be at 26,715 horses and burros, the actual number is 67,027.
Contributing: Ryan Morgan, Katie McKellar, Marjorie Cortez, Wendy Leonard, Lisa Riley Roche, Hallie Golden, Amy Joi O'Donoghue
×
Photos
Related Stories