This archived news story is available only for your personal, non-commercial use. Information in the story may be outdated or superseded by additional information. Reading or replaying the story in its archived form does not constitute a republication of the story.
PROVO — Five years ago, Makenzi Morrison walked into the BYU women's basketball program as a four-year guard from Alta High who was a consensus all-state selection and Parade All-American and owned the Hawks' all-time record with 1,799 career points.
On Saturday, Morrison — now Makenzi Pulsipher, married to BYU linebacker Adam Pulsipher — will play in her final game in the Marriott Center this week, hosting Portland Thursday evening and Gonzaga Saturday afternoon before moving on to next week's West Coast Conference Tournament in Las Vegas.
It's been a four-year career that has Pulsipher known as much for her defense as her jump shot, her 196 career assists and 191 steals as 1,154 points.
"It's been a long and short, and up and down, and fun journey with every emotion tacked on to it, but I wouldn't have it any other way," Pulsipher said. "Every day becomes more surreal. Thinking it is my last time at the Marriott Center, but I've had some really good years here."
A reserve freshman on the 2013-14 squad that advanced to the Sweet 16 against top-seeded Connecticut, Pulsipher has seen plenty of ups and downs in her tenure with the Cougars. She's advanced to the NCAA Tournament in all three of her active seasons on the roster after redshirting in 2012-13, and she took on a more active leadership role in 2016-17 as a team captain.
Pulsipher has changed plenty in her five years in Provo — not just because of her last name. She's developed into a defensive menace, an all-conference academic who will graduate with a degree in recreation management, and a career 37-percent 3-point shooter.
But most of all, she hopes to have set an example for the 12 other players behind her on the roster.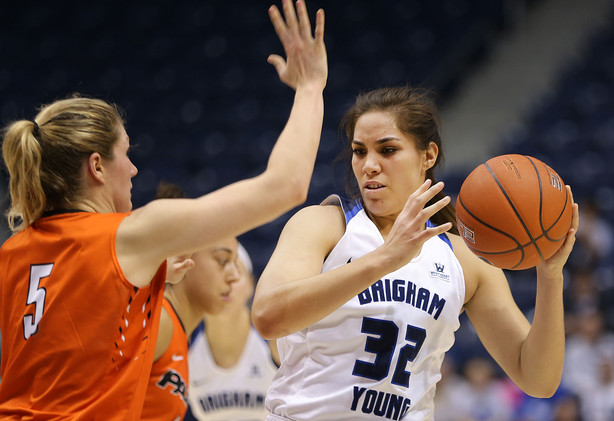 "With this team we have now, there are a lot of young players," Pulsipher said. "We've got four seniors, but only two after that, so there are a lot of freshmen and sophomores. Hopefully we set an example, and something they can build on."
BYU coach Jeff Judkins has seen a lot of senior classes in his 16 years in charge of the program. Each one makes him emotional, and each one has its story.
The story of the Class of 2017, though, is one of perseverance and change.
Pulsipher became a pesky defender instead of a spot-up shooter. Kristine Nielson, who arrived from Florida as Kristine Fuller and still answers to the surname, spent three years backing up standouts like WCC all-time leading scorer Lexi Rydalch before breaking into the starting lineup as a senior.
Fellow senior Micaelee Orton hasn't started this season but continuing a career after debilitating knee surgery isn't easy.
And then there's Kalani Purcell, the New Zealand native who will leave Provo as one of BYU's best rebounders despite spending two seasons at Hutchinson Community College in Kansas.
"These seniors have all been different pieces of the puzzle for the program," Judkins said. "It's been a joy for me to coach them. These four are determined; they've all worked hard, and they've all gone through something tough in life."
Senior Power
Purcell doesn't feel like a changed person; maybe a better basketball player, sure. But she still insists she is "the same old Kalani."
"I feel like the same person; others might say different," she said before cracking a grin. "Snow still gets on my nerves. Like when I woke up and it was snowing, I was mad."
The snow will eventually be a welcome sight for Purcell — memories of two years spent at BYU where she is on track to graduate next December with a degree in sociology after struggling just to make it into the school.
And then another player will join BYU's women's basketball team — maybe even another New Zealander. The Cougars will return two more next season in Shalae Salmon from Porirua, New Zealand, and USC transfer Khaedin Taito from Hastings, New Zealand.
But none will be the same as Purcell or any other senior in the Class of 2017.
"I've enjoyed coaching each one of them," Judkins said. "They all have their own personality, but the one thing they all have in common is team. The team is first for each of them."
×
Photos
Related Stories