Estimated read time: 3-4 minutes
This archived news story is available only for your personal, non-commercial use. Information in the story may be outdated or superseded by additional information. Reading or replaying the story in its archived form does not constitute a republication of the story.
OGDEN — Statistics predict a 50 percent failure rate for new businesses within the first year. One Utah man, however, isn't convinced the outlook is so bleak.
Zach Smith co-founded Funded Today, a crowdfunding agency, with Thomas Alvord after a few risky ventures found phenomenal success. Funded Today has now helped raise over $107 million on Kickstarter and Indiegogo for startup products around the country, including many now-successful Utah businesses.
Smith, a Weber State graduate, decided to try his hand at e-commerce after graduating from college and began consulting, but was soon approached by one of his clients with a different idea.
The client had invented a running wallet and wanted to raise money to expand but couldn't quite afford Smith's hourly consulting rates. Instead, they suggested something else: Smith and Alvord would help them raise money for their product on a crowdfunding platform and would earn a commission from the total funds.
So Smith and Alvord launched a Kickstarter campaign.
"In 35 short days, we took this company that was making only a couple hundred dollars a month to raising $115,000," Smith said. "Ever since then, people saw this little mom-and-pop company raise 115 grand, and they said how did you do this?"
According to Smith, the pair have had "people beating down (their) door" ever since, and Funded Today was soon born.
Their second project, however, was a bit riskier. The clients had raised $180,000 on Kickstarter with a goal of $300,000.
"On Kickstarter, there is something called all-or-nothing funding," Smith said. "This means, if you've raised $180,000 and you have a $300,000 goal, if you don't raise $300,000 (in the time you're given), you don't get to keep the $180,000 you raised."
And there was one catch. The Kickstarter had only three days left.
"We're big into numbers and mathematics and probability, and our tests showed that we could maybe make it work," Smith said. "But we were taking a risk because there were only three days left on this project … Thomas, to his credit, was a bit more gutsy than me and he said, 'All right let's do it.'"
In the next three days, Alvord and Smith raised the remaining $120,000.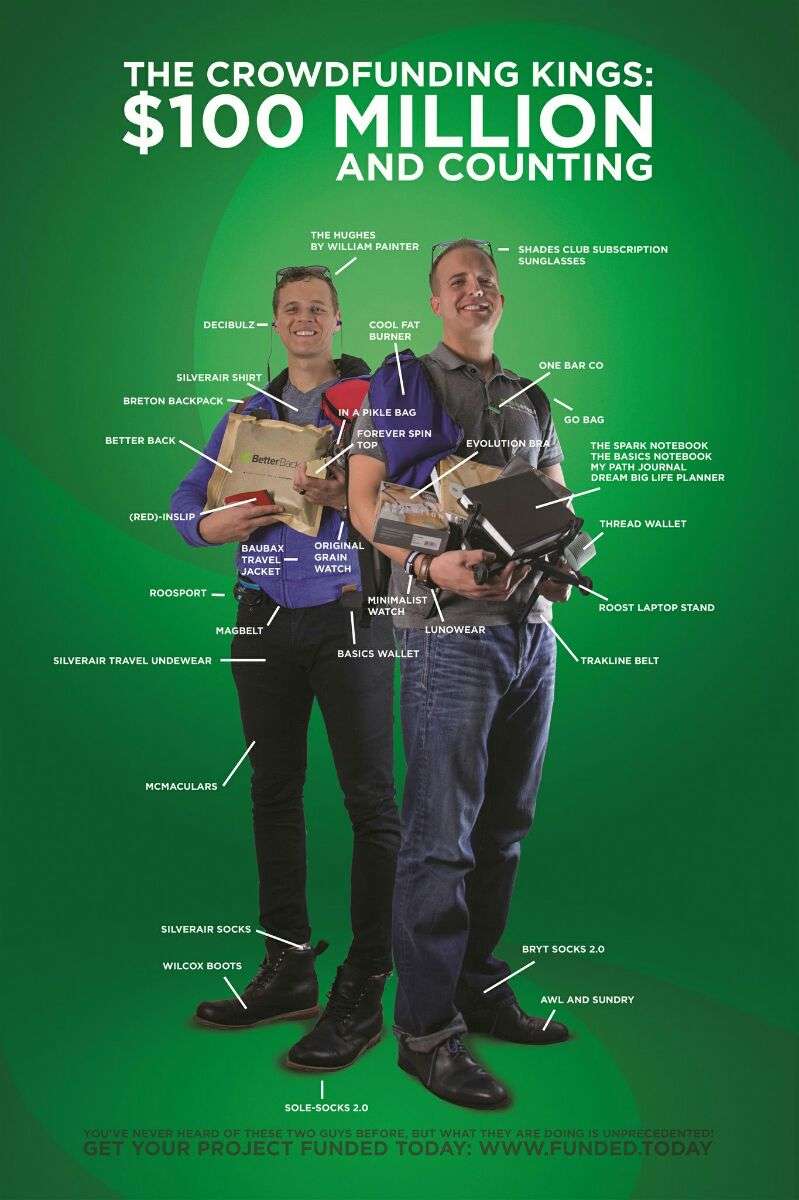 The two have since gone on to raise millions of dollars for multiple startups, many of which were failing when they came to Funded Today. Smith believes the technology of crowdfunding is the future of the economy.
"(Companies) have leveraged tech in the sense that they've leveraged the technology of the internet," Smith said. "(Successful projects) have also added a techy or cool element to it. That's the secret to a good product."
Alvord and Smith operate following a guideline of seven principles, or "P's," that they believe are key to crowdfunding success: product, platform, presentation, promotion, price, perception and people.
Each "p" is essential, and a crowdfunding venture rises and falls on every "P" playing its part. And so far, the principles seem to be pulling their weight, according to Smith.
"I kind of call crowdfunding the new economy because you don't have to have the rich uncle, you don't have to have the angel, you don't have to have the venture capitalists," Smith said. "You can go to the crowd, validate your idea, raise money, then take that money and develop your product without really risking anything more than your time. It's powerful and that never existed before."
Comment below if you're interested in a follow-up by KSL on the seven "P's" of crowdfunding success.
---
Liesl is a web reporter at KSL.com, section editor of KSL Tech and a student at Brigham Young University. You can email her at lnielsen@deseretdigital.com and follow her on Twitter at @liesl_nielsen.
×
Most recent Utah stories