This archived news story is available only for your personal, non-commercial use. Information in the story may be outdated or superseded by additional information. Reading or replaying the story in its archived form does not constitute a republication of the story.
SALT LAKE CITY — Before the latest series of storms, many areas along the Wasatch Front were shrouded in pollution. To get better information about the quality of the air, two University of Utah professors were at East High School Tuesday to show students how to build portable air-quality sensors.
"The pollution downtown is very, very bad," said Mason Henrie, a senior at East High School. "You can just feel it with heavy breathing."
Building air-quality sensors out of toy blocks teaches students the scientific concepts behind pollution monitoring. "(It furthers) our knowledge of what can be done about air pollution, especially because ours is so bad," said Alexandra Feliz, a junior at the school.
University of Utah chemical engineering professors Kerry Kelly and Tony Butterfield plan to share this lesson with 50 schools in the Salt Lake Valley as part of the AirU program.
The sensors are built with toy blocks similar to Lego toys, a low-cost Arduino computer board, LED lights and a photo resistor that will detect pollution through light scattering.
"They basically have a light source," Butterfield said. "We give them polluted air basically with mist, and they detect how much particulate matter is in the air."
The sensors will give researchers a better understanding of the air quality in many different locations.
"If we have sensors in multiple schools throughout the valley we can know if it's a red burn day in Salt Lake, what does that mean for the people in Sandy? We can also get a better idea of where our poor quality is coming from," Butterfield said.
In addition to the toy-block sensors, which are not as accurate as the state-owned research-grade monitors, Kelly, Butterfield and students from the U.'s electrical and computer engineering department also designed and created low-cost, portable research-grade air-pollution monitors that they will begin leaving in each classroom they visit.
The monitors, which are approximately the size of a small box of tissues, are similarly powered by a low-cost computer board but are higher-grade than the toy-block monitors and have sensors that can detect and measure particulate matter, temperature, humidity, carbon monoxide and nitrogen dioxide. Students will maintain and test the sensors' reliability.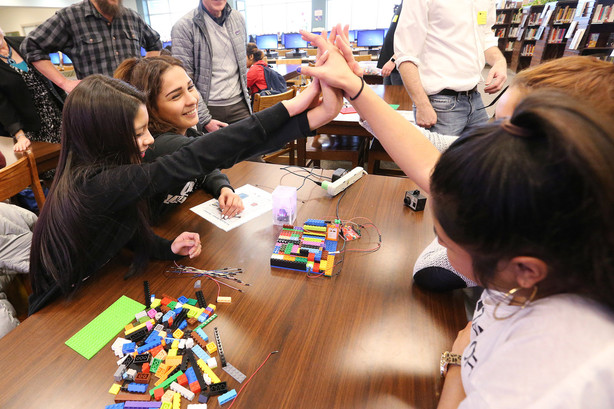 "I think it can help you take a little bit more ownership of what's going on in your school, what's going on around your school," Kelly said.
In a few months, that data will be uploaded to a new website that everyone can access. "We end up with a real-time air quality map of the valley," Butterfield said.
Junior Anna Smart things it's a good idea to have the sensors available "to make sure that you stay safe when you're going outside, to make sure that the air is good for whatever activity you are doing."
Eventually, Butterfield and Kelly hope to distribute as many as 50 of their research-grade sensors in schools around Salt Lake County to track pollution throughout the valley.
To make the project even more valuable to everyone, the professors plan to make the air-quality sensors available to buy and mount on homes sometime near the beginning of the next inversion season.
Contributing: Viviane Vo-Duc
×
Photos