This archived news story is available only for your personal, non-commercial use. Information in the story may be outdated or superseded by additional information. Reading or replaying the story in its archived form does not constitute a republication of the story.
AUBURN, Ala. (AP) — The Auburn Tigers have skipped the growing pains and gone straight to an extended hot streak. The fourth-ranked Tigers have leapfrogged 20 spots in the rankings since the season began, won their first 15 games and sailed through the opening few games of Southeastern Conference play.Even with a relatively friendly early schedule, it's a surprising start for a team that lost its three star players following the program's first Final Four run. Auburn has started 15-0. No. 7 San Diego State is the only other unbeaten team in the nation.
STARKVILLE, Miss. (AP) — Reggie Perry had 23 points and 10 rebounds to lead Mississippi State to an easy 72-45 victory over Missouri. Perry has now collected nine double-doubles this season and has 18 for his career. Tyson Carter had 15 points while Nick Weatherspoon added 11 for Mississippi State, who snapped a three-game losing streak. Missouri was led by Kobe Brown's 14 points and Brown was the only Tiger to finish in double digits. Mississippi State jumped out to a 10-0 lead in the opening four minutes.
COLLEGE STATION, Texas (AP) — Trendon Watford and Skylar Mays each scored 19 points and LSU defeated Texas A&M 89-85 in overtime. Javonte Smart started the overtime with a 3-pointer on LSU's first possession, and Watford made a short jumper in the lane to lift the Tigers to an 86-83 lead with 1:25 remaining. The Aggies' Wendell Mitchell missed a 3-point attempt with 17 seconds remaining and two Mays free throws sealed the Tigers victory. LSU's Marshall Graves and Smart each sank 3-pointers in a 28-second span to tie the game at 79-all to force overtime. Josh Nebo led the Aggies with 20 points.
GAINESVILLE, Fla. (AP) — Keyontae Johnson scored 15 points, Kerry Blackshear Jr. added 13 and Florida bounced back from its worst performance of the season with a 71-55 victory over undermanned Ole Miss. The Gators were coming off a 16-point loss at Missouri. They were more efficient on both ends against the Rebels. They shot 54% from the field and forced 18 turnovers. Ole Miss played without leading scorer Breein Tyree (back bruise). Starting center Khadim Sy also didn't make the trip. KJ Buffen paced Ole Miss with 20 points. Blake Hinson added 16 points and 11 rebounds for his first double-double this season.
NEW ORLEANS (AP) — LSU coach Ed Orgeron knows how special his national champion Tigers are. He knows how difficult it will be to move forward without so many players who were essential to their 15-0 season. He says the goal remains to compete for championships each season. Top-ranked LSU completed a perfect season with a 42-25 victory over No. 3 Clemson on Monday night. Heisman Trophy-winning quarterback Joe Burrow threw five touchdowns in the rout. The senior star is among several players who won't be back next season.
UNDATED (AP) — LSU's championship game victory against Clemson drew nearly 26 million viewers to ESPN, up slightly from last year's final. ESPN osays viewership for the three-game College Football Playoff was up 4% from last season, when Clemson beat Alabama in the title game. The network's championship game megacast, which includes ESPN, ESPN2, ESPNU and ESPNews, drew 25.6 million viewers. Last year's megacast had 25.3 million viewers.
UNDATED (AP) — The final Associated Press Top 25 of the season has a familiar look. LSU is No. 1 after winning the national championship. Add Clemson, Ohio State, Georgia, Florida, Oklahoma and Alabama and you have seven of the preseason top 10 teams finishing in the top 10 five months later. For the first time since 2006 every preseason top 10 team finished the season ranked. The next AP Top 25 will be released in August.
UNDATED (AP) — Even if they don't meet again on the field, Clemson's Trevor Lawrence and Ohio State's Justin Fields will be two of the stories that will define the 2020 college football season. The quarterbacks will compete for the Heisman Trophy and maybe to be the first overall NFL draft pick. Everyone will be watching to see whether LSU has turned its matchup with Alabama back into a rivalry or was the Tigers' victory this season was a one-off led by a generational quarterback. And several coaches with lots to prove in 2020 will be sitting on various degrees of the hot seat.
Copyright © The Associated Press. All rights reserved. This material may not be published, broadcast, rewritten or redistributed.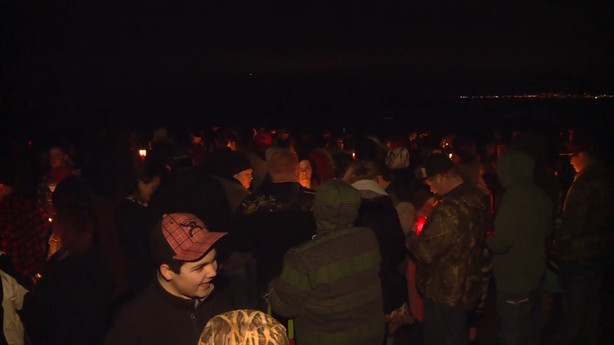 Doerr's family asked that those who knew him all write down a special memory they had with him. They will then take all of those and make them into a book, of which they will make three copies: one for his father, one for his mother and one of his future daughter.
Doerr and his girlfriend were expecting a baby girl, due in just a few weeks. They had already picked out a name: Berklee.
"He loved it. He was so excited," Grange said, regarding Doerr' soon to be family. "That's all he could talk about was his baby girl."
The book and memories will make sure that Berklee knows what kind of person her father was.
Doerr's grandmother Elaine said that Berklee couldn't have had a better father. He was the kind of man that his friends and family will miss deeply.
"He was the most compassionate, young man I have ever met in my life," she said.
Contributing: Freeman Stevenson.
×
Photos
Related Stories