Estimated read time: 3-4 minutes
This archived news story is available only for your personal, non-commercial use. Information in the story may be outdated or superseded by additional information. Reading or replaying the story in its archived form does not constitute a republication of the story.
Editor's note: This is part of a series at KSL.com featuring some of Utah's coolest cars. If you own a customized vehicle — from sports cars to semi trucks — email fjolley@ksl.com with a photo of the vehicle and a brief description for consideration.SALT LAKE CITY — This father and son story starts when Garner Meads III was a youngster.
His father, Garner Meads Jr., had a friend who worked at a car dealership and he brought an Acura NSXs by for the two to test drive. The car was black with ivory leather interior. The Garners were impressed, but the timing was not right for Garner Jr., and Garner III was only 11, though he vowed to have one some day.
Fast forward 20 years, with Meads III now living in Houston. In 2014, a friend that he played ultimate Frisbee with announced he was getting transferred and had to get rid of his cars, which included a 1992 NSX with 39,000 miles. Meads III didn't want to offend his friend with what he thought he could afford to pay, but the higher bidders were asking the seller to jump through hoops he didn't have time for, so he accepted Mead III's offer after he bumped it up another $700.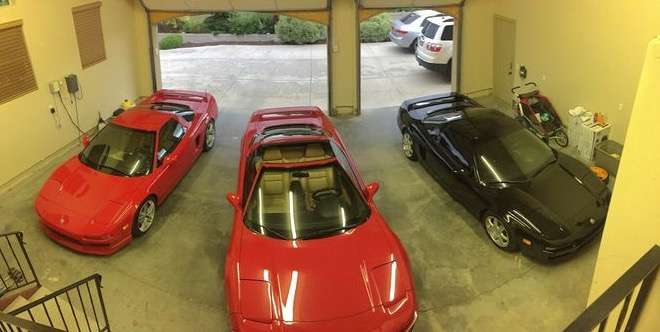 Mead III eventually took his family and Acura back to Utah and his father saw how fun it was. Mead Jr. found one for sale in Houston, and Mead III flew out with his brother to drive it home with their father. Mead Jr.'s model was a red 3.2-liter six-speed with the targa top. After his son saw how fun dad's was to drive, he sold his '92 that he'd purchased in 2014 so that he could get a '97 just like his father's— red with a tan interior. Mead Jr. has since done more modifications to his car.
Meads III enjoys driving his 20-year dream car. He's noticed the value of NSXs go up recently, but said he won't let his sit in the garage. He loves the handling and connection to the road. He said that while the engine won't overpower you, it's at its best in a Utah canyon. Mead III is 6 feet 7 inches and said he fits fine in the car.
Related Stories:
Meads III said the NSX was a game-changer in its day, bringing Honda engineering and reliability to the exotic sports car market, forcing the other exotic manufacturers to up their game. He thinks the styling has held up well, and the forthcoming new model's buzz adds to the older car's fan base.
He enjoys taking the car on Saturday morning coffee trips and his four kids fight to ride in the front seat, since it's riding shotgun or staying home. Mead III has a son named Garner Meads IV, but it's too early to say if there will be another NSX in the family garage.
---
Brian Champagne has reported on cars for more than nine years. He holds a master's degree in communications from the University of the Pacific and teaches at Utah State University. Contact him at iaabfl@yahoo.com.
×
Photos