Estimated read time: 4-5 minutes
This archived news story is available only for your personal, non-commercial use. Information in the story may be outdated or superseded by additional information. Reading or replaying the story in its archived form does not constitute a republication of the story.
SALT LAKE CITY — Pushing a shopping cart through snow and icy streets Wednesday night into early Thursday morning, Cody Pay was counting down the hours until a fast-food restaurant in Sugar House opened for breakfast.
Pay was hungry, but mostly he needed to get out of the cold after spending the night walking the streets in subfreezing temperatures.
"Our hands are frozen," he said, when approached about 5 a.m. by two employees of Volunteers of America-Utah.
Homeless outreach worker Sean Spalding and Brian Hutchinson, director of development and events, swiftly supplied Pay and Jessica World with warm gloves, hand warmers and information about homeless services offered by the nonprofit organization.
Pay, who said he has been homeless for 11 years, recently returned to Utah from the San Francisco area, where he said he lived in various communities along U.S Route 101.
He's now 28 and said he's tired of life on the street.
"What time would be a good time to call you?" he said, clutching Spalding's business card.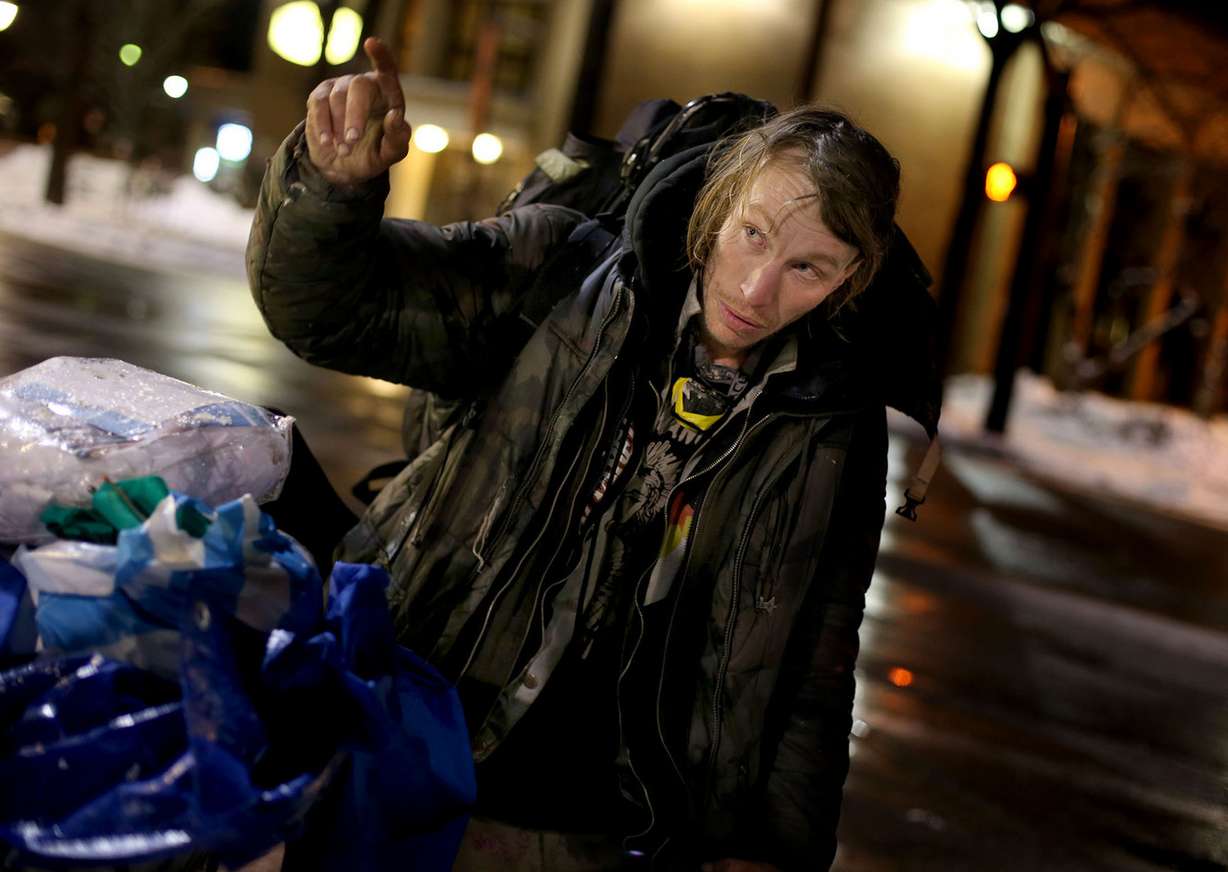 Ordinarily, Spalding and Hutchinson aren't on the streets before daylight. But Thursday was the annual Point-in-Time Count, which is required by the U.S. Department of Housing and Urban Development.
The count, conducted by trained volunteers and homeless services providers, attempts to capture data on unsheltered people experiencing homelessness. The count is conducted each year from 4-6 a.m. on a date in late January selected by HUD, although the surveying occurs over a three-day window.
"It gives a chance to get a snapshot one night a year of homelessness in our community. It helps us plan for resources, plan for needs in the community, that kind of thing," said Rob Wesemann, division director of Volunteers of America's homeless services in Utah.
Volunteers took part in a training session Wednesday evening. About 3:30 a.m. Thursday, they assembled at Sunrise Metro, an apartment complex in Salt Lake City that provides permanent supportive housing to people who experienced chronic homelessness.
There, the volunteers had breakfast and received last-minute instructions before leaving for their assigned search area, where they looked for homeless people and asked them to complete a survey in exchange for a gift card.
Twenty teams encountered 100 people experiencing homelessness and were able to complete 50 surveys. The number was higher than the first day of the count in 2016, Hutchinson said.
For the first time, organizers were able to count homeless youths. Volunteers of America kept its youth resource center open throughout Wednesday night, providing food, movies, games and other activities, during which Point-in-Time Count volunteers surveyed youths.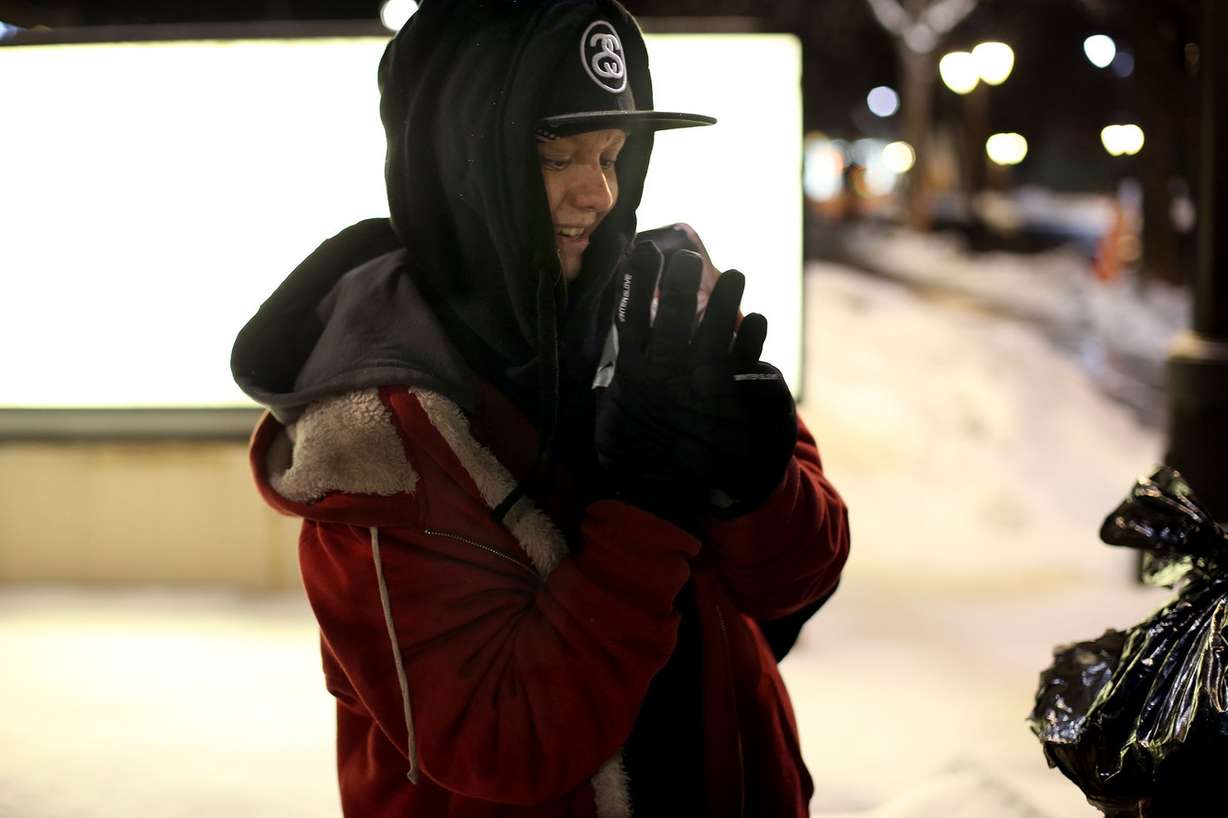 There were 30 youths in the shelter and 37 others surveyed by volunteers, Hutchinson said.
Wesemann said half of the volunteers who took part in this year's count participated last year.
"There's lots of good experience, lots of enthusiasm and energy, so we're very excited," he said.
The count comes as leaders in state and local government are focused on initiatives to curb homelessness and improve services.
In his State of the State address Wednesday night, Gov. Gary Herbert addressed homelessness and drug addiction.
"I firmly believe that those closest to such issues will typically have the most informed answers. And I have been encouraged to see our local elected officials, our local law enforcement agencies, and our local charities working together to alleviate the suffering of those seeking treatment and those needing shelter," Herbert said.
Thursday's count is another example of those partnerships. Representatives of nonprofit organizations, government agencies and the community came together for the annual count of unsheltered people.
Spalding and Hutchinson searched picnic pavilions, restrooms and wooded areas in parks and in Hidden Hollow in Sugar House to no avail. En route to another location, they spotted Pay and World walking along 1100 East.
Hutchinson urged World, who is 20, to visit the youth resource center, 888 S. 400 West.
There, she could sleep, get something to eat, shower, get a change of clothes and figure out her next steps.
As Hutchinson and Spalding prepared to leave to continue their search for other homeless people, World blurted out, "Do you have any food?"
In exchange for their time, they were given small-denomination gift cards to a fast-food restaurant.
Hutchinson reminded World that in addition to meals, the youth center has a pantry and snacks "and you can stay inside 24/7," Hutchinson said.
"I would eat all day," she said.
×
Photos
Related Stories