Estimated read time: 1-2 minutes
This archived news story is available only for your personal, non-commercial use. Information in the story may be outdated or superseded by additional information. Reading or replaying the story in its archived form does not constitute a republication of the story.
We complained last month that Congress went on recess without doing anything about the energy crisis. Now they have done something, but Republicans say it's not enough, calling it a sham because it doesn't come with tax breaks for the oil companies and the states. What? The House voted late Tuesday to open waters off the Atlantic and Pacific coasts to oil and gas drilling but only 50 or more miles out to sea and only if a state agrees to energy development off its shore. They also voted to lift the ban on oil shale drilling in Utah and other Western states. So why did Republicans not vote for the bill again? Click here to hear the explanation from ABC's Pam Coulter.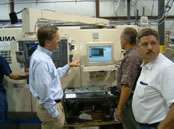 Utah Congressman Jim Matheson was key to getting the provision passed with the opening of oil shale drilling in the West. He joined Grant and Amanda this morning from Washington. He called this bill a production bill that is not perfect, but would lead to tapping into 80% of oil reserves off shore. The Congressman said the reason they couldn't find common ground with Republicans is, frankly, that there is an election 50 days away. He did note that 15 Republicans crossed the aisle and voted for the energy bill. Click here to hear the interview in its entirety.
×
Most recent News stories
More stories you may be interested in