This archived news story is available only for your personal, non-commercial use. Information in the story may be outdated or superseded by additional information. Reading or replaying the story in its archived form does not constitute a republication of the story.
SALT LAKE CITY — It's a long way from the Beatles in 1967 to Donald Trump in 2017, but those are the bookends of a Salt Lake artist's career.
Jann Haworth worked with Ringo, George, Paul and John on the cover of their most famous album.
And now, continuing to making amends for what she considers mistakes with the Beatles, she's converting her art into banners for a huge demonstration opposing Trump the day after he becomes president.
"We'll rotate through as many women as want to carry it and try to do it in as orderly a way as possible," Haworth said, "given 1 million women."
Haworth has been making art for well over a half-century. As she looks back, she sees a thread that ties it all together.
"I think it's collaboration," she said as she worked on a detail for a new mural at The Leonardo in downtown Salt Lake City.
Haworth's most famous collaboration was in the 1960s. She and then-husband Peter Blake — later Sir Peter Blake — were leading figures in London's pop-art scene. They hooked up with four of the most famous guys in the world to create an album cover showing the Beatles with a crowd of famous heads behind them.
"The crowd would be made of the Beatles' heroes," Haworth recalled. "In actual fact, they chose about a third of the heads that were on the final cover. And then Peter and I had to make a crowd, so we chose the rest."
They had their differences with the Fab Four. John Lennon, for example, wanted to include Adolf Hitler on the cover.
"I have no idea what his thinking was," Haworth said, adding that she thinks Lennon "liked being provocative."
Haworth and Blake prevailed, and Hitler was not included. But Haworth was left with a less-than-lofty view of Lennon.
"I think he has clay feet," she said. "I think politically and artistically there's some question marks there."
Despite their differences, the collaboration produced one of the best-known album covers in history. A quarter-century later, in 1991, Rolling Stone magazine named "Sgt. Pepper's Lonely Hearts Club Band" the greatest album cover of all time.
"This is the Grammy," Haworth said, as she hauled out her half-century old award. It looks a bit dog-eared, and it's in pieces because her kids had their way with it over the years.
"But the dog helped," she said, pointing at signs of abuse on one corner of the trophy. "That little bit there is the dog chewing it."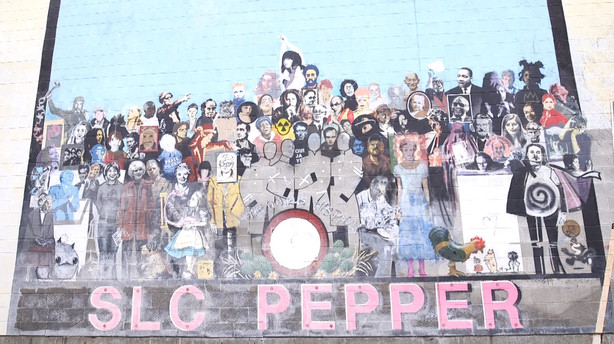 The nonchalant attitude suggests that Haworth has developed a bit of distance from her long-ago collaboration with the Beatles. In fact, over the past half-century, she has increasingly viewed the "Sgt. Pepper" cover as deeply flawed.
"You have 12 women on the cover of 70-plus heads," Haworth said. "And three of the 12 are Shirley Temple, Shirley Temple, Shirley Temple. The rest are kind of blondes or some kind of window dummies. That's catastrophic. And I should have known better."
In 2004, when she collaborated with other artists on the "SLC Pepper" mural in downtown Salt Lake City, she started correcting the historical record — on the subject of women. The style of "SLC Pepper" is reminiscent of the "Sgt. Pepper" album cover, but the faces are half male and half female.
A recent Haworth collaboration goes even further to redress the balance. A seven-panel mural called "Work in Progress" on display at the Utah Museum of Contemporary Art is all female, displaying the history of remarkable women through the centuries.
The caricature of the 1960s is that a generation of hippies believed a revolution of peace and love would make a better world. Haworth doesn't buy that caricature, but she thinks society had been making substantial progress toward human fairness — until a big setback in November.
"I mean Trump," Haworth said. "We're in shock that we didn't know this voice was in America."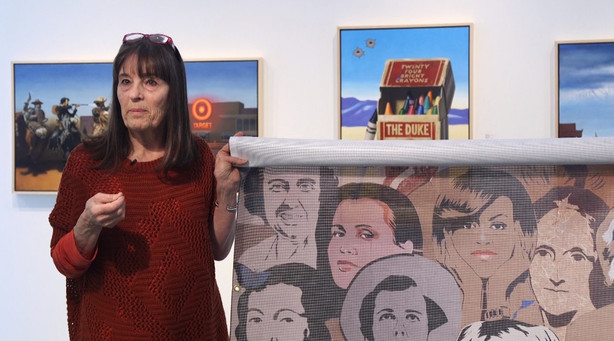 That's why the "Work in Progress" mural — smaller versions of it — will be used in the biggest collaboration of Haworth's career. The panels are being turned into banners that Utah women will carry in a massive Women's March on Washington.
Haworth hopes it will take a message to Donald Trump the day after his inauguration, a call for human rights for women, as well as for racial and religious minorities.
"He has abused the African-Americans. He has abused the Muslim community. He has abused women," she said.
"I think we're going to be there in great numbers," said Diane Stewart, of Modern West Fine Art, adding that she hopes the march will send a message to Trump.
"We will not be ignored, and we will not be treated with disrespect, and we will not allow you to treat others in disrespect," Stewart said.
Stewart and Haworth will be among several dozen Utah women who will travel by bus Jan. 21 from Philadelphia to the march in Washington, D.C.
×
Photos