This archived news story is available only for your personal, non-commercial use. Information in the story may be outdated or superseded by additional information. Reading or replaying the story in its archived form does not constitute a republication of the story.
SALT LAKE CITY — It's a little bit late for resolution time, admittedly. But with 2017 in its first week, lets take a look at what the Jazz can be doing this calendar year to improve themselves.
Become more spiritual
I think it's time to start praying to the Basketball Gods. A quick list of players who missed significant time due to injuries in 2016: Gordon Hayward, Derrick Favors, Rudy Gobert, George Hill, Rodney Hood, Alec Burks, Dante Exum, Boris Diaw. Oh, that's just the team's starting lineup plus three big-deal role players.
Here's the current ManGamesLost.com update on where the Jazz stand when compared to rest of the league in terms of injuries.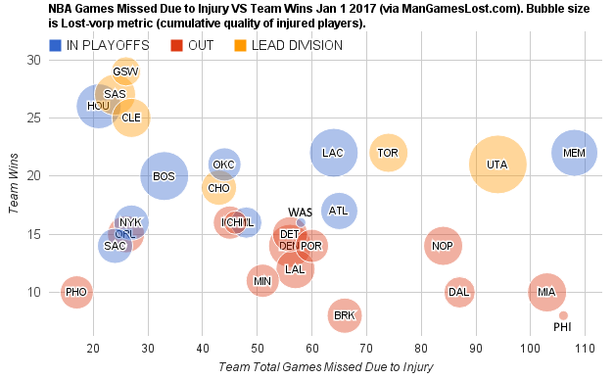 See how the Jazz's bubble is bigger than everyone else's? That means the Jazz have lost more talent (in terms of VORP lost) than any other team this season.
And it's been some weird injuries, too. Hayward gets his hand stuck in a player's jersey at practice and literally breaks his finger? Maybe jamming it, sure, but breaking it? That's crazy. Hill sprains his toe? No amount of stretching or pregame work is going to prevent that. Exum tears his ACL playing in a meaningless warmup friendly for Australia? Favors gets IT band inflammation that's mostly found in marathon runners? Hood missed significant time to an illness that, while everyone online joked about the "gastric distress", actually scared a lot of his teammates because of how pale Hood looked?
There's been some crazy stuff happening, and let's hope that it's mostly behind the Jazz in 2017.
Cut the fat
Right now, the Jazz have 10 players averaging over 20 minutes per game, and an 11th (Boris Diaw) playing 19.7 minutes per game. That's very different than a healthy team's rotation: for example, Minnesota has just five players who average over 20 minutes per game.
They're now trying to add in Burks as well, and of course, Hill's going to come back and play 35 minutes per game once he's healthy. So the Jazz are going to have to cut the fat of the rotation, picking which players actually get the major minutes and which mostly have to sit.
Two spots in the rotation to watch: Power forward and shooting guard. Derrick Favors is the team's starting power forward, but you can make a case for both Trey Lyles (for his shooting) and Boris Diaw (for his passing and better defense) as a reserve. You can also make a case that the Jazz should just play small when Favors is in the game, and play Joe Johnson at the four, cutting out both Diaw and Lyles.
And then, at shooting guard, Rodney Hood's the starter, but Joe Ingles has been the team's best 3-point shooter (though he's now down to 3rd in the league by percentage, a shame). He's also been an impromptu perimeter stopper at times, showing impressive instincts against faster players late in games. But then there's this Alec Burks character, who we haven't really seen how he fits into a team yet. Do Burks' pros of off-the-dribble bounce and getting to the line outweigh his lack of impact defensively? We'll see.
Invest wisely
This upcoming free agency period was always going to be important to the Jazz because of Gordon Hayward, but I don't think most anticipated the other big ways the Jazz's roster would be impacted one year ago.
First of all, Hayward's probably going to make over $30 million next year. For more detail on that, read my article from last week.
The biggest addition to the complications is George Hill, who the Jazz acquired in 2016. The games spent without Hill have made it abundantly clear that the team is seriously missing out on its potential without Hill at the PG spot, and yet, there's a real possibility he could walk to another team this summer (looking at you, San Antonio). He's going to be looking to sign a very big deal; think about the $20 million per year level as a floor.
And Joe Ingles' improvement to one of the league's better role players means that he's in line for a payday, too. Ingles signed a 2-year, $4.5 million deal in the summer of 2015, and I think before this season, that would have been about the target for this next deal too. But everyone in the league needs shooters, and Ingles' terrific work there, plus his defensive hustle, means that he'll be courted by many teams this offseason. I don't think an annual 8-figure salary is crazy talk, and with how much money the Jazz will have to pay Hayward and Hill, it's hard to see how they can keep all three.
Diaw is a free agent too, but the Jazz probably will spend his money elsewhere. Still, the combination of the big deals likely to be signed by Hayward and Hill are going to be a huge part of the Jazz's salary cap moving forward. That's in the best case scenario, of course, that they stay. If they leave? I don't know how the Jazz can realistically expect to regain the wins they provide.
Try new things
It's looking pretty safe: the Jazz are going to make it to the playoffs for the first time since the Al Jefferson and Paul Millsap-led team that squeaked into the eight seed in 2011-12. Add on two more seasons since Utah had a team that won a playoff game or a series, that weird but fun 2009-10 squad that beat the Denver Nuggets in the first round.
For most of the Jazz's roster, they've never tasted playoff success. Hired hands Joe Johnson, Boris Diaw, and George Hill have, sure, but this team will sink or swim based on the contributions of Hayward, Hood, Favors, and Gobert.
I don't think they should let that lower their expectations, though. Given the offseason questions, this season looks like a really key opportunity for the Jazz to make noise while they have the depth that they do. The first round, especially, is going to be key.
The good news? The matchups look pretty winnable, so long as the Jazz avoid the seventh seed and, presumably the San Antonio Spurs. The Rockets have surprised everyone with how proficient they've been this year, but I think the Jazz's mix of perimeter and interior defense can give them real problems: they're one of the only teams that can guard James Harden pick-and-rolls with two players, not three. They can build a wall against Russell Westbrook, and simply have more talent than the Memphis Grizzlies.
If the season ended today, they'd face the Los Angeles Clippers in a 4 vs. 5 matchup. Man, that'd be a battle, but I think the Jazz are well suited to solve some of the problems the Clippers present teams: Favors can defend Blake Griffin well, Gobert can't be dragged out of the paint by DeAndre Jordan, and Hill would be a great defender against Chris Paul's veteran tricks. It'd be fun to watch.
Regardless, if they can stay healthy, figure out a rotation, re-sign most of their talented players and win a playoff series, it would be a pretty good 2017 for the Utah Jazz.
×