Estimated read time: 4-5 minutes
This archived news story is available only for your personal, non-commercial use. Information in the story may be outdated or superseded by additional information. Reading or replaying the story in its archived form does not constitute a republication of the story.
SALT LAKE CITY — Welcome to the world of microblading, where pictures of perfectly arched, colored and polished brows are everywhere.
"It's been around in other countries for years but it just hit the United States the last couple of years and really here in Utah just this year," said microblader Whitney Johnson.
Johnson owns her own business and that business is brows.
"I've specialized in eyebrow shaping for 16 years," she said.
Johnson is a master aesthetician, health department certified and insured. She's also staying pretty busy these days with the microblade.
"It almost looks like a miniature X-ACTO knife but instead of a blade it has a row of tiny needles," Johnson said. "You just dip the needles in the ink and implant the ink under the skin."
Microblading is similar to tattooing but instead of a block of color, small individual hair-like strokes are made. The area is often numbed using epinephrine and lidocaine.
"My favorite quote is cheap eyebrows aren't good and good eyebrows aren't cheap," Johnson said.
She charges $400 for the procedure, which we found is pretty average in Utah. Microblading is semi-permanent and generally fades within one to three years.
"This is a way for (women) to have full eyebrows without having to draw them on every morning," Johnson said.
That was the appeal for Lesli Harker, a busy Provo mother with even busier twin toddlers.
"I used to wear make-up every single day and a lot of it," Harker said. "Now, I'm lucky if I put on mascara."
Harker won a giveaway on Instagram, and the prize was free microblading.
"I did zero research," Harker said. "Should I even admit that?"
She made the appointment not really knowing what to expect.
"I was like, 'Oh my gosh, what is happening right now?'" she said. "And I bled a lot."
She feels lucky because following the healing process, she is pleased with how her brows now look.
"I tell my friends that it hurts, but it's totally worth it," Harker said.
Pain can be expected because there are needles breaking the skin, but that's not the scariest part.
"The eyebrow has its own very specific anatomy and if you're not familiar with that, you could really disfigure someone," Dr. Scott Thompson said.
Dr.Thompson is a board certified facial plastic surgeon practicing in Utah and says he's seeing a sharp increase in the demand for beautiful brows among his patients.
"It's really grown and expanded recently," Thompson said.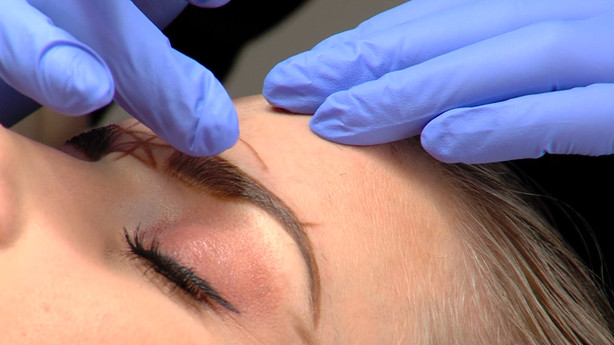 He says there are real risks with the procedure that people need to know about.
"(There can be) potentially serious infections that could happen, and when you get an infection in the skin that can result in scarring that can't be fixed," Thompson said.
Most would assume only skilled, well-trained individuals would be allowed to offer this service. KSL found that's not really the case.
To be licensed to do hair in the state of Utah, a minimum of 1,600 hours of schooling is required. To do nails, a minimum of 300 hours of schooling is required.
However, to offer microblading, there is no bare minimum competency level. That's because right now, microblading is not regulated by the Utah Division of Occupational and Professional Licensing.
The cleanliness of a brow studio and proper disposal of equipment is regulated by each county's health department. However, it has nothing to do with making sure the person holding the blade knows what they're doing.
"I can't even wax an eyebrow without being licensed and having all the required hours, but I can cut into somebody's face with taking a two-day course if I wanted to," Johnson said.
Johnson says she paid more than $4,000 for 100 hours of training, which is about 100 hours more than she had to.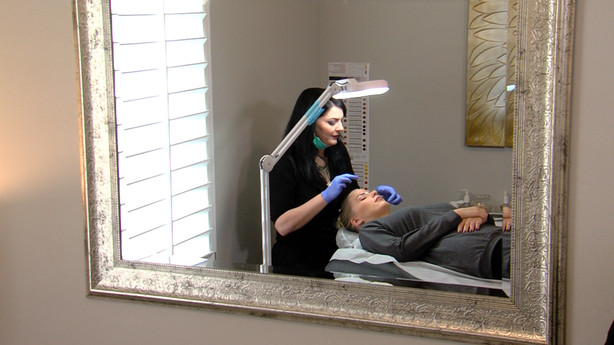 "Anybody can go and take a two- or three-day course and literally a month or two later can go and open their own training facility," Johnson said.
A quick search of the web and you can find dozens of these so-called 'training facilities' in Utah. One advertises a two-day school with the first day covering business development and marketing. KSL found one that encourages potential students to sign-up before the state starts licensing.
"There's training for every other type of medical procedure performed," Thompson said. "There is a process that happens, and this is a medical procedure. It really is."
So, if you're on the hunt for the perfect brows, before going under the blade, buyer beware.
"I want (women) to know what they're getting into and who they're getting so they don't regret what ends up on their face," Johnson said.
So if you want to get your eyebrows microbladed, what should you do? Johnson suggests first verifying the technician is insured. She says most insurance companies won't cover someone who went to a two- or three-day training class. Next, ask to see unedited, unfiltered before and after images of their clients, the more the better. Finally, make sure they are certified with their county health department.
×
Photos