Estimated read time: 5-6 minutes
This archived news story is available only for your personal, non-commercial use. Information in the story may be outdated or superseded by additional information. Reading or replaying the story in its archived form does not constitute a republication of the story.
LOGAN, Utah - Joshua prefers spicy, Caleb sweet.
Joshua says Jerry Rice is the best football player in history, Caleb is confident it's Deion Sanders.
Joshua will graduate in May with a degree in journalism, Caleb in interdisciplinary studies.
Even though the Taylor twins have lived and played football together their entire lives, both is his own person.
They have different strengths, according to USU head coach Brent Guy. If pinned against each other, Joshua would likely win a foot race and Caleb a hitting drill, he said.
Both play defense-Joshua, No. 23, as corner, and Caleb, No. 39, as safety. Between the two of them, they had 123 tackles, 13 pass break-ups and three interceptions last season.
Their personalities match up with their positions on the team, Guy said, explaining that Joshua is quieter.
"Caleb has to communicate a lot more in his position," Guy said. "He does a lot more talking and has to make checks. Josh is in a position where he mostly just listens. It's pretty similar to their personalities."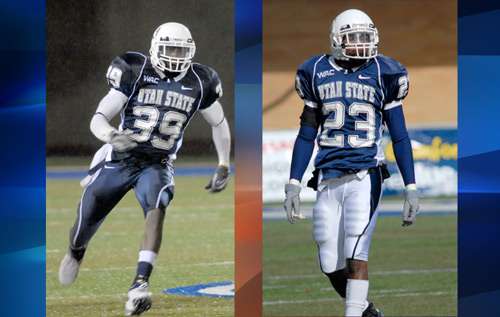 Both have begun the season well. Caleb had a key interception in last week's game against Oregon and could easily lead the team in interceptions this season, according to Guy.
"He's got a real good nose for jumping right when the ball comes off the quarterback's hand. He sees it coming and he does a real good job," he said.
Back at Santiago High School in Corona, Calif., the twins thought maybe they'd be playing against each other rather than on the same team in college.
"We'd been playing with each other all our lives, so we wanted to try playing against each other. We thought it would bring the best out in both of us, but that didn't happen so we felt good about playing together," Caleb said.
Now both Taylors play defense, but in high school Joshua played quarterback. This meant that Caleb was usually trying to take down Joshua at practice.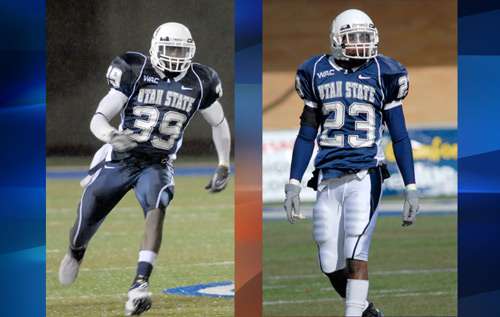 Past coaches also sometimes put the twins up against each other on hitting drills.
"Neither of us wanted to lose because the other one was going to talk trash all day," Caleb said. "We tried to win those battles every time the situation occurred, so it made us better on the field."
The only time one has ever hurt the other seriously was at practice in high school. Joshua threw the ball and Caleb swatted it down, injuring one of his fingers to the point that the bone was exposed. "It wasn't really Josh's fault, it just happened to be him that threw the ball. I couldn't be too mad at him, but I had it in the back of my mind that my brother actually broke my finger," Caleb said.
And speaking of injuries, the two can't feel each other's physical pain, according to a smiling Joshua.
"People always ask us that," he said. "I just want to put it out there that that's a myth. I don't feel his pain, and he doesn't feel mine," Joshua said.
Even though the two don't literally share pain, they have been a support to each other in the transition to college and living in Utah.
"I would have to say sometimes we take it for granted because other people on the team don't have a brother or anything out here with them," Joshua said. "I never really thought of it as him helping me get through the culture shock of being here in Utah, but I think it does make it feel a little more like home. It's a comfortable feeling knowing that your brother is going through it with you."
Caleb agrees.
"A lot of guys come out here alone and they have to create a brotherly bond and work for that bond with someone else," he said. "We already had that bond. We didn't have to work to create a friendship with anyone else because we had each other. I think that was key because football is tough. It would be tough for anyone to go through it by themselves. We had each other and that was big for us."
Throughout their time at Utah State, Guy has watched the pair have developed and grown.
"They've matured to where they handle their business both academically and on the field. You notice them when they make plays, but they never have issues we have to deal with," he said.
College has helped the two become more individualistic, according to Joshua.
"We've come to that point in our lives where we're truly adults and we don't depend on each other as much," Caleb said. "In high school, if he went to a friend's house, I'd want to go. If I went somewhere, he'd want to go, but it's not like that anymore. We're more independent."
Both would like to play professional football after college if they have the chance.
"You can't hang your hat on one thing. You just go out there and play and if the opportunity presents itself. It's a blessing and if not, that's why you get your degree," Joshua said.
Unless the two get drafted to the same team, they will likely go their separate ways after graduation.
"I figure at this point in our lives, it would be good time to split up and do our own thing," Joshua said. "We're going to go wherever life takes us, but he's always going to be my brother."
×
Most recent Sports stories