Estimated read time: 2-3 minutes
This archived news story is available only for your personal, non-commercial use. Information in the story may be outdated or superseded by additional information. Reading or replaying the story in its archived form does not constitute a republication of the story.
PROVO — Artist Susan Krueger-Barber was an involved citizen of Provo's Juaquin neighborhood. She cared about historic preservation and green space.
Her priorities changed two years ago when Rosa Merino tried to cross the street.
Early one morning, in the crosswalk at 700 North and University, Merino, a single mother of three, was struck and killed by a pickup truck. The motorist was apparently distracted.
"I just started to decide that really what mattered was safety," Krueger-Barber says. "I began to consider what tools I had to bring awareness to how we need to change your streets, to how we needed to slow traffic down.
"What would really slow down traffic?" she asked.
She decided to try an orange crosswalk flag — a really big one.
Using a snow rake and a roll of orange cloth, she made a crosswalk flag as large as a car, about 6 by 20 feet, and spent three hours at three intersections trying it out. She says it didn't work.
"I thought cars would stop for this large of a flag but they didn't," she says. "Cars were still going past me, and that was kind of terrifying."
The answer, she said, wasn't making pedestrians more visible but changing street design.
"Our streets are so wide, people aren't instinctively as alert and careful as they could be," she says.
She did research, enrolled in a city planning class at BYU and began experimenting with street design.
In her neighborhood, dressed as her alter ego "Art Grrrl," wearing a black mask, black tights, a black cape and a color wheel logo, she set up a temporary bulb-out — a traffic-calming design that extends the sidewalk and narrows the street — out of balloons. Traffic, she says, slowed down.
Dressed as Art Grrl again, she set up a piñata bulb-out in a Chicago neighborhood during an art residency there. She filled the piñatas with candy, in case a car hit one. The cars slowed down.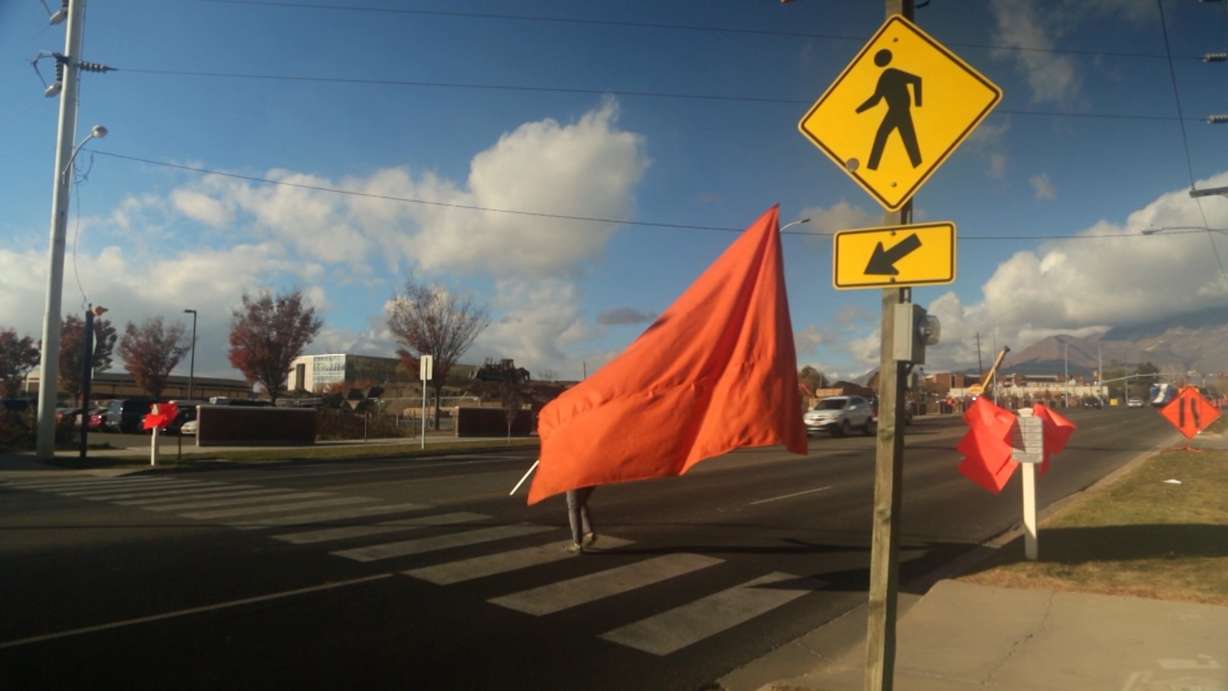 In Provo last year, she and her neighbors took over a small stretch of 200 East and set up temporary traffic-calming measures like bulb-outs and parklets, sidewalk extensions, and painted the street with sharrows, shared-lane markings, to show residents what a proposed greenway project on that street would look like.
The city is now planning to, over time, add similar traffic-calming measures to 200 East.
"I think of myself as a problem solver," Krueger-Barber says. "I think of myself as a conceptual artist."
"Art isn't just something, just a painting or sculpture," she says, "Art starts conversations. Art disrupts. Art makes people think."
Krueger-Barber says when she gets upset about something, like Rosa Merino's death, she doesn't like to become angry and bitter.
"I like to change my anger into fun, into something exciting to do," she says.
She turns her anger into something like, say, a giant orange flag.
×
Photos
Most recent Utah stories