This archived news story is available only for your personal, non-commercial use. Information in the story may be outdated or superseded by additional information. Reading or replaying the story in its archived form does not constitute a republication of the story.
SALT LAKE CITY — The Bingham Miners beat the Lone Peak Knights 17-10 to win the 5A state title game Friday. The win marks their third championship victory in four years, going back to the 2013 season.
The Miners overcame an early 10-0 deficit after trailing for much of the game. For head coach John Lambourne, things didn't look especially promising, at least early.
"It looked bleak for us the majority of the game, until the end," Lambourne said. "A lot of courage on the part of our kids. A lot of composure on that sideline amongst a lot of guys who've been doing it for a long time."
Bingham, which had trailed after the first quarter only three times this season, including once to Lone Peak, found itself down early. After bending but not breaking on Lone Peak's first drive, the Miners weren't as lucky on the Knights' next possession. Lone Peak quarterback Dakota Hansen rifled a beautiful 46-yard pass on a seam route to wide receiver Tyler MacPherson to get the Knights into Bingham territory for the first time all game. A few plays later, Hansen lofted a 25-yard touchdown pass to MacPherson and just like that, Lone Peak was up 7-0.
Bingham's ensuing drive resulted in a three-and-out after Lone Peak defensive tackle J.J. Loveland made two tackles in Bingham's backfield. A less than stellar Bingham punt gave Lone Peak the ball back at its own 41. The Knights couldn't quite find the end zone however, and settled for a field goal to make it 10-0.
Bingham managed to start moving the ball on the ground in its third drive, but a failed field goal try again left it scoreless. As the Knights got the ball back, up 10-0, all the momentum looked to be in their favor heading towards halftime. The Miners, however, wouldn't give up.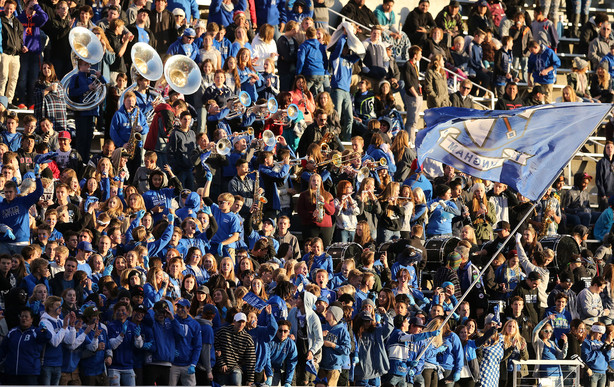 "We knew they were gonna hit us hard first," defensive tackle Jay Tufele said. "Our defense stepped up. They were up 10, but we never gave up. We told ourselves, 'the game is just barely starting, we're gonna break their will.' And little by little, we broke their will."
Bingham's defense forced the Knights into two punts in a row, but the Miners still couldn't put it together on offense. Then quarterback Matt Degn found wide receiver Dax Milne on a streak for 46 yards late in the half. The Miners finally broke through, scoring a few plays later on a Degn pass to Brayden Cosper for 22 yards.
For a team that usually does its damage on the ground, Cosper says making such a key play in the passing game feels "great."
"It was amazing," Cosper said. "I have full trust in Matt and I knew it was going to be amazing, I just had to go up and make a catch."
The Miners' defense came together in the second half, shutting out Lone Peak and a prolific offense that had managed to score 66 in the semifinal game against American Fork. Lambourne says that was the result of some unique halftime adjustments.
"All of our coaching staff maintained composure," he said. "They came up with some things that, I'll just tell you, one specific play that Keith Chatelain, our line coach came up with, in terms of the way we schemed it, was a little bit different than we've ever done. We've never done that, and we did that in the second half, just out of some intuition as well as understanding and knowing our players. I could go over all these guys, I'd have to list them all and then I'd worry about who I'm leaving out. Tremendous coaching staff, I couldn't be any prouder of them, as well as the kids."
The Miners could never quite close Lone Peak out, which threatened to score several times. The key sequence of the game came with just under four minutes left in the third quarter. Defensive back Daniel Loua jumped a Lone Peak route and intercepted Hansen, who had the Knights driving. Loua would follow that interception up with a touchdown from 8 yards out after taking the snap in a wildcat formation, and the Miners were up for good.
Lambourne praised Loua after the game, saying he was deserving of some postseason accolades.
"I said it before, he's got my vote as the MVP of this state," he said. "Take that for what it's worth, but when you look at his entire body of work, it's phenomenal."
The game wasn't without controversy, however. As the fourth quarter wound to a close and with Bingham up 14-10 in Lone Peak territory, a highly questionable pass-interference call negated what was a third-down stop for Lone Peak. Knights head coach Mike Mower labeled the call "terrible," though he added that it didn't cost Lone Peak the game, as the Knights held the Miners to a field goal and just a one-score game.
The precious time it allowed Bingham to tick off the clock didn't help matters for Lone Peak, however. Hansen, trying to make a play with 30 seconds left on the clock, tried to force a throw to the middle of the field, and was intercepted for the third time of the half by Bingham defensive back Cole Moody to seal the win for the Miners.
The win is Lambourne's first as a head coach, who said sharing it with everyone mattered just as much as the win itself.
"It's awesome," Lambourne said. "I have my goals and aspirations too, but really, at this point in my career, sharing it with everybody else was most important to me."
---
Stephen Lindsey is a student at the University of Utah currently working as an intern with KSL.com in Salt Lake City. Contact him at th3sl3@gmail.com or interact via his Twitter handle, @slthe3
×
Photos
Related Stories