This archived news story is available only for your personal, non-commercial use. Information in the story may be outdated or superseded by additional information. Reading or replaying the story in its archived form does not constitute a republication of the story.
SALT LAKE CITY — Viliami Kolomalu celebrated his 18th birthday in standout fashion Friday.
The Springville senior held star running back Josh Davis to 94 yards on 15 carries, as the Red Devils shut out Region 7 champion Alta in the first half of its second-consecutive Class 4A state semifinal Friday evening.
Peyton Kelepolo ran for 142 of his 239 yards and a touchdown in the first half, and quarterback Jantsen Thorpe scored four TD dives to lift the Region 8 champion Red Devils to 42-14 win over the Hawks at Rice-Eccles Stadium.
"I think we were just prepared. The coach prepared us, so we were ready," said Kolomalu, who finished with eight tackles and two sacks. "We just had to trust our assignments, and everyone did their job. I did my job. Thanks to coach for preparing us.
"Our defense came out really good, and played hard."
Kelepolo led the offense as the Red Devils (12-0) piled up 401 yards on the ground, held the Hawks to just 84 net rushing yards, and advanced to their first state championship game since 2009. Thorpe completed just three passes for 41 yards, but only took one sack as he ran six times and scored four rushing touchdowns.
Alta averaged 59 points per game, but the Red Devils scored 40 or more points in a game for the seventh-straight game as they swarmed to the Region 8 title, took the final week of the regular season with a bye, and moved past Orem and Woods Cross to hand Alta (11-2) its second loss of the season and advance to its first state championship game since 2009.
"Our mentality all this year was to finish, and we have another chance next week to go finish," said Springville coach Willy Child, who was an assistant coach under former Utah coach Scott Mitchell in 2009. "They're a really good team, and we saw them last year. They took it to us, and we know we have to play our best game."
.@SHS_RedDevils are dominating Alta in the 4A semifinals. They led 28-0 at the half. Here are the highlights. @KSL5TVpic.twitter.com/oLC5cmWKY8

— Jeremiah Jensen (@JJSportsBeat) November 11, 2016
Springville forced punts on the Hawks' first four drives of the game, and Brennen Rymer's interception on the 1-yard line with 2:41 left in the second quarter held Alta to its lowest first-half scoring output of the season: zero.
"My line did so good today; they gave me the chance to do what I needed to do," Kelepolo said. "I just had to break a couple of chances and get downfield."
Kelepolo had a game-high 33 carries, and Springville carried the ball 60 times as they completed scoring drives of five of their first six possessions to take a commanding lead.
"I knew it. Coach loves to run the ball, and that's what I love, too," Kelepolo said. "I'm super excited (for East). They're a really good team, and we are going to need to come out next weekend and do what we do."
After Kelepolo marched the Red Devils down the field on its first two drives, including a 6-minute drive in the opening quarter, Thorpe finished it off with 1-yard TD plunges to give Springville a 14-0 lead on the first play of the second quarter.
Bennett Hullinger added a 5-yard scoring run in the second, and Thorpe's third TD finished off a five-play, 58-yard drive that began with Rymer's third postseason interception of 2016.
The Red Devils ran for 238 yards in the first half, and finishd with 442 yards of total offense.
Alta had not trailed at halftime since Sept. 9, when the Hawks rallied to down Timpview, 32-24 with a second-half shutout.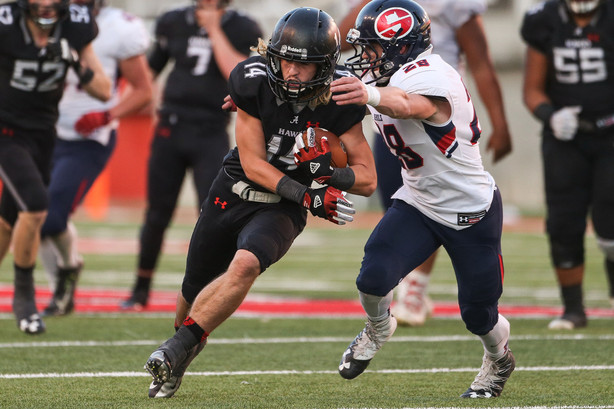 "That's who we are: we love to run the ball, and we love our offensive line," Child said. "We knew it wouldn't be easy and our defense played really well."
That would not be the case Friday. Thorpe scored his fourth touchdown of the game on his fourth 1-yard plunge to open the third quarter, as the Red Devils attacked the Hawks on the ground and did not let up.
Will Dana finally put Alta on the scoreboard with a 31-yard TD toss to London Rockwood with 7:28 left in the third quarter, but the damage was done. Dana completed 19-of-31 passes for 239 yards, 2 touchdowns and an interception for Alta.
"Our defensive staff and players take a lot of pride in our defense," Child said. "They knew that Alta is a special team with some really good players, but we had a great game plan and they executed it."
×
Photos
Related Stories