This archived news story is available only for your personal, non-commercial use. Information in the story may be outdated or superseded by additional information. Reading or replaying the story in its archived form does not constitute a republication of the story.
SALT LAKE CITY — Nephi Sewell was just grateful to be there.
Before scoring his first touchdown of Thursday night's Class 3AA semifinal, he dropped to a knee, said a prayer, and gave thanks for the chance to play football after a severe neck injury nearly paralyzed him a year ago.
After the touchdown, he leapt into the arms of his offensive linemen, including little brother Penei Sewell, in celebration.
And after the game, the senior tailback was overcome with emotions.
"I really can't describe my emotions," Nephi Sewell said through tears. "That first play meant so much to me. I never saw myself being back, playing again. Every time I went to the doctors, I was disappointed by the outcome. I wanted to play with my team. I knew I could help."
Sewell scored three touchdowns and Marco Jordan added two more scores as the Thunder rolled to 49-14 victory over 3AA North top seed Stansbury to advance to the 3AA state final next week at Rice-Eccles Stadium.
"I am so overwhelmed by being here and being with the team I love. One more game," Nephi Sewell said. "It feels great to be back at the U., and for the program, it's not new. But it feels new to me because I am back at it."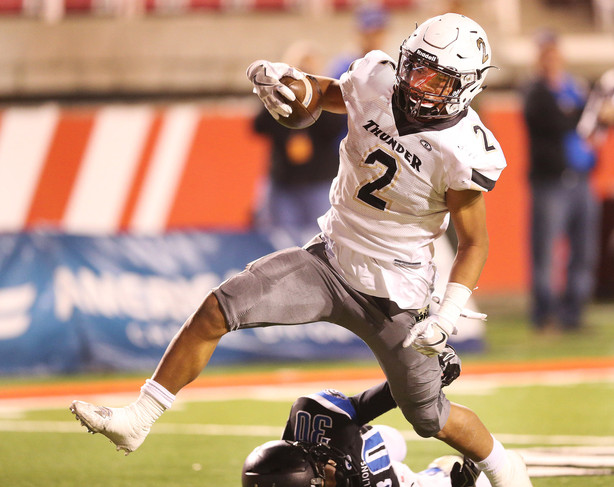 Matt McIntyre ran for 77 yards and McCoy Didericksen added 48 yards and a touchdown to lead Stansbury (9-3).
Sewell, whose only FBS scholarship offer comes from Nevada, ran for 99 of his 116 yards in the first half and his third touchdown — a 28-yard run with 9:18 left in the second quarter — helped the Thunder (9-2) pull away in their fifth state semifinal in six years.
"He's just an unbelievable athlete, and I'm hoping to see him Saturday's here at the U.," Desert Hills coach Carl Franke said of Sewell. "Somebody better have seen him play tonight."
Quinn Kiser completed eight passes for 178 yards and two touchdowns, including 107 yards receiving by Jordan on his only two receptions of the contest.
Mitchell McIntyre found Casey Roberts for a 60-yard TD strike on the Stallions' first drive of the game. But Sewell responded on the next drive, powering for a 39-yard run that set up his 21-yard touchdown score with 7:29 left in the opening quarter.
After Brock Perry scored on a 3-yard dive, Sewell added a 4-yard run to give Desert Hills a 21-14 lead after one quarter.
The Thunder pulled away with a second-quarter shutout, and Jordan's 72-yard touchdown strike from Kiser gave Desert Hills a 35-14 halftime lead.
"I'm glad I could do it with this team. I wouldn't want to do it with anyone else," Penei Sewell said. "Sharing this moment with him is a blessing. I'm glad that I got to play with Nephi."
Jordan opened the second half by finishing off a 19-yard screen pass from Kiser for a touchdown to put the Thunder up, 42-14, and Kiser capped the scoring with a 5-yard run in the fourth quarter to finish the game with a running clock.
The Thunder advanced to face the winner of Friday's semifinal between 3AA South rivals Dixie and Pine View. That game will be played at Southern Utah University at 6 p.m. and will be streamed at live.ksl.com.
"It's always our goal to get here, like everybody else in the state," Franke said. "We were really disappointed last year. The day after, I think coaches met for about six hours and we put in the groundwork of what we were going to do differently. We changed some things, and I think it's one of the reasons we got back here tonight."
After a one-year hiatus from the state semifinals, the Sewell brothers were eager to prove they belonged back at the top of Class 3AA.
Doing it together was an added bonus.
"I have a lot of words for Nephi," Penei Sewell said. "He's the leader of this team, and we feed off him. Playing with him in his senior year means a lot to me. I love him to death. I'd do anything for him. It's a blessing to play with him."
Game Night Live
×
Photos