This archived news story is available only for your personal, non-commercial use. Information in the story may be outdated or superseded by additional information. Reading or replaying the story in its archived form does not constitute a republication of the story.
SALT LAKE CITY — Federal transportation officials announced Thursday that the 402-mile I-15 corridor through Utah is one of 55 routes in 35 states that will serve as the foundation for the nation's alternative fuels and electric charging network.
A portion of I-80 from Salt Lake City to Park City and from Salt Lake City to Nevada are also part of the 85,000 miles of roadways that will be identified with national signage that alerts motorists where they can find fuel for their alternative vehicles.
"Alternative fuels and electric vehicles will play an integral part in the future of America's transportation system," said U.S. Transportation Secretary Anthony Foxx. "We have a duty to help drivers identify routes that will help them refuel and recharge those vehicles, and designating these corridors on our highways is a first step."
The routes were designated as "sign ready," by the U.S. Department of Transportation's Federal Highway Administration, which is also encouraging states to nominate another round of candidates for potential selection next year to sport the blue signage. The signage will be like those that tell motorists about gas, restaurants and other services, the agency said.
Jeff Harris, the Utah Department of Transportation's planning coordinator, said the state worked with its neighbors around the West to identify regional corridors that will help boost the viability of alternative fuels vehicles and electric vehicles.
"If you can develop these corridors over multiple states on a regional basis, it promotes a different use of that technology," he said. "It is about coordination, collaboration … and it comes down to more choices for folks."
The announcement came the same day Utah Gov. Gary Herbert designated November Alternative Fuel Vehicle Awareness Month in an event marked by a press conference in front of the state Capitol.
Herbert's proclamation notes the efforts by Utah to develop I-15 as an electric vehicle charging corridor and provide more transportation choices for Utah residents.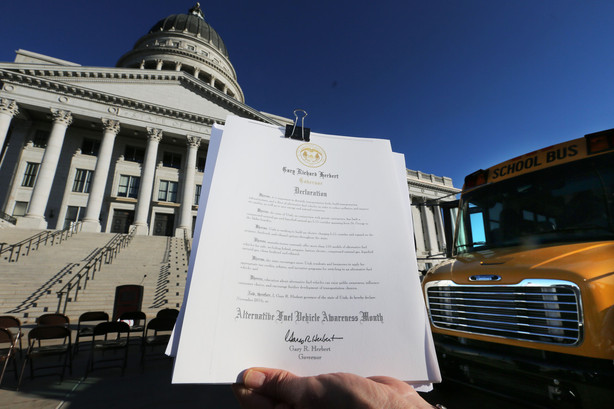 Utah boasts 211 public alternative fueling stations and more than 70 private alternative fueling stations by entities that include the Jordan School District and Geneva Rock.
"Utah gets it done," said Robin Erickson, executive director of Utah Clean Cities. "We get it. … Utah is ready, is available, is now."
James Campbell, Rocky Mountain Power's legislative policy adviser, said the state, utility company and partners are on an ambitious path to continue Utah's indelible relationship with electricity.
Campbell noted that Salt Lake City was the fifth city in the world to have electricity and had the nation's first street cars in 1889, with leaders motivated to combat the pollution and public health problems caused by manure generated from horse-drawn carriages.
The Wasatch Front faces another pollution challenge with its air quality caused by motor vehicles, so more choices equal better air for residents, he added.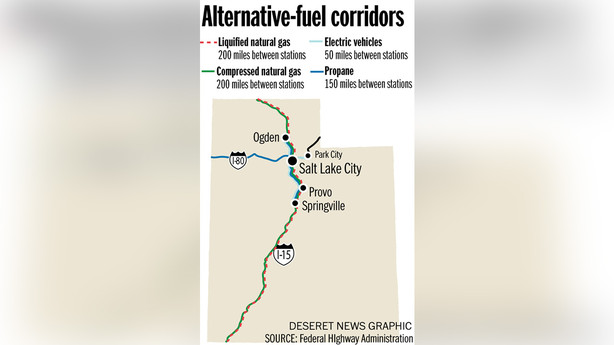 Rocky Mountain Power, with its $10 million electric vehicle initiative, is asking the U.S. Department of Energy for $4 million to extend those choices on 1,500 miles in Utah, Wyoming and Idaho with a goal of putting more than 50,000 plug-in electric vehicles on the streets. Beyond major thoroughfares, the program also aims to boost EV infrastructure on roads that lead to the Mighty Five national parks in Utah as well as places like Yellowstone and Grand Teton national parks.
"This is so electric vehicles can be a functional part of how we live and operate," Campbell said, with the program designed to break down the barriers to electric vehicle adoption.
Closer to home, Salt Lake City, the University of Utah and automotive dealers joined together in the U Drive Electric program, which was extended to Nov. 30.
The program provides financial incentives and discounts on purchases of electric or plug-in hybrid vehicles for the University of Utah and Salt Lake City community members.
Tyler Poulson, Salt Lake City's sustainability program manager, said U Drive defines city "community members" as those who live in the city, work in the city, or even visit the city on regular basis for entertainment or other purposes.
Through the program, tax credits and sticker price discounts result in savings from 3 percent to 25 percent on new vehicle purchases, he said. So far, 87 electric or hybrid vehicles have been sold, with hundreds of potential buyers who have indicated their interest.
The city, he added, plans to put in a dozen level two charging stations, the kind that provide about 70 miles of range after an hour of charging.
Utah's $1,500 electric vehicle tax credit is due to expire at the end of this year, but Rep. Steve Handy, R-Layton, said he plans to run legislation in 2017 to keep it on the books for three to five years.
×
Photos