Estimated read time: 3-4 minutes
This archived news story is available only for your personal, non-commercial use. Information in the story may be outdated or superseded by additional information. Reading or replaying the story in its archived form does not constitute a republication of the story.
SALT LAKE CITY — Nearly 70 percent of Utah voters surveyed this year about their top priorities said health care is their biggest concern.
It is the No.1 priority among voters, shooting from fourth place in years past, above air quality, K-12 education, taxes, and jobs and the economy.
"It's maybe not so much that the interest in health care has risen, but some of the other issues previously considered more important aren't as much of an issue this year," said Christopher Collard, a research analyst with the Utah Foundation, which has conducted the voter survey in gubernatorial voting years since 2004.
"Health care has always been a top concern," he said.
The rising importance, Collard speculated, could be because of rising health care costs and increasingly limited access, but also ongoing discussion on the issue, both locally and nationally is stemming the concern.
The survey is part of the Utah Priorities Project, which surveys both voters and candidates "so they can both understand where each other is coming from and what the most important things are and what they care about most," Collard said.
Interestingly enough, he added, health care is "something that everyone cares about, as it ranked high among both Democrat and Republican voters," unlike some more polarizing issues, such as medical marijuana and environmental issues.
The survey polled 800 voters in February, a time when political debate on health care was fresh. Health care has also been a topic of national discussion, as federal officials carry out implications of the Affordable Care Act.
Utah consistently ranks as one of the healthiest states overall, receiving positive marks for low rates of smoking and alcoholism, which is prohibited in the state's major religion, but the state also has a lower obesity rating and fewer preventable hospitalizations and cancer deaths, according to the Utah Foundation report.
The state does, however, have an ongoing shortage of primary care physicians, a lower level of immunizations and a higher incidence of drug deaths, as well as more prevalent pertussis cases, when compared nationally.
But Utah is recognized nationally as the state that has one of the best levels of health at the lowest cost per capita, according to Vivian Lee, senior vice president for Health Sciences at the University of Utah. She said low costs stem from a younger and healthier population that uses fewer health care resources.
She said fewer Utahns are dying in intensive care units, but rather stay in their homes with the support of family.
The foundation's report indicates that Utah also boasts lower than average insurance premiums in the individual marketplace and for employer-based plans. It appears, too, that workers are happy with their employer-sponsored plans, as just 26 percent of those surveyed said they'd rather have a raise and be able to pick from a larger variety of plans offered through the marketplace.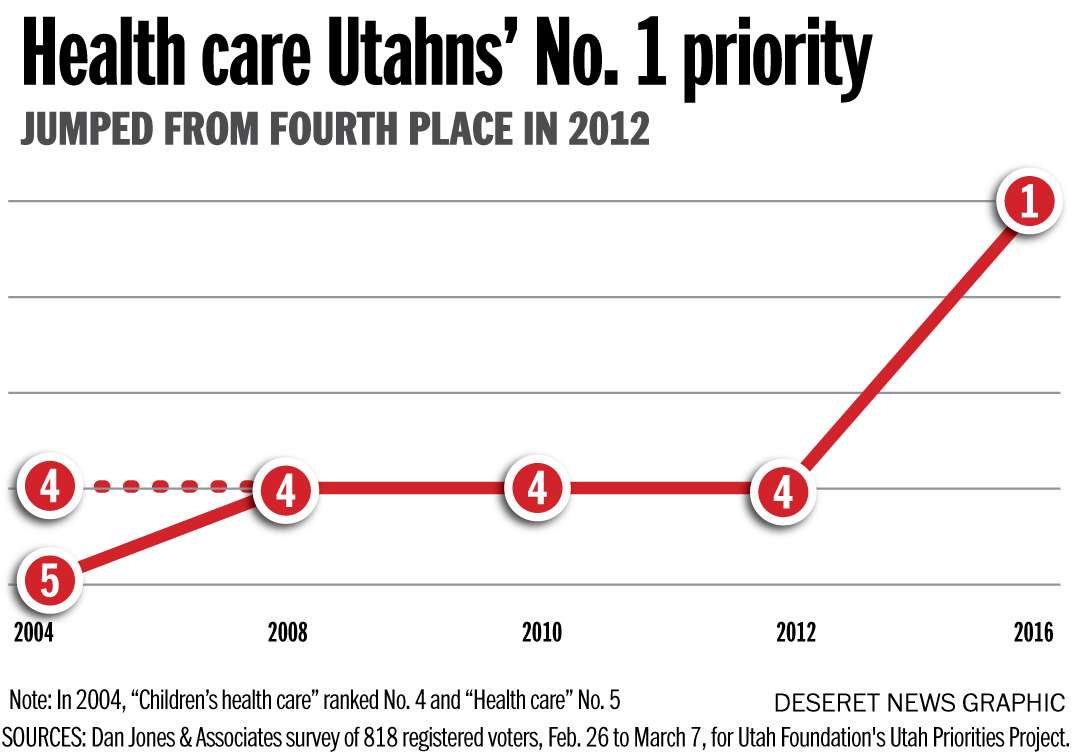 As the Utah Legislature voted to expand Medicaid benefits to a select group of very low-income Utahns, Utah still has a higher than average rate of people who are uninsured. About 10.5 percent of Utahns don't have access to health insurance, which limits their options for health care, said Utah Health Policy Project spokesman Jason Stevenson.
"Many Utahns don't have an affordable option to get better," he said.
The Utah Foundation, a nonprofit, nonpartisan public policy research group, published an issue brief on each of the top 10 priorities among Utah voters, resulting from the February survey.
Health care was the last to be released prior to Election Day. To find all the issue briefs, visit utahfoundation.org/priorities-project-2016.
"In a year of partisan rancor, it's a source of nonpartisan information about the issues that really matter," said Utah Foundation President Steve Kroes. "That gives voters an opportunity to choose the candidates who represent their views best."
×
Photos
Most recent Utah stories