Estimated read time: 2-3 minutes
This archived news story is available only for your personal, non-commercial use. Information in the story may be outdated or superseded by additional information. Reading or replaying the story in its archived form does not constitute a republication of the story.
SALT LAKE CITY — McKay AhPing said the election got personal for him when presidential candidate Donald Trump started making blanket statements about immigrants — the same immigrants he served among during his LDS Church mission in California.
"He offended me so much," AhPing said. "The thousands of immigrants I knew were amazing people who cared so much about their community, and were giving and friendly people."
And for the first time in his life, AhPing got involved in politics, supporting any Republican or independent candidate save Trump. As each fell by the wayside, AhPing found Evan McMullin, a Utah native and BYU graduate who seems to share his values.
AhPing organized a small rally at the state Capitol on Thursday to voice his support for McMullin, who did not attend the event.
Others who have learned about a growing local support for McMullin via social media joined with AhPing in the Americans for McMullin movement, calling it a supreme grass-roots effort.
"It's really the people who are behind this," said Clarissa Hales, of Sandy, who donned a sparkly Statue of Liberty costume at the rally. "I wasn't satisfied with the two candidates we could vote for and started doing some research on my own."
"I have a good feeling about (McMullin)," she said. "I've never been this passionate about anyone else running for office — ever."
Hales said it is "electrifying" to see support for McMullin grow and referred to a recent poll that shows McMullin with 22 percent of the Utah vote two months after he began campaigning.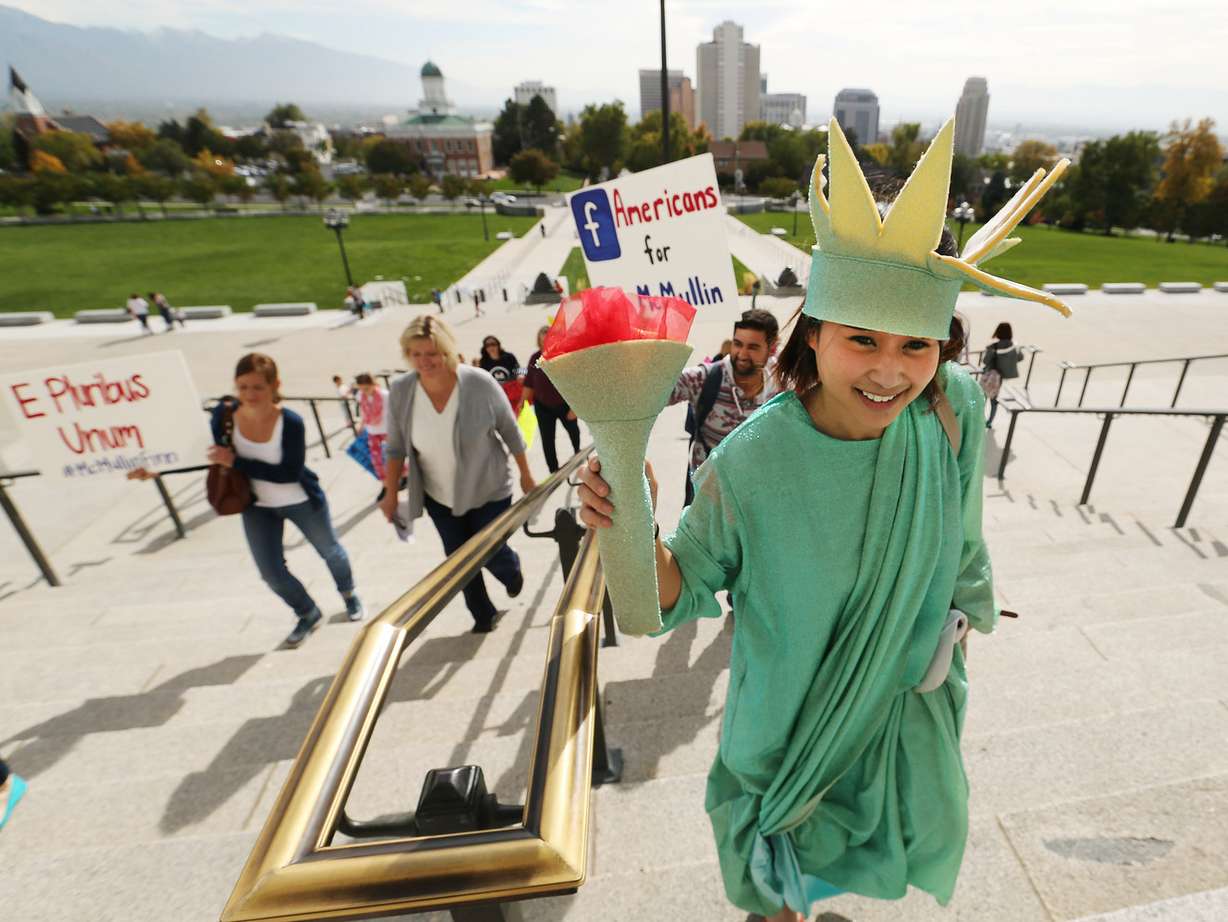 "I'm a 54-year-old grandma who can't stand to see either (Trump or Hillary Clinton) win this election," said Sue Fritzler, of Stansbury Park. "I want a better future for my grandchildren."
Fritzler said she likes what she knows about McMullin and believes "he has what it takes" to prevent other candidates from winning.
"He's willing to do what is right for our country," she said.
In all, a couple dozen people — mostly women and children — joined the small show of support Thursday, each having learned about it on Facebook. The group marched in and out of the Capitol, shouting "stand up" and "let's talk principles," among other words in support of 40-year-old McMullin.
×
Photos
Related stories
Most recent Utah stories