This archived news story is available only for your personal, non-commercial use. Information in the story may be outdated or superseded by additional information. Reading or replaying the story in its archived form does not constitute a republication of the story.
SALT LAKE CITY — Rep. Mel Brown's razor-thin primary loss and his complaint that some vote-by-mail ballots were unfairly disqualified has sparked discussion among lawmakers and clerks about ways to prevent ballot disqualifications due to missed postmark deadlines.
Brown, R-Coalville, the longest-tenured member of the Utah House, lost in the GOP primary to Logan Wilde by nine votes. The veteran lawmaker filed a lawsuit last month against Lt. Gov. Spencer Cox and clerks in his district's counties, claiming 70 ballots were improperly disqualified because they were postmarked the day of the election, even though state law requires ballots to be postmarked the day before.
Election officials, postal service workers and some lawmakers believe it's an issue best addressed through better public education rather than new legislation or extended deadlines. But others say the law requiring vote-by-mail ballots to be postmarked the day before the election is confusing to voters.
"In so many people's minds, Election Day is Election Day," Rep. Patrice Arent, D-Millcreek, said during a Government Operations Interim Committee meeting Wednesday.
Sen. Jani Iwamoto, D-Holladay, said the average by-mail voter isn't aware of the new law or that their ballots could miss the postmarking deadline even if they put them in their mailboxes the day before an election.
Some ballots may not be postmarked until the day after they're placed in mailboxes because they won't make it to a post office for postmarking if they're mailed after collection times — which can be as early as 1 p.m. in rural counties.
"There's still a lot of confusion," Iwamoto said. "I've had a lot of comments that (people) should be able to have it postmarked the day of the election."
Related
But when lawmakers asked State Election Director Mark Thomas, Salt Lake County Elections Director Rozan Mitchell, and Darrel Stoke, district manager with the U.S. Postal Service, whether lawmakers should change the law to prevent such ballots from being disqualified, they each said the issue boils down to voter education.
Mitchell said even though some by-mail voters may miss collection deadlines, they are still able to submit their ballot in person at a polling place, or at designated drop boxes placed throughout the county.
Deadlines are also clearly stated on vote-by-mail ballots, she said, adding that voters could also be reminded with notices placed on their mailboxes on Election Day that they've missed the deadline and will need to drop off their ballots in person or in drop boxes.
Sen. Margaret Dayton, R-Orem, said extending the deadline won't solve any problems, and it's the responsibility of the voter to make sure they're mailing their ballots on time, if not early.
"I think it's important to remind ourselves and the public that voting is a privilege and a responsibility. It's a blood-bought freedom, and there is a responsibility, whether that's getting to the polls before they close, or getting to the post office in time for the deadline," Dayton said.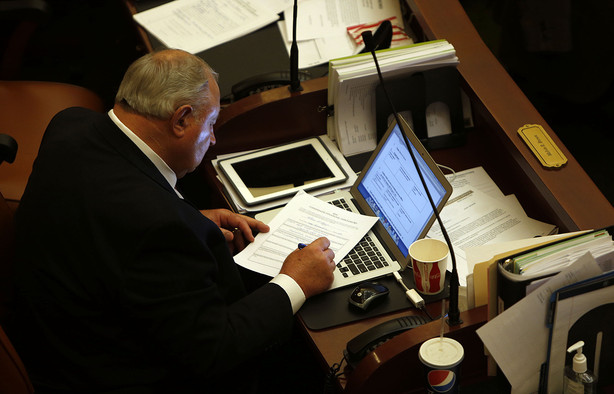 Rep. Brian Greene, R-Pleasant Grove, agreed.
"No matter when it is, people are going to miss the deadline," Greene said. "As long as there is proper notice on the ballots, I'm not sympathetic to those who miss the deadline on mail-in voting anymore than I feel the need to create leniency for people who show up to a polling place five minutes after it closes."
No legislation was proposed to change any deadlines Wednesday, but the committee agreed to continue exploring the issue, voting to open a committee bill to require all vote-by-mail counties to provide drop boxes as an option for voters.
Currently, vote-by-mail counties aren't required to have drop boxes, but they're provided by counties as a courtesy.
×
Related Stories