Estimated read time: 5-6 minutes
This archived news story is available only for your personal, non-commercial use. Information in the story may be outdated or superseded by additional information. Reading or replaying the story in its archived form does not constitute a republication of the story.
WASHINGTON TERRACE, Weber County — A tornado touched down in Weber County on Thursday, wrecking at least two homes in Washington Terrace, injuring one person and sending a group of teenagers running for their lives.
The widespread destruction centered on Washington Terrace and Riverdale, according to police. Officials were unsure Thursday whether it was the result of one tornado that touched ground twice or two separate tornadoes.
At least two homes were ruined by a tornado that touched down on 200 East between 4600 South and 4700 South around 3:50 p.m., said Weber County Sheriff's Lt. Nate Hutchinson.
Friday morning update
Approximately 7,200 residences without power in Davis and Weber counties
Four schools closed: Bonneville High, T.H. Bell Junior High, Washington Terrace Elementary and Roosevelt Elementary
Cleanup volunteers meet at Washington Terrace Community Center, 10 a.m.
"There's a couple of them here that are gone," Hutchinson said. "They are not going to be able to be rebuilt here."
The tornado moved from the northeast through the city. The area of 5000 S. Ridgeline Drive was also heavily damaged. Several areas were considered unsafe because of downed power lines.
Several dozen others homes sustained significant damage, including 10 that are currently not livable, according to the lieutenant. The whole block is a scene of destruction, he said, with "trees sticking out of houses (and) houses without roofs."
"The actual power poles and power lines are down throughout this whole area," Hutchinson said.
Displaced residents were sent to the Washington Terrace Senior Center. The American Red Cross was called out to assist them. Class is canceled on Friday for Bonneville High, T.H. Bell Junior High, Washington Terrace Elementary and Roosevelt Elementary.
If you would like to volunteer meet at Washington Terrace Community center @ 10AM at 4601 S 300 w #utwxpic.twitter.com/1YmMN4DS6F

— Derek Petersen (@Derek_Photog) September 23, 2016
About 37,000 Weber and Davis county residents were without electricity at one point Thursday evening. Officials said power would remain out overnight and possibly over the next few days because of damage to infrastructure. About 7,200 Rocky Mountain Power customers in Davis and Weber counties remained without power Friday morning. Hutchinson said the most affected Riverdale neighborhoods would take several days to clean up.
One person suffered a head injury and took private transportation to a hospital, Hutchinson said. They were expected to be OK. A few others were cut by flying glass in the chaos but were not hospitalized, he said.
"The damage is terrible, but it could have been a lot worse in terms of the human toll," Hutchinson said.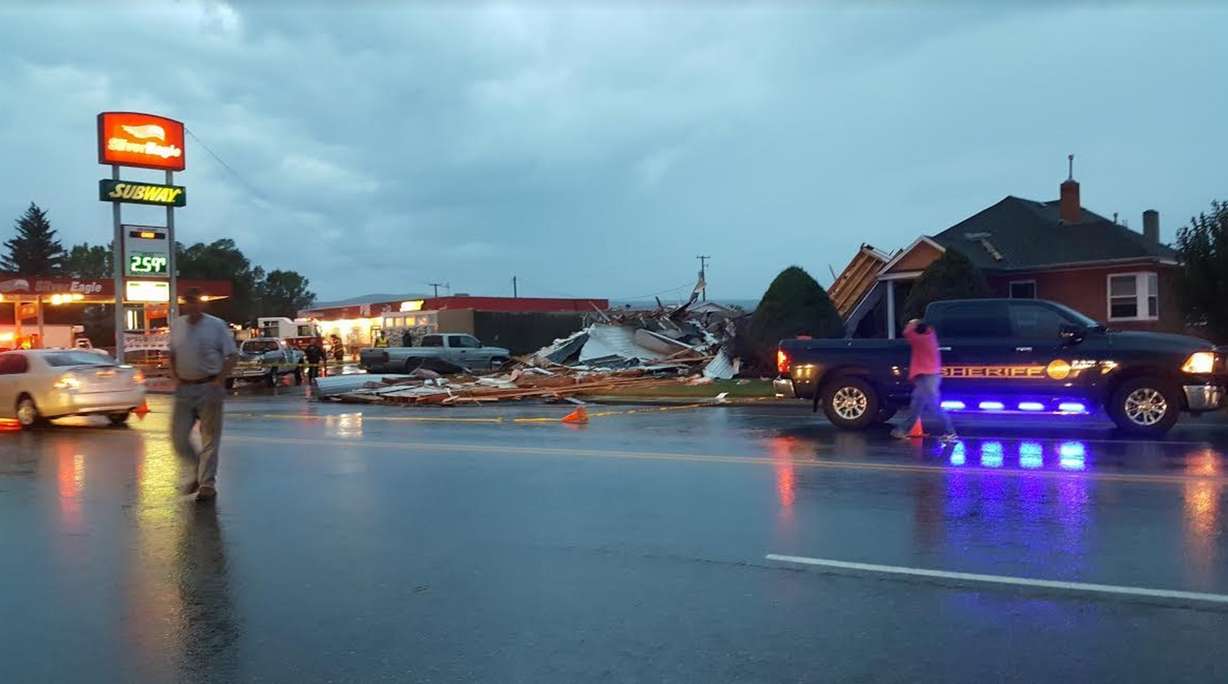 The severe weather was part of a larger pattern of destruction throughout the state Thursday. A tornado also hit Panguitch for the second time in less than a month Thursday evening, according to Cheryl Church, Garfield County spokeswoman. The last time was on Aug. 21.
Church said Thursday's tornado touched down at 6:55 p.m. and struck a building at 609 N. Main, taking off its roof. The tornado then traveled northeast and caused damage to a home at 795 N. 250 East.
Running to safety
The aftermath in Riverdale consisted mainly of heavy tree damage, according to police. However, one group of teenagers reported narrowly escaping the path of the tornado.
Jacob Hite was running a 5K with several other teens as part of training with the Utah Military Academy when the weather suddenly changed, he said. At first the change was welcome for the group, because the weather started to get cooler, but soon the winds became severe, according to Hite.
"(We turned and saw) this swirling twister of dirt, leaves and rocks was right behind us," he said.
The teenagers began to be hit by flying debris. Their instructor told them to grab onto nearby trees, but even those began to snap in half, Hite said.
"If felt like there was a huge, almost like a slingshot bringing you back toward the tornado. … It was pretty much like trying to run away from a huge vacuum cleaner," he said.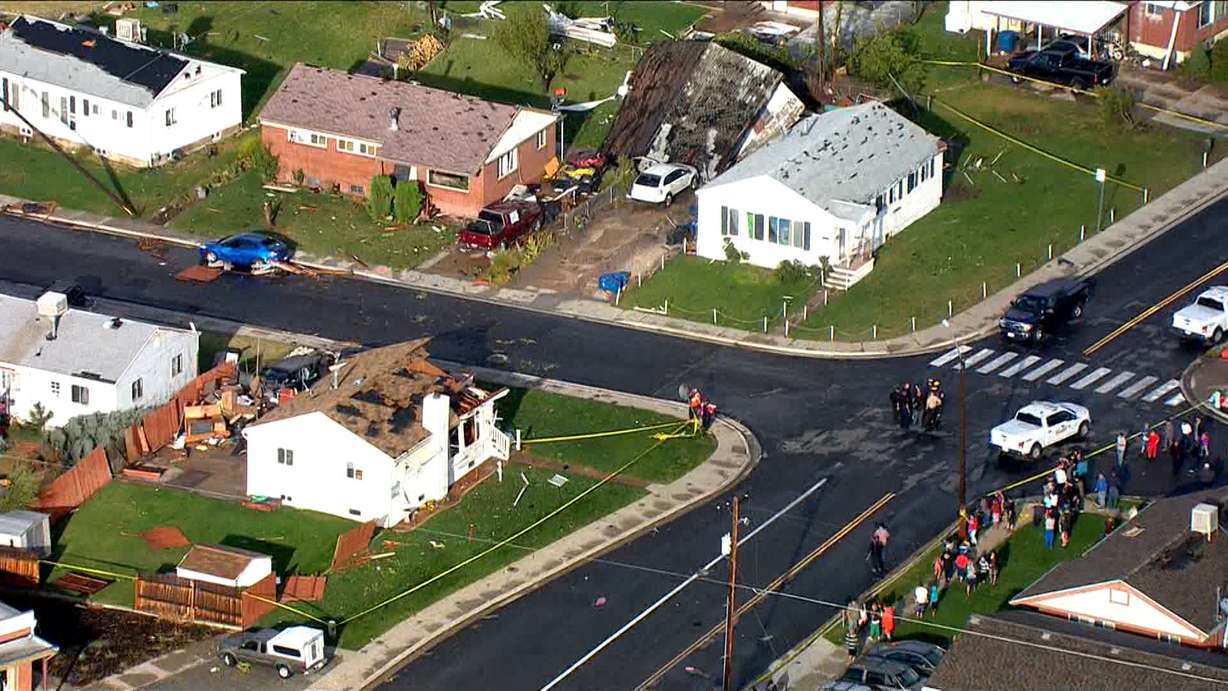 Those who were wearing glasses had them ripped off their face by the wind, Hite added. The group finally made its way inside Jo-Ann Fabrics and Crafts at 1050 W. Riverpark Drive, he said. They could see shopping carts being blown around outside in the parking lot, including some that bent when they fell to the ground.
One of the teenagers, a boy who is a sophomore in high school, injured his back and suffered a concussion, according to Hite. It wasn't immediately clear if he was the same person Hutchinson said was injured.
Tamerra Hite, Jacob's mother, said the group was looking out for each other in what was potentially a life-threatening situation.
"Kids were running back toward the tornado to help the other kids that were falling behind," she said. "That's what stood out in my mind."
Sherry Holman said her son, Cade, covered a younger boy with his body as the tornado approached.
"He kind of laid on top of him because (the younger boy) was being blown away," Holman said. "They were all grabbing onto trees, holding on (for) dear life."
Very intense storm just now. @NWSSaltLakeCity#antelopeislandpic.twitter.com/z3nnmbOzHL

— Antelope Island SP (@AntelopeSP) September 22, 2016
Other parts of northern Utah suffered significant damage in Thursday's fast-moving storm front. Golf ball-size hail was reported on Antelope Island, causing some facility closures there.
In Layton, the National Weather Service said large trees had fallen at the intersection of Main Street and Antelope Drive. Large trees were also destroyed in South Ogden.
Giant storage tank rolling down Main Street near Home Depot. Be careful out there! pic.twitter.com/L0DnQjxX6S

— Layton Police (@laytonpolice) September 22, 2016
Looking ahead
KSL-TV meteorologist Kevin Eubank said the storm moved rapidly through northern Utah, causing heavy precipitation and rapid drops in temperature, but another part of the same system was expected to affect Duchesne County and the Wasatch Front overnight. Up to an inch in rain was still expected in Roosevelt, he said.
As much as an inch of rain was expected Friday morning in valleys along the Wasatch Front, in addition to snow in the mountain ranges, Eubank said. The storm was also expected to be powerful in the northwestern part of the state overnight and into the morning hours.
By Saturday, Utahns can expect mostly clear weather throughout the state, Eubank said, although there will be a noticeable dip in temperatures.
Related
Have pictures of the storm? Submit them using iWitness.
×
Photos