Estimated read time: 5-6 minutes
This archived news story is available only for your personal, non-commercial use. Information in the story may be outdated or superseded by additional information. Reading or replaying the story in its archived form does not constitute a republication of the story.
PROVO — Taysom Hill hasn't finished a season since 2013, when the then-sophomore completed 54 percent of his passes for 2,938 yards and 19 touchdowns and ran for 1,344 more with 10 scores.
But there was the 26-year-old Hill on Tuesday after practice, addressing the media after being named the starter for the Cougars' 2016 campaign that kicks off Sept. 3 at Arizona.
The fifth-year senior has seen plenty of BYU football rosters with loaded talent, including last year's crop of receivers led by Mitch Mathews — who is now with the Kansas City Chiefs. The 2016 class is as good as any of them, and Hill is excited to lead them — hopefully one more time.
"I think we are just as good," Hill said. "I don't think there are any drop-offs at any position. I think the style of offense we are playing will allow us to be a little better and not have to rotate as much as we have in the past."
If Hill has any injury concerns, he hides them quickly. When asked multiple times if he is completely healthy after surgery to repair a Lisfranc injury in his foot last fall, he gives the same tired expression as he gave when asked about the "quarterback competition" facing him and incumbent sophomore Tanner Mangum.
His foot won't be an issue. Neither will his leg, which he broke Oct. 3, 2014, against Utah State. Nor will his knee, which ended his freshman season Oct. 5, 2012, after six games.
Hill has learned a few things about coming back from an injury. He's confident this time will be different.
"From a mental standpoint, all I needed to hear was my doctor telling me I'm healed, I'm healthy and I am good to go," he said. "I've gotten that three different times, and when I've gone out and played, it hasn't entered into my mind at all.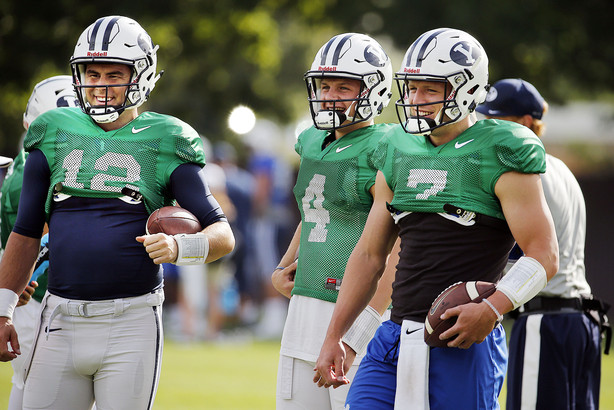 "I stressed and exhausted every effort to get and stay healthy. I would say at this point, where previously everything was about getting healthy, this offseason has been more about maintaining my health for the long-run and the whole season."
Hill has one final season of eligibility remaining, a choice he made last spring before the NCAA officially ruled him eligible for a fifth season via a medical hardship waiver. The Pocatello, Idaho, native didn't have to come back; he could've looked forward at more lucrative offers, either in professional football or in finance — the subject of his college degree last April.
But he's a BYU fan as much as a quarterback, and — like Mangum — he wanted what is best for the team. Even if that means subjecting himself to another season in a violent sport like football where injuries happen daily.
If unforeseen circumstances dictate a change, BYU's coaches aren't afraid to insert Mangum — the backup who also has 11 games of starting experience from 2015.
"We still think that Tanner is a big part of the program going forward," BYU offensive coordinator Ty Detmer said. "It may be this year, and it may be Week 1 just like last year.
"There's no lack of confidence; it's just the situation we are in."
Detmer then reiterated a line he uttered over and over as he made the formal announcement.
"Taysom is our starter," he said.
Those four words were all Kalani Sitake needed to hear in his first season as a Division I head coach. He and Detmer haven't agreed on everything in their short time working together. But on the matter of his team's first starting quarterback, they were of one accord.
"There are things Tanner brings to the table that Taysom can't do, and there are things Taysom does that Tanner can't," Sitake said. "We just felt like for the team and we were fit right now, this is the right fit for us."
Related Story
Mangum won't redshirt this season — the coaches plan to use him as a backup to Hill. His time will come, as it has for previous quarterbacks, including the Heisman Trophy winning Detmer.
For now, he'll wait and support — like he did when the coaches announced their decision last weekend.
"Tanner is super supportive," Hill said. "He and I have been good friends through this whole thing.
"It's great to have a guy like Tanner on the sideline. … He knows the plays, and he looks at things that I wasn't looking at. I'm excited to be able to work with him that way."
Sitake is hopeful to finish the two-deep depth chart by the end of this week, as BYU begins to shift from season prep to game prep-mode. The Cougars will work through their final scrimmage of fall camp Thursday morning, then shift all focus to the Wildcats.
Only a few positions remain open: a second cornerback to pair with Michael Davis, for example, and the full array of wide receivers as Nick Kurtz recovers from a foot injury.
But perhaps the most difficult decision has been made. And all sides can agree that honesty really is the best policy.
"The hard part was that we have really good players," Sitake said. "To get the best 11 out there, only one can sling the ball. We know that Tanner is going to play; we're not going to save him. He'll be the backup quarterback. Taysom will be the starter."
×
Related Stories