Estimated read time: 2-3 minutes
This archived news story is available only for your personal, non-commercial use. Information in the story may be outdated or superseded by additional information. Reading or replaying the story in its archived form does not constitute a republication of the story.
PROVO — BYU is still two weeks away from opening the college football season Sept. 3 in Arizona.
But the Cougar basketball teams became the 144th Division I school to release a start date with an announcement Wednesday.
BYU men's basketball will open the season Nov. 11 against sister school BYU-Hawaii in the Marriott Center. After exhibition contests against Seattle Pacific and Westminster, the Cougars open the season with home games against the Seasiders, Coppin State and Coastal Carolina before playing neutral games against Saint Louis and Alabama or Valparaiso in the MGM Grand Main Event in Las Vegas.
While the schedule does not include a matchup against rival Utah, BYU will face three teams from the state of Utah in the regular season. The Cougars tip off against Utah Valley and former assistant coach Mark Pope on Nov. 30, followed by a game against Utah State in the Beehive Classic in Salt Lake City on Nov. 30 and a home game against Weber State on Dec. 7.
BYU's non-conference slate also features a home game against Colorado and a neutral-site game against Illinois in Chicago before opening West Coast Conference play Dec. 29 against Santa Clara.
For the first time since BYU joined the WCC five years ago, the league will no longer pair schools by geographical travel partners. BYU closes the regular season with a trip to the Pacific Northwest, Feb. 23 at Portland and Feb. 25 at Gonzaga.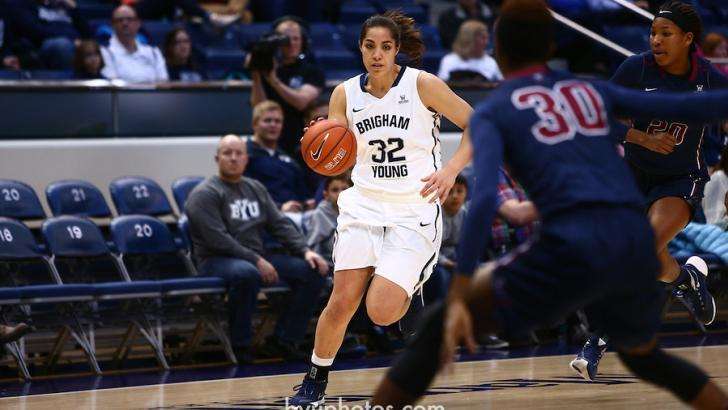 The BYU women's hoops team also opens the season Nov. 11, but the Cougars will make the short trip up University Parkway to face UVU. A week later, head coach Justin Judkins' group will travel to Georgia for the program's first-ever game in Athens, Georgia, then turn around for a Nov. 19 home date with Oklahoma in the Sooners' first appearance in Provo since 1989.
The Cougars will face two in-state rivals, traveling to the Huntsman Center to face Utah on Dec. 10, and playing at Utah State on Dec. 17.
BYU opens WCC play Dec. 29 at home against Santa Clara, followed by a road game at LMU on Dec. 31. The Cougars wrap up the regular season at home Feb. 23 against Portland and Feb. 25 against Gonzaga.
BYU men's basketball 2016-17 schedule
| Date | Opponent | Location |
| --- | --- | --- |
| Oct. 26 | Cougar Tipoff | Provo |
| Oct. 29 | Seattle Pacific | Provo |
| Nov. 3 | Westminster | Provo |
| Nov. 11 | BYU-Hawaii | Provo |
| Nov. 17 | Coppin State | Provo |
| Nov. 19 | Coastal Carolina | Provo |
| Nov. 21 | Saint Louis | Las Vegas |
| Nov. 23 | Alabama/Valparaiso | Las Vegas |
| Nov. 26 | Utah Valley | Provo |
| Nov. 30 | Utah State | Salt Lake City |
| Dec. 3 | Southern California | Los Angeles |
| Dec. 7 | Weber State | Provo |
| Dec. 10 | Colorado | Provo |
| Dec. 17 | Illinois | Chicago |
| Dec. 20 | Idaho State | Provo |
| Dec. 22 | Cal State Bakersfield | Provo |
| Dec. 29 | Santa Clara | Provo |
| Dec. 31 | Loyola Marymount | Los Angeles |
| Jan. 5 | Saint Mary's | Moraga, Calif. |
| Jan. 7 | Pacific | Provo |
| Jan. 12 | San Francisco | Provo |
| Jan. 13 | San Diego | San Diego |
| Jan. 19 | Pepperdine | Provo |
| Jan. 21 | Pacific | Stockton, Calif. |
| Jan. 26 | Santa Clara | Santa Clara, Calif. |
| Jan. 28 | LMU | Provo |
| Feb. 2 | Gonzaga | Provo |
| Feb. 4 | Portland | Provo |
| Feb. 9 | Pepperdine | Malibu, Calif. |
| Feb. 11 | San Francisco | San Francisco, Calif. |
| Feb. 16 | San Diego | Provo |
| Feb. 18 | Saint Mary's | Provo |
| Feb. 23 | Portland | Portland, Ore. |
| Feb. 25 | Gonzaga | Spokane, Wash. |
BYU women's basketball 2016-17 schedule
| Date | Opponent | Location |
| --- | --- | --- |
| Nov. 11 | Utah Valley | Orem, Utah |
| Nov. 16 | Georgia | Athens, Ga. |
| Nov. 19 | Oklahoma | Provo |
| Nov. 25 | St. Joseph's | Albuquerque, N.M. |
| Nov. 26 | ' Tulsa/New Mexico | Albuquerque, N.M. |
| Dec. 2 | UNLV | Maui, Hawaii |
| Dec. 3 | Oregon State | Maui, Hawaii |
| Dec. 7 | Weber State | Provo |
| Dec. 10 | Utah | Salt Lake City |
| Dec. 17 | Utah State | Logan, Utah |
| Dec. 22 | Washington | Provo |
| Dec. 29 | Santa Clara | Santa Clara, Calif. |
| Dec. 31 | Loyola Marymount | Provo |
| Jan. 5 | Saint Mary's | Provo |
| Jan. 7 | Pacific | Stockton, Calif. |
| Jan. 12 | San Francisco | San Francisco, Calif. |
| Jan. 14 | San Diego | Provo |
| Jan. 19 | Pepperdine | Malibu, Calif. |
| Jan. 21 | Pacific | Provo |
| Jan. 26 | Santa Clara | Provo |
| Jan. 28 | LMU | Los Angeles |
| Feb 2 | Gonzaga | Spokane, Wash. |
| Feb. 4 | Portland | Portland, Ore. |
| Feb. 9 | Pepperdine | Provo |
| Feb. 11 | San Francisco | Provo |
| Feb. 16 | San Diego | San Diego |
| Feb. 18 | Saint Mary's | Moraga, Calif. |
| Feb. 23 | Portland | Provo |
| Feb. 25 | Gonzaga | Provo |
×
Photos
Most recent Sports stories