Estimated read time: 3-4 minutes
This archived news story is available only for your personal, non-commercial use. Information in the story may be outdated or superseded by additional information. Reading or replaying the story in its archived form does not constitute a republication of the story.
SALT LAKE CITY — The state engineer cut off a group of Utah Lake users from further water diversions for the first time in the history of a 24-year-old management plan in a decision announced Wednesday.
The 1992 Utah Lake Management Plan divides users into two groups — primary and secondary — in a classification that has nothing to do with the purpose or type of water being used.
Rather, once the lake's system storage falls below 125,000 acre-feet of water, "secondary" users or those who came on after 1901 are no longer able to divert water. The state engineer's decision protects primary users who have water rights established before that year, said Jared Manning, an assistant state engineer.
Major users in the secondary classification — such as Utah Lake Distributing Co., Kennecott and Draper Irrigation Co. — have been notified.
Most users or holders of those rights in the secondary storage category, about 25 percent of the lake's current use, are using replacement water from other sources that include Deer Creek, the Jordan River or through leased shares of primary water rights.
Riverton, for example, relies on an irrigation company that is in the secondary storage classification. That same company, however, has a contract with the Metropolitan District of Salt Lake and Sandy to continue to deliver higher priority water.
"There is a contract or backstop in place," Manning said.
The management plan dividing water users into two major categories at Utah Lake was developed as Jordanelle Reservoir was being built in the 1990s arising from the fear that upstream diversions might compromise or interfere with the priority of rights for primary Utah Lake users.
"It is a distribution decision to protect those primary users," Manning said, adding that when the lake dipped to an even lower level in 2004, there was a voluntary agreement for those main users to reduce their own consumption.
Manning said the following year turned out to a be a good water year so no drastic decisions had to be made curtailing use during the irrigation season.
He's hopeful that will be the case for 2017.
"It is good that there is replacement water available," he said. "In 2005, we lucked out. … But if we continue into a sixth year of drought, we may be entering into unchartered territory when it comes to the Utah Lake Management Plan and what that means for water users."
Algae bloom
Low water at Utah Lake caused a public health concern via an outbreak of cyanobacteria, or blue-green algae, in mid-July. Fear of potential toxins that can cause liver or nerve damage led to the lake's closure for two weeks.
Although Utah Lake has since reopened, the Utah Department of Environmental Quality reports that Lincoln Boat Harbor remains closed based on the recommendations of the county health department.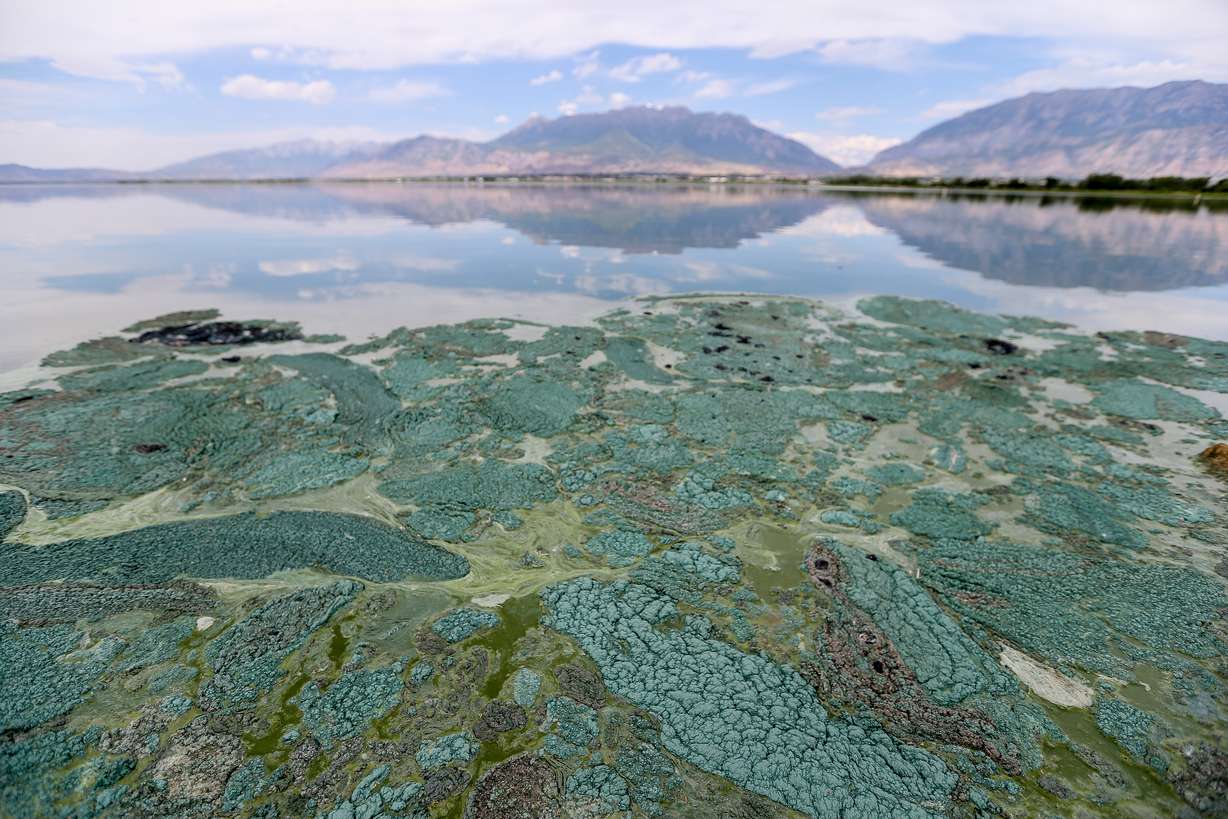 Samples taken Aug. 2 by the state agency show cyanobacteria cell counts are low at four sites that include Pelican Point, Saratoga Springs and the American Fork Boat Harbor.
The lab discovered new species of cyanobacteria in the algal bloom, with the Utah County Health Department now trying to determine if those species produce toxins. Those tests results should be back by the end of the week, officials say.
The lake still has a caution warning, which means people should exercise care when swimming or engaging in other water activities. People are advised to stay away from areas where they see scum in the water and refrain from ingesting any of the water.
"Things are holding steady in a good way," said Aislynn Tolman-Hill, spokeswoman with the Utah County Health Department.
Barring any new developments, activities are still planned at Utah Lake, with a paddleboard race slated for Saturday and the Utah Division of Parks and Recreation hosting a military appreciation day at that park and its 42 others throughout the state.
×
Related stories
Most recent Utah stories