Estimated read time: 3-4 minutes
This archived news story is available only for your personal, non-commercial use. Information in the story may be outdated or superseded by additional information. Reading or replaying the story in its archived form does not constitute a republication of the story.
SPRINGVILLE — Saturday evening, a man who taught orchestra for the Nebo School District for more than 27 years listened as about 150 of his former students played a surprise concert for him.
Earlier this year, Sam Tsugawa retired from Springville High School. This fall, he will begin teaching at Brigham Young University.
Kjersti Jones Christensen, whom Tsugawa taught for five years, organized the surprise concert, which she said was supposed to be a recreation of the film "Mr. Holland's Opus." The performers ranged from people who graduated high school in 1990 to current Springville High School students, Christensen said.
During the concert, Tsugawa's students performed songs he taught them, including some of their favorite songs from the set they would play at Disneyland each year, Christensen said.
Three of his former students conducted the numbers, but Tsugawa conducted the very last number, which was the last number they would always play at Disneyland, Christensen said.
She said Tsugawa was like a father to a lot of his students through high school, because he was so caring and cared about them as people and not just as his students.
"And so we just want to show how grateful we are to him, because he has really impacted so many of our lives," Christensen said prior to the concert.
The impact Tsugawa has had on some of his students was demonstrated on a Facebook page created for the surprise concert.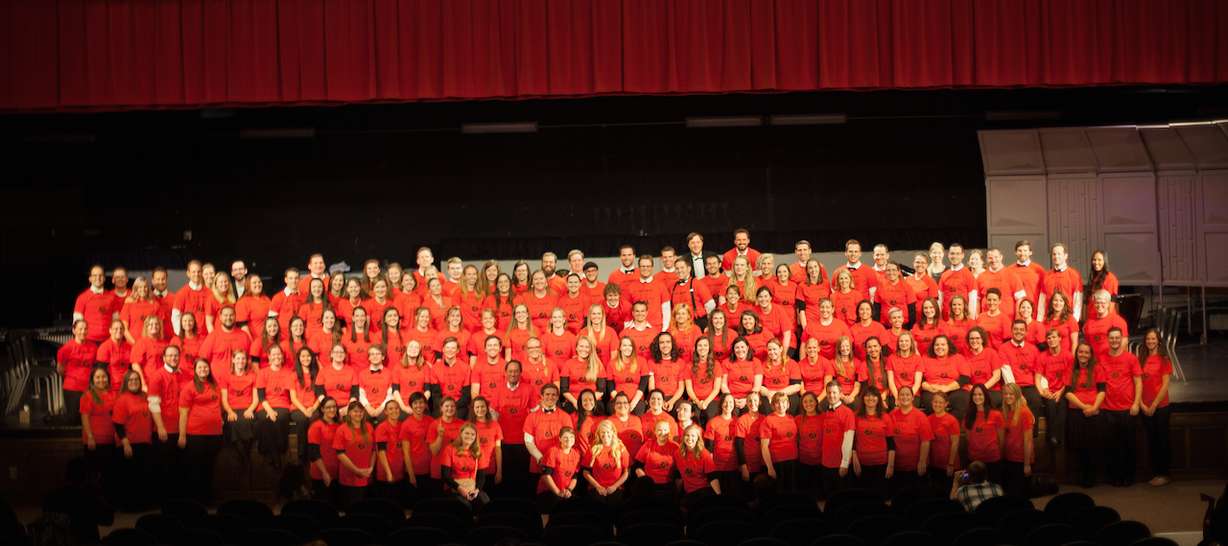 "I owe so much of what I've become to Sam's influence," former student Mike Hylton wrote on the page. "I have become a band teacher in Cache County School District because of the positive musical experiences I had in high school. The band room was one of the only places I felt at home and part of something great. Sam always treated me like an adult and trusted me to take care of responsibilities that helped shape my character and love of music. Any opportunity I have to tell people I was a student of Sam Tsugawa I take." "Sam's influence in my life has been profound," Jayme Dunn, another former student, wrote. "The opportunities that he gave me in high school helped set me on the path to becoming an orchestra teacher. To this day I use some of the techniques that he used in his rehearsals in my own orchestra classes."
Tsugawa said he was surprised on Saturday, especially by the number of people who were there. He felt honored about the surprise concert.
"Many of them came from a long way just to perform and be a part of a neat evening, and it was good to see former students who I haven't seen for a long time who are adults now and have their own children and their own families and doing really really well in life," he said. "It was a nice reunion and after the concert to spend nearly three hours just talking and visiting with nearly every one of those former students."
×
Photos
Most recent Utah stories