Estimated read time: 4-5 minutes
This archived news story is available only for your personal, non-commercial use. Information in the story may be outdated or superseded by additional information. Reading or replaying the story in its archived form does not constitute a republication of the story.
Editor's Note: KSL.com does a weekly feature on artists in the community. If you have a painter, sculptor, musician or creative genius in mind, feel free to email your submission to fjolley@ksl.com. Please include a contact email for the artist, if available. PROVO — Since childhood, Colby A. Sanford has expressed himself. And recently, his infant daughter's discoveries of the world around him have influenced his work.
Born and raised in Provo, Sanford was raised in a creative environment. Encouraged to do things that most kids get time-out for, he grew up allowed to paint on walls, play with his food, tinker, and just generally innovate. He said his father — a creative in his own right —would offer his thoughts and critiques on the works that Sanford produced.
"My parents have always been supportive and invested in my creativity. Their poor walls are jammed with my early attempts at art," Sanford said.
His wife of nearly three years, Alicia, furthered the encouragement he's received throughout his lifetime.
"She is my editor-in-chief and my biggest supporter in being an artist," he said. "When we were talking about marriage and the future (jobs, kids, etc.), she told me that I was going to be an artist, and any other suggestion of more practical jobs were shot down with a reminder that I needed to do what I loved."
Connect with Colby Sanford
Sanford landed on his selected medium, acrylic, after an 18-month stint in China.
"We lived in a more rural community and there wasn't much else to do when we were out there. I did ceramics all through high school, and thought I might do that for my career, but we happened to be living/working at a ceramics factory and I didn't make a single ceramic item. I painted the whole time. We've only been home from our 18-month adventure in China for 16 months, and it has been humbling to see what has come of that focus on painting and to have so much positive feedback from people."
He found he liked how quickly it dried (especially good for traveling) and has developed a muted, simple style that shows off the geometric accents like triangles, layered texture of the acrylic, and sometimes-unusual canvas shapes. Sanford's paintings often portray quiet, intimate scenes like those in his "Fatherhood" series — a theme he's explored more since becoming a father himself.
"The seemingly mundane in everyday life has been influencing me most lately—trying to be present, trying to be fully aware of what is happening around me," he said. "That has been huge. Seeing other people get really invested in whatever they are doing, whether art, music, or their occupation, is inspiring to me.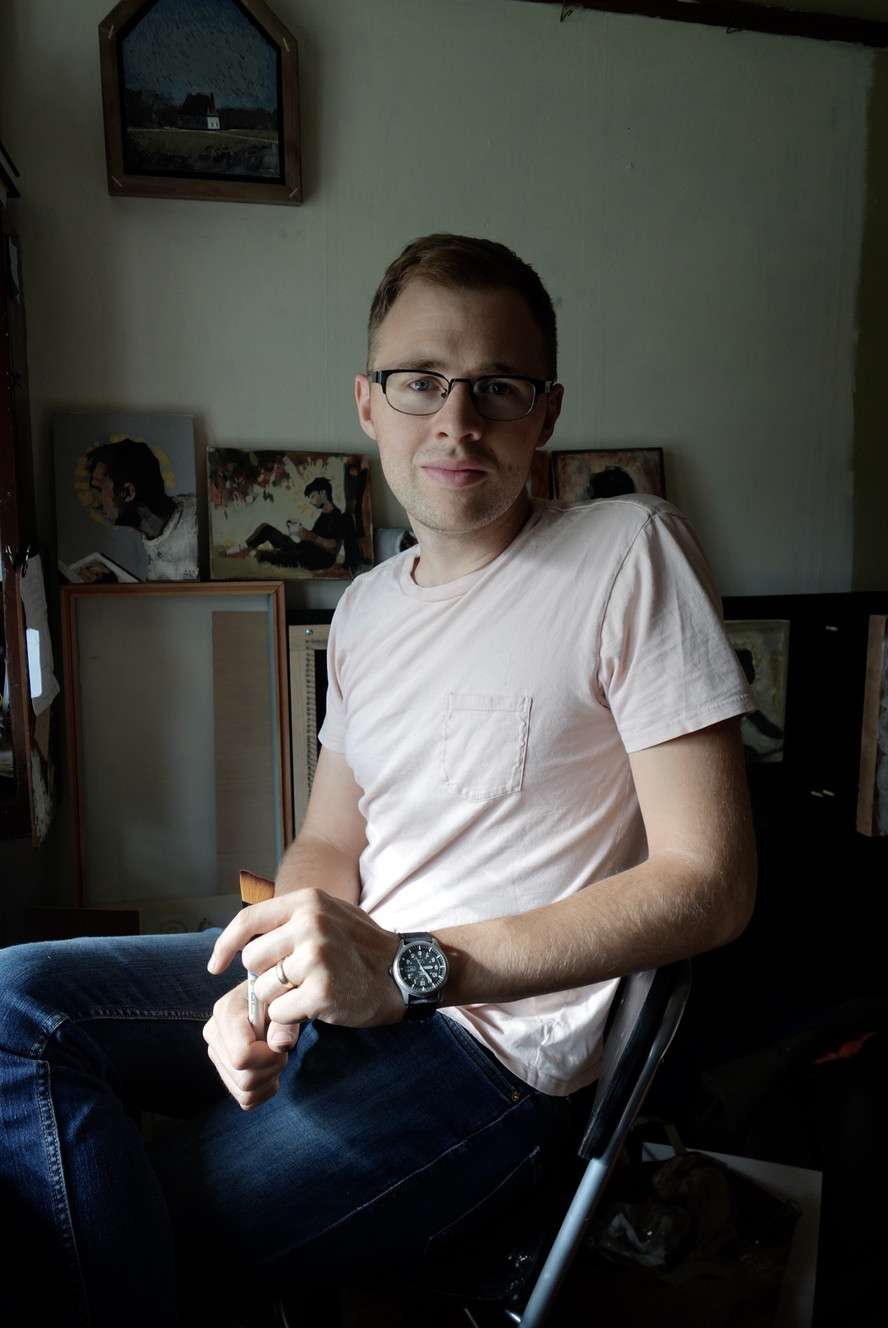 Chairs and fruit have been popping up a lot lately as well.
"...As a new father, many times, I watch my little one's latest tricks: giggles, swipes at my nose, rolls on the rug, and babbles that leave me gawking. And these too are inspiring and influential."
Currently, Sanford is studying at Brigham Young University, applying to the Bachelor's of Fine Arts program, in addition to painting every day. Artists of Utah recently selected him — along with Brooke Smart, Justin Wheatley, and others — as one of 35 artists under the age of 35 to show in its "35X35" show at Finch Lane Gallery.
"I feel very humbled—and grateful," he said. "If you had told me a year ago that I was going to be in this exhibition, I wouldn't have believed you. I am very excited, but I didn't expect to be here already. It's humbling and exciting."
But when he was asked about a cherished moment brought about by art, Sanford went back to the experiences he has with his little family.
"Painting my family, painting my wife, and painting my daughter are absolutely cherished experiences. It has been powerful to view them deliberately, and thus internalize them more deeply," he said.
Upcoming exhibits:
35x35 Exhibition, Finch Lane Gallery, Aug. 12–Sept. 23
Annual Backyard Show, September. Check Instagram for details.

---
×
Photos
Most recent Utah stories