Estimated read time: 5-6 minutes
This archived news story is available only for your personal, non-commercial use. Information in the story may be outdated or superseded by additional information. Reading or replaying the story in its archived form does not constitute a republication of the story.
PROVO — A group of prominent gay rights organizations have entered the discussion involving Big 12 expansion.
Athlete Ally, a non-profit group of LGBTQ activists for sports league, and the National Center for Lesbian Rights released a letter Monday urging the Big 12 conference to not admit BYU as a member school because of what it believes to be discriminatory practices by the university and its sponsor, the Church of Jesus Christ of Latter-day Saints.
"BYU actively and openly discriminates against its LGBT students and staff," reads the letter, which is addressed to Big 12 commissioner Bob Bowlsby. "It provides no protections for LGBT students. In fact, through its policies, BYU is very clear about its intent to discriminate against openly LGBT students, with sanctions that can include suspension or dismissal for being openly LGBT or in a same-sex relationship."
The allegations were first reported by FoxSports.com.
Long considered a frontrunner among more than a half-dozen expansion candidates, BYU could be affected by the letter in the eyes of the commissioner and its 10-member board of directors comprised of university presidents, including those who have publicly lauded BYU as a strong expansion candidate.
The letter is signed by 25 LGBTQ organizations, including GLAAD, the National Organization for Women, Campus Pride, and Equality North Carolina, an advocacy group based near Charlotte, where the NBA recently pulled next year's all-star game based on legislation that allegedly discriminates against transgender individuals.
The organization also cites last year's Princeton Review that ranks BYU as the sixth-most LGBT-unfriendly campus in the United States. The groups claim LGBTQ athletes from other Big 12 schools would be discriminated against at conference games, meets and events,
"Given BYU's homophobic, biphobic and transphobic policies and practices, BYU should not be rewarded with Big 12 membership," the letter reads.
"Any student-athlete who identifies as LGBT, and subsequently selects BYU due to its Big 12 membership, would be subjected to BYU's unabashed discrimination. This would endanger the student-athlete's NCAA eligibility and mental health."
Athlete Ally has multiple partnerships within the world of sports, including World Team Tennis and competitive eating star Daigo Kobayashi. Last July, the organization also teamed up with the NCAA to require all current and future NCAA events (including banquets and championship games) to complete an LGBT climate survey "meant to hold cities, states, schools, and event vendors more accountable for discriminatory laws, policies and treatment in service," according to a news release by Athlete Ally.
BYU spokesperson Carri Jenkins responded to the allegations in a statement Monday afternoon.
"BYU welcomes as full members of the university community all whose conduct meets university standards," the statement reads. "We are very clear and open about our honor code, which all students understand and commit to when they apply for admission.
"One's stated sexual orientation is not an issue."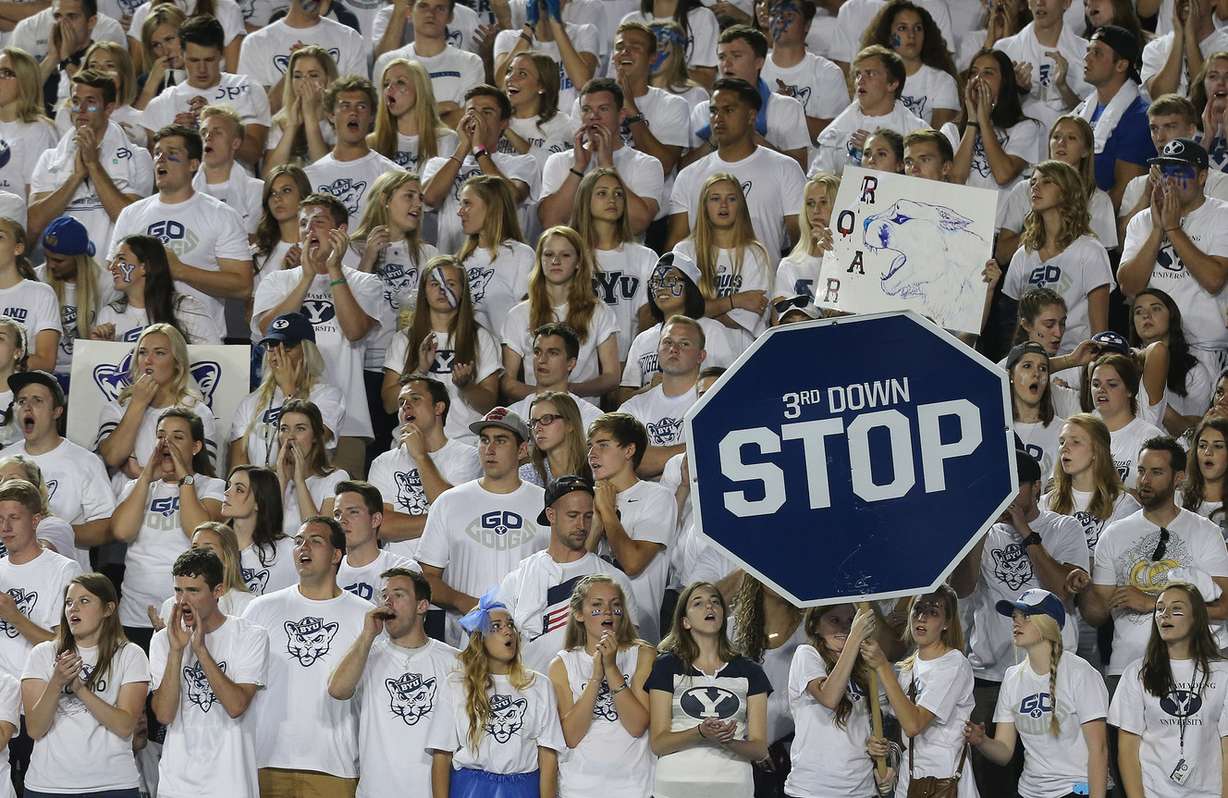 All BYU students, including athletes, are required to adhere to the university's honor code, which includes a responsibility to "manifest a strict commitment to the law of chastity" that prohibits sex before marriage and any sexual acts outside of legal marriage.
"Homosexual behavior is inappropriate and violates the honor code," the school's code of conduct reads. "Homosexual behavior includes not only sexual relations between members of the same sex, but all forms of physical intimacy that give expression to homosexual feelings."
Students who violate provisions of the honor code are subject to discipline by the school, including potential suspension or expulsion from the university.
BYU maintains that feelings of homosexual attraction do not violate the school's honor code, unless they manifest themselves in physical altercations between multiple individuals.
Under the policy, an openly gay BYU student or athlete would be subject to discipline unless he or she practices complete celibacy.
"BYU policies go against everything the Big 12 stands for," Athlete's Ally director of policy Ashland Johnson told FoxSports.com. "Their member schools are very progressive. If they allow BYU into their conference, all of the LGBT student-athletes, coaches and fans who travel to BYU will not have any protections (against discrimination)."
Among the Big 12's official policies on diversity is a statement regarding discrimination based on gender orientation.
---
BYU welcomes as full members of the university community all whose conduct meets university standards. We are very clear and open about our honor code, which all students understand and commit to when they apply for admission. One's stated sexual orientation is not an issue.
–BYU spokesperson Carri Jenkins
---
"It is the obligation of each member institution to refrain from discrimination prohibited by federal and state law, and to demonstrate a commitment to fair and equitable treatment of all student-athletes and athletics department personnel," conference by-laws read.
"Within the context of conference events, the conference will not tolerate disparaging comments, remarks, or jokes about any group of people including racist, sexist, or homophobic comments, remarks, or jokes."
Other Big 12 expansion candidates include Houston, Cincinnati, Colorado State, Memphis and Connecticut. No timetable has been officially established for expansion, although multiple media reports indicate the league would prefer to expand before the beginning of the college football season.
BYU opens the season Sept. 3 against Arizona.
"The Big 12 is a conference committed to sportsmanship, fair play and inclusion both on and off the playing field," Athlete Ally's letter reads. "Adding a school like BYU to your membership while it still champions anti-LGBT policies and practices would greatly undermine these Big 12 values."
Contributing: Andrew Adams
×
Photos
Most recent Utah stories