Estimated read time: 4-5 minutes
This archived news story is available only for your personal, non-commercial use. Information in the story may be outdated or superseded by additional information. Reading or replaying the story in its archived form does not constitute a republication of the story.
WEST JORDAN — One of the largest data centers in the world could be coming to West Jordan, and Facebook may be the company behind the project, KSL and the Deseret News have learned.
The potential deal, titled "Project Discus," could be ratified within the next two to three weeks, according to West Jordan City Manager Mark Palesh.
"We feel that we have the votes to move it forward," Palesh said Friday.
Still, at least one other official, Salt Lake County Mayor Ben McAdams, said he has concerns about the proposal, including the tax breaks put in place to push the project forward and the potential drain on natural resources like water.
"I do worry about screwing up this deal and losing an opportunity, but even more than that I worry that we're being taken advantage of and getting fleeced by a company that's pretty sophisticated," McAdams said.
If approved, Palesh said what has been described to him as "the largest data center in the world" would be erected somewhere on the property that lies between 9000 South and Old Bingham Highway, and 8000 West to 6400 West.
Neither Palesh nor any other public official would confirm the name of the company interested in building its data center in the area, but public records show a request for approval of an "expedited" special renewable energy service contract with Facebook filed by Rocky Mountain Power to the Utah Public Service Commission.
Additionally, Rocky Mountain Power spokesman Paul Murphy confirmed Facebook was considering a construction site in Utah, though he would not disclose where.
---
We're always evaluating potential new sites as we expand our global infrastructure and developing a pipeline for future data center locations, but we're not committing to anything right now.
–Lindsay Amos, Facebook
---
Facebook spokeswoman Lindsay Amos said in a statement that the company is doing its due diligence to explore potential sites for the company's data centers.
"We're always evaluating potential new sites as we expand our global infrastructure and developing a pipeline for future data center locations, but we're not committing to anything right now," Amos said.
The Governor's Office of Economic Development declined to comment on the matter due to ongoing negotiations.
Palesh suggested the data center would be much larger than one constructed by the National Security Agency in Bluffdale.
"The power is about 180 megawatts at full build-out, and that's about three-times as high as the NSA facility," he said.
A letter obtained by KSL and the Deseret News from McAdams to Gov. Gary Herbert outlines several concerns, including the number of jobs expected to be created – 70 to 100 – and the amount of water the facility would use.
"I am concerned about the proposed commitment of 5.3 million gallons of water per day and to the financial impacts of providing this water on the residents of Salt Lake County," McAdams wrote in the letter.
Palesh said the demand could be accommodated, but noted peak usage could equal per-day what a city of 25,000 people consumes.
McAdams also was skeptical of the incentives offered in the deal, which he said amounted to roughly $240 million.
"We will be paying the company anywhere from $1.2 million to $3.4 million per job," he said.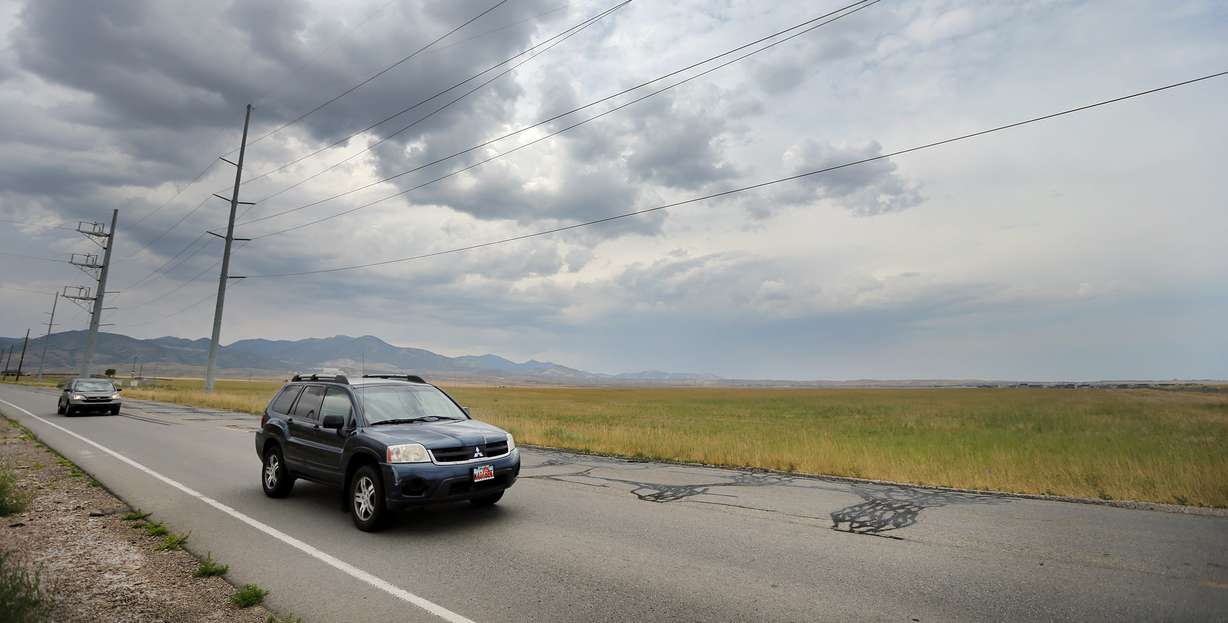 West Jordan city officials noted the potential economic benefits of the deal, including a "marked" tax revenue increase in 2018 when the first phase of the project would be completed.
Numbers supplied by the city suggested Jordan School District currently receives about $439 per year from property taxes on the 232 acres included under Project Discus. After the first year of the completed project, the amount is expected to increase to $347,895.
Palesh said additional businesses were likely to latch on quickly once the project is approved.
"I mean, I envy Lehi – look at what's going on down there," Palesh said of the budding tech sector there. "(You) can't even move without a new building going up, and we would like to do that for our city as well."
Two West Jordan Taxing Entity Committee meetings were expected to take place next week, according to West Jordan City spokeswoman Kim Wells.
One is scheduled for 10 a.m. Monday at West Jordan City Hall, and the other could be on Aug. 15 or Aug. 22, depending on what the committee determines, Wells said.
Wells said public comment would not be accepted during the meetings, but citizens could offer their input through their council members.
If the committee approves the plan during the latter meeting, Wells said it would go before West Jordan's Redevelopment Agency on Aug. 24 at 6 p.m.
"I think there needs to be a robust conversation and public dialogue about whether this is a good deal for us, whether the investment is going to pay off in the long run," McAdams said. "I haven't made up my mind on where we'll go on this, but I'm very concerned. I think the public needs to participate in this decision."
×
Photos
Most recent Utah stories