Estimated read time: 2-3 minutes
This archived news story is available only for your personal, non-commercial use. Information in the story may be outdated or superseded by additional information. Reading or replaying the story in its archived form does not constitute a republication of the story.
WOODS CROSS — Firefighters retrieved a mother and her young children from a burning home Friday afternoon, authorities said.
The family was inside the Woods Cross home at 911 S. Redwood Road with her three children when the roof started to burn, said South Davis Metro Fire Chief Jeff Bassett. However, the group was never directly threatened by flames, Bassett said.
"It was just more or less just panic and not getting out quick enough," he said.
The fire began shortly after 2:30 p.m. in a nearby barn on a large property containing eight homes that is owned by the Kingston Family, a well-known polygamous sect, Bassett confirmed.
The massive barn, which was filled with "a tremendous amount" of hay and straw, was destroyed in the fire, he said. Several vehicles, including trailers and farming equipment, were damaged.
Bassett said the rescue occurred after firefighters entered the home to make sure no one was inside.
Firefighters moved quickly to protect cattle in a nearby corral from being harmed. No people or animals were injured, Bassett said. The fire also briefly ignited in a nearby field, but it was quickly extinguished.
Firefighters encountered live power lines, which had fallen after being damaged by the fire and remained live, according to Bassett. He said that hazard, combined with strong winds, complicated the crews' strategy while fighting the blaze. The downed lines also caused power outages in surrounding neighborhoods.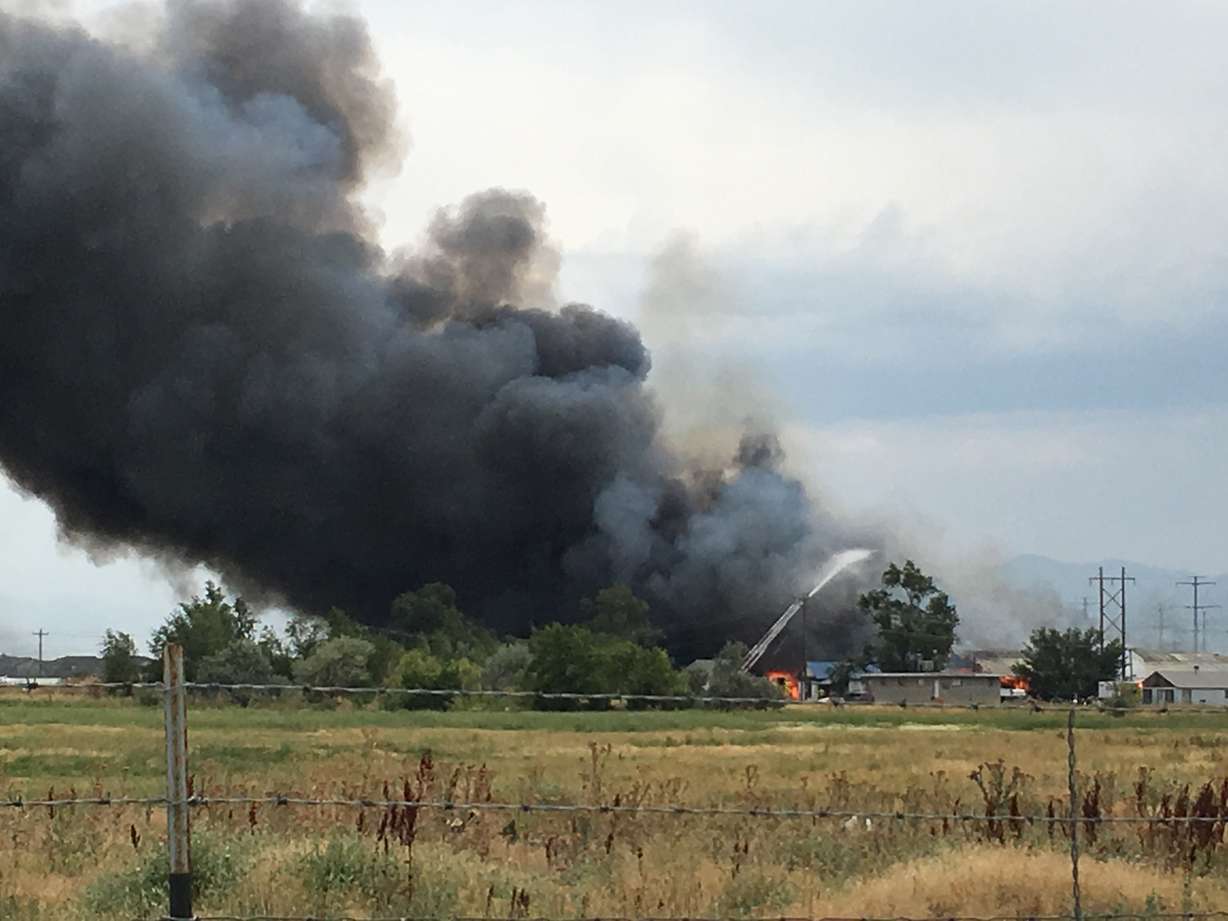 The cause of the fire was not known Friday night. A dollar estimate of the total damage was not available.
The roof and siding of the affected home sustained fire damage, Bassett said. Inside the barn, firefighters were using heavy equipment to remove ruined chunks of hay and straw. Crews were expected to put out hot spots on the property through late Friday night.
Nearby Redwood Road was closed to traffic in both directions in the area until after 8 p.m., when police opened one lane going each way.
South Davis crews were assisted at the scene by firefighters from Salt Lake City, West Valley City, Farmington, Kaysville, Layton and Sunset. In all, 33 firefighters battled the blaze.
Heavy smoke could be seen throughout Woods Cross while crews were busy dousing the fire.
Contributing: Tania Mashburn
×
Photos
Most recent Utah stories